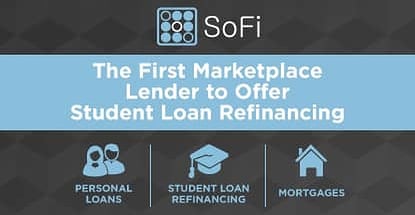 In a nutshell: Graduates who used student loans to fund their education face an average of $33,000 in resulting debt. Throw in a graduate school degree and the debt can easily exceed $100,000. Furthermore, many of those grads pay interest rates of up to 7 percent or higher on their loans. SoFi, a leading marketplace lender, stepped in to alleviate some of that financial strain by establishing the first student loan refinancing model in 2011. With variable rates as low as 2.14 percent, SoFi saves the average borrower $18,936 with refinancing options for private and federal student loans. Now offering mortgage products, personal loans and MBA loans – with no origination fees, application fees, penalties or obstacles – SoFi is saving its members thousands of dollars. //
Student loan debt now surpasses credit card debt, auto loans and home equity lines of credit, soaring at an all-time high of nearly $1.3 trillion, with the average college grad owing their share of $33,000. Some graduates will be paying for their degree well into their 30s, 40s and even 50s.
Social Finance, Inc., known as SoFi, is one of the few companies to provide a solution to this crisis by offering financial relief to graduates burdened by student loan debt.
SoFi Saves Grads Thousands by Refinancing Student Loans
SoFi was the first marketplace lender to begin refinancing federal and private student loans, establishing itself as a pioneer in the industry and evolving into the biggest in the space by far. The company has revolutionized student loan refinancing by allowing members to refinance their student loans for as low as 2.14 percent.
We spoke with Co-Founder and VP of Community & Member Success, Dan Macklin, about the benefits of student loan refinancing and the many other financial products and services offered at SoFi.
Continue reading to learn more about student loan refinancing, or use the links below to skip ahead to other services and information:
Student Loan Refinancing | Mortgages | Personal Loans | MBA Loans | Eligibility | About SoFi
Anyone Can Benefit From a SoFi Refi
Anyone who has a student loan, has graduated, is now working and meets SoFi's underwriting criteria can take out a refinancing loan. There are no age or number-of-years-out-of-school requirements, though the majority of borrowers are between one and seven years post-grad because they are the ones who are more likely to have the most student loan debt.
"But that's not to say that's the only people we can help, we help many people who have been out of school maybe 10 or 15 years. Then we have parents who borrow on behalf of their children's education, so they could be in their 40s, 50s or 60s," Dan explained and added they are equally eligible to apply.
3 Reasons to Refinance with SoFi: Savings, Consolidation, Simplicity
Dan told us the primary benefit of refinancing a student loan is to save money, and it's not just to save a little. SoFi's customers are saving thousands. Not only are they saving huge sums, but they're able to consolidate multiple loans into one, and the whole application process can be done online quickly and easily with no origination or application fees.
1. Average Amount Saved: $18,936 With Rates as Low as 2.14%
"Our fixed rates start at 3.5 percent, and our variable rates go as low as 2.14 percent. As a result, people are saving significant sums. Most people, when they come to us, are paying something like 7 percent for their loans, and by bringing them down to something that is 2, 3, 4, 5 percent, we save them an average of nearly $19,000″ Dan said.
The average borrower comes to SoFi looking to refinance around $75,000, which is where the average $18,000 in savings applies, but Dan said many are saving upward of $30,000 on oversized student loan debts.
To see how much you could save, check out SoFi's Student Loan Calculator.
2. Consolidate Multiple Loans Into One & Never Miss a Payment Again
Instead of being responsible for several payments each month, refinancing with SoFi includes consolidation, so you're only responsible for one monthly payment to one lender.
"Many people have six, seven, 10 or 15 different student loans. Just understanding what needs to be paid, where it needs to be paid and when it needs to be paid when you have that many loans is complicated, so another advantage of refinancing is it includes consolidation within that," he said. "You suddenly only have one bill to pay, once a month to one lender — SoFi."
So not only are you cutting back on monthly bills, but you're reducing the likelihood of missing a payment and are merely making things easier on yourself.
3. A Simple Way to Refinance: Free to Apply & No Origination Fees
With zero application fees, origination fees, penalties or obstacles, SoFi makes the application process as easy as possible.
"You do not have to speak to another human being if you do not wish to," Dan said. "You can upload your documents and take a photo of your driver's license with your phone and upload it to your application. There's nothing to mail, fax or Xerox to us; it's extremely simple."
"Customer service doesn't exist with federal loans. SoFi customer service was fantastic. I got replies immediately either by email or phone. My SoFi experience was very straightforward, transparent and positive." — Sushil Vundavalli, University of Texas
Ease of experience is a huge part of why SoFi is proving to be popular for thousands of people every month. That being said, high-quality service is a primary focus for the entire SoFi team.
SoFi Provides Support That Goes Above & Beyond Loans
SoFi provides its members services outside of just the loan itself. There's a Careers Services team on-hand that solely works on helping people with their careers, which is particularly useful for its members who have lost their jobs.
Unemployment Protection Program
The SoFi Unemployment Protection Program puts your loan in forbearance and suspends your payments in the event that you lose your job through no fault of your own. This is available in three-month increments and caps out at 12 months, all while the SoFi team offers career assistance to help you find a new job.
"We can defer their loan and help them find another job. That's done through a combination of helping them with their resume and interview technique through one-on-one coaching in whatever industry they're interested in, all the way up to matching them to jobs through the power of our member network," Dan told us.
And that's just one example.
Free Happy Hours and Networking Events
SoFi also hosts free networking events, happy hours and dinners for members to connect with potential business contacts.
"The main reason to come to us is for the loan itself and the savings it produces, but these are additional things that we like to provide because we're very much about providing an experience that goes above and beyond what the finance industry usually offers," he said.
It's a partnership that works for both the borrower and SoFi. The goal is to help members find reemployment quickly which, in turn, keeps default rates low as borrowers are able to continue with their loan payments.
Mortgages, Personal Loans & MBA Loans Also Available
Since SoFi established its student loan refinancing program, it has introduced other compelling financial products such as MBA loans, mortgages and personal loans that offer lower rates and other personalized services for its members.
1. Mortgages Available With 10% Down, No Mortgage Insurance Required
SoFi asked its student loan refinancing customers which part of their financial lives it could help them with the most, and mortgages was the number one response.
In particular, it was around the issue of not being able to afford the down payment that's required, which is especially relevant if you live in an expensive city like San Francisco, Washington D.C. or Chicago, where owning your first property could be upward of $1 million.
"Coming up with that 20 percent down is difficult for people, even if they're doing relatively well in their careers. So we created a mortgage loan that only requires 10 percent down payment, which is very different from the standard 20 to 30 percent," Dan explained.
Besides the down payment, the key difference between SoFi and other mortgage lenders is other lenders usually require mortgage insurance (PMI), at down payments below 20 percent, whereas SoFi does not. SoFi.com refers to it as "more house, less headache."
6 Benefits of a SoFi Mortgage
With a mortgage from SoFi, you'll obtain benefits such as:
Affordable down payments as little as 10%
No mortgage insurance required
Qualify for more financing with flexible debt-to-income limits
No application, origination or other lender fees
SoFi fully underwrites borrowers at the preapproval stage
Typical applications close in 30 days or less
Mortgage Refinancing Rates as Low as 2.62%
If you purchased your home with another lender, you can still refinance your existing mortgage with SoFi. There are 15- and 30-year fixed rates available with fixed principle and interest payments that won't change over time.
You can get more information and compare rates for free on SoFi's Mortgages page.
2. Personal Loans Available with Low Rates & Fixed Monthly Payments
Whereas personal loans from other popular lenders cap out at $35,000, SoFi personal loans are available up to $100,000.
This is a great resource for credit card refinancing if your interest rates are greater than 10 percent. SoFi's fixed rates start at 5.5 percent, and if you lose your job, SoFi will temporarily pause your payments and help you find a new one through its career coaching and networking events.
5 Reasons to Get a Personal Loan From SoFi
With a SoFi personal loan, you'll receive:
5.5-9.99% fixed rates and 4.05-8.05% variable rates (with autopay)
No fees
Terms for three, five or seven years
Loans available from $5,000 to $100,000
Unemployment protection
3. MBA Loans Available for 25 Universities
In 2014, SoFi began lending loans to graduate students in pursuit of an MBA. This avoids the need for students to refinance after graduation, as SoFi MBA loans are cheaper than many federal loans and there is no origination fee.
To be eligible, you must be a U.S. citizen pursuing an MBA, joint MBA/JD, MBA/MD or similar degree at one of its 25 pre-selected universities:
Carnegie Mellon University
Columbia University
Cornell University
Dartmouth University
Duke University
Emory University
Georgetown University
Georgia Tech, Main Campus
Harvard University
MIT
New York University
Northwestern University
Rice University
Stanford University
UC Berkeley
UC Los Angeles
University of Chicago
University of Michigan
UNC Chapel Hill
University of Pennsylvania
University of Southern California
University of Texas, Austin
University of Virginia
Vanderbilt University
Yale University
SoFi Determines Eligibility Differently Than Average Lenders
Standard eligibility criteria valid for all of SoFi's loans include:
You and your co-signer (if applicable) must be U.S. citizens or permanent residents.
You must be employed or have an offer of employment to start within 90 days.
You're at least the age of majority in your state and able to enter into a binding contract.
Credit Score is Less Important
While loan eligibility is determined on a number of additional factors, SoFi's qualification process is unlike traditional lenders.
"We look at people's credit risk differently than the average lender. It's much less about the credit score per se. While we still look at your credit history and make sure you've been paying your bills on time, the actual score itself is not important," he said.
Income & Industry Are More Important
What is of greater importance is salary and income. SoFi analyzes monthly expenditures, including mortgage or rental payments, and assesses whether or not you have enough money to pay back your loan with SoFi.
Your industry and relative unemployment within that field are also taken into consideration.
"If you're in an industry with low unemployment, then that counts in your favor," Dan told us.
Eligibility requirements are specific to each loan. Please visit SoFi's Eligibility page to learn more.
Final Thoughts on SoFi — $4.5 Billion Lent to Date
Through student loan refinancing, mortgage products and personal loan products combined, SoFi has lent more than $4.5 billion to date, and the bulk has been in 2015.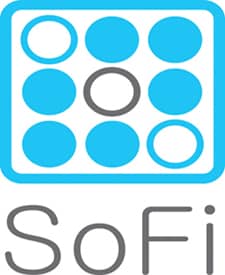 SoFi's explosive growth recently earned itself a spot on CNBC's Disruptor 50 list, which is known for
selecting companies whose innovations are revolutionary in their niche.
Like a traditional marketplace lender business model, a portion of SoFi's funding comes from individual accredited investors, though the majority is made available by financial institutions such as small regional banks, national banks, hedge funds and other types of entities.
There are obvious benefits on both ends of the SoFi business model: generous returns for its investors and low interest rates and career assistance for its members, which keep default rates low and investors happy. It's a cycle that works.
SoFi is taking on traditional banks and catering to a millennial generation that expects more from personal finance providers, and it's winning.
Advertiser Disclosure
CardRates.com is a free online resource that offers valuable content and comparison services to users. To keep this resource 100% free, we receive compensation for referrals for many of the offers listed on the site. Along with key review factors, this compensation may impact how and where products appear across CardRates.com (including, for example, the order in which they appear). CardRates.com does not include the entire universe of available offers. Editorial opinions expressed on the site are strictly our own and are not provided, endorsed, or approved by advertisers.