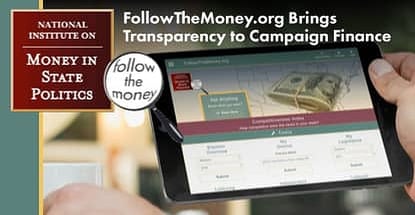 In a Nutshell: Politics is already complicated, and that's before you start to consider the role money plays in it. To shed light on how money changes hands in the political world and to better understand the special interests that politicians support or are supported by, there's FollowTheMoney.org. The site was created by the National Institute on Money in State Politics and gives users an easy-to-use, interactive method of making sense of political funding information from government disclosure agencies. The site's database and tools bring transparency to an important subject worthy of public and professional scrutiny. //
Regardless of political affiliation, the majority of Americans agree that money should have a very limited role in a free and fair election process. But anyone who follows the news knows that, for better or worse, money plays a significant role in government. Campaign finance reform, lobbyists, and super PACs have been at the center of debate in politics at both the local and national level for some time.
The issue is so pervasive in America that during the 2016 presidential election, candidates on the left and right of the political spectrum recognized it. Both Donald Trump and Bernie Sanders spoke multiple times on the topic while on the campaign trail. And although these two men couldn't be more different in ideologies, they echo the sentiment shared by most Americans — that democracy shall not be permitted to be de-legitimized because of money.
In an effort to make the act of money changing hands in American politics far more transparent, the nonpartisan, nonprofit National Institute on Money in State Politics based in Montana has established FollowTheMoney.org. According to its mission statement, the site seeks to promote "an accountable democracy by compiling comprehensive campaign-donor, lobbyist, and other information from government disclosure agencies nationwide and making it freely available."
FollowTheMoney.org Executive Director, Edwin Bender, recently spoke with us about the site's history and purpose.
"What we've created is a unique resource, and the internet has enabled us to get that resource out for the public to look at. As more data is being made available, we have reconfigured our data architecture in a way that will allow it to be extremely flexible."
It's the availability of this information and the tools on the site itself that make it truly an extraordinary, one-of-a-kind resource. FollowTheMoney.org presents information in a user-friendly context, and provides different tools that help users not only make sense of the data but also customize their searches by specific elections, districts, lobbying expenditures, and other criteria.
Proprietary Tools Help Consumers Make Sense of the Data
If you've ever read a news article about campaign funding or super PACs, you've likely found yourself in the proverbial weeds fairly quickly. Not only is political finance a relatively hard subject to comprehend, the laws that govern it are murky at best. Of course, the subject often becomes all the more difficult to grasp when it becomes mired in partisan political rhetoric.
The tools and information available on FollowTheMoney.org make it easy for virtually anyone to find and understand specific details about a number of potentially difficult topics. In addition to the My Legislature, Lobbying Expenditures, and Competitive Index tools covered here in depth, the site features tools that provide extensive, customizable data sets on a number of topics.
Other tools include Ballot Measures, Independent Spending, Lobbyist Link, and My District. The My District tool is especially distinctive, in that it curates data directly from the U.S. Census Bureau based on campaign finance reports filed by candidates and other political parties with the state disclosure agency.
The data on this site is constantly being updated with new information and is used by media outlets of every size, politicians, lawmakers, and of course, everyday Americans. The Institute's commitment to providing a platform for amateur and scholarly analysis of money in politics earned it a MacArthur Award in 2015.
My Legislature
The My Legislature tool is just one of many customizable, easy-to-use tools available on the site. This tool allows users to customize data searches on their specific district by state and year going back to 2015. This resource is an ideal way for voters to see not only how legislators in their district receive funds, but also who their donors are and whose campaigns they contribute to themselves.
Users can drill down and customize by lawmaker, special committee, specific legislation, reported contributors of funds, to which party they are affiliated, the amount of their donations given, or donations received.
According to Edwin, this tool "allows us to build in the legislative committee assignments that you see [on the My Legislature toll page] and bill feed so we can correlate donors with bill sponsors, and bills and legislative committees to create a unique view of the role that political money may or may not play in the legislative process."
Lobbying Expenditures
People are used to hearing about "lobbying" and "lobbyists", but there may be some uncertainty as to what is really at play. The words "lobbying" and "lobbyists" could easily be replaced with "influencing" and "influencers" because, essentially, that's what is happening.
A political lobbyist is a person who attempts to influence the actions, policies, or decisions of political officials. This practice is perfectly legal and is done on both sides of the political aisle for an infinite number of reasons and causes. Lobbyists know the system well and can represent almost every American institution. Unions, colleges and universities, churches, charities, environmental groups, and corporations all have lobbyists hard at work attempting to influence legislators to support legislation that benefits their group or institution.
Lobbying expenditures are what lobbyists are spending their money on while promoting legislation. The Lobbying Expenditures tool on FollowTheMoney.org allows users to drill down into state-level lobbyist spending. The Data Navigator feature instantly curates data by filer jurisdiction and year, spender and recipient sector, and industry and business classification.
Competitiveness Index
A more competitive, close election is good for a democracy. Research shows that voters are politically more engaged after a truly competitive election, and this engagement carries over into the next election cycle. It stands to reason that real competitiveness is something that citizens of a democracy would want to monitor closely. And FollowTheMoney.org's Competitive Index tool makes it simple for anyone to draw back the curtain and see what is contributing to a particular candidate's competitiveness, or lack thereof.
The name of the site's Competitive Index tool says it all — the tool measures actual competitiveness in races based on the level of monetary support for candidates from donors, both private and public.
When contests are between two candidates with large fundraising capabilities, the index measures how comparable the candidates are based on individual donor competitiveness, monetary and vote competitiveness, non-individual donor competitiveness, and other factors. This allows users to measure races from both monetary and vote differentials to see how competitive a race really is.
Technological Advancements Turned a Passion Project Into a Political Research Asset
The National Institute on Money in State Politics actually once operated without the benefit of the modern internet. The Institute was born in 1999 out of the union of three smaller groups. The Institute's expressed purpose was bold, but relatively simple: "[We are dedicated] to accurate, comprehensive, and unbiased documentation and research on campaign finance at the state level."
Edwin spoke to us about the extent to which the advent of the internet truly transformed the Institute's mission.
"The internet is making a lot of things possible now," Edwin said. "When we began this as a one-year project 25 years ago, we had no idea we'd be an outfit like this, but we grew with the internet. And now, we are working with scholars who are looking at our electoral and public policy processes in new ways, and looking at how efficient they are and considering ways that [processes] can be tweaked to make them more efficient, inclusive, or more accountable."
Enabling Watchdogs with Robust, Verifiable Data
As citizens of a democratic republic, Americans must be vigilant to ensure that money in politics is not only transparent, but fair and just. The efforts of the National Institute on Money in State Politics are just one part of the front-line efforts to preserve the integrity of American democracy by enabling citizens to hear the truth through all the noise. And resources like FollowTheMoney.org help people find that clarity.
FollowTheMoney.org is a nonpartisan entity, and the data it presents on its site is completely unbiased and fact-based.
"Our data is verifiable, and our methodology and processes are robust," Edwin said. "We've been peer reviewed and tested and have come up with flying colors, so people who use our data can trust that what we're presenting them with are the facts that are shown as the candidates report them."
Understanding the role of money in politics and the influence it has over the decisions elected officials make is no small task. It's comforting to know that, through the efforts of the National Institute on Money in State Politics, it's not just economists and strategists who can access and use this crucial information.
Advertiser Disclosure
CardRates.com is a free online resource that offers valuable content and comparison services to users. To keep this resource 100% free, we receive compensation for referrals for many of the offers listed on the site. Along with key review factors, this compensation may impact how and where products appear across CardRates.com (including, for example, the order in which they appear). CardRates.com does not include the entire universe of available offers. Editorial opinions expressed on the site are strictly our own and are not provided, endorsed, or approved by advertisers.