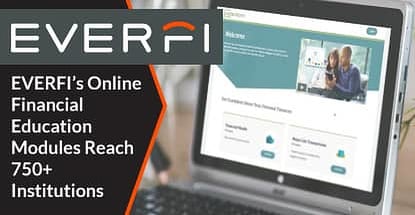 In a Nutshell: You're never too old to learn — especially about personal finance topics that seem to constantly shift and change focus in today's technology-driven society. EVERFI takes its role as an educator seriously. The company provides 50 online learning modules to over 750 credit unions, schools, and select employer groups across the US. Topics covered include credit scoring and reports, financing higher education, opening checking accounts, and identity protection. EVERFI's platform allows partnered institutions to private-label the modules to meet the needs, goals, and mission of each organization. //
Education is all about learning, growing, and improving. As a former teacher, I can tell you from first-hand experience that even educators learn from their own lessons.
That sentiment extends to entrepreneurs, where every day is a learning experience. When a growing business focuses on educating others on important topics, like financial literacy, the symbiotic relationship can create growth for everyone involved.
A prime example of this is EVERFI, a leader in online financial education modules that partners with more than 750 US organizations, financial institutions, and educators. If you've ever searched a credit union's website to learn about a topic, there's a good chance you viewed an EVERFI module.
But the company didn't start out with such a diverse user base.
"When we started the company, we had one online platform that focused on high school financial literacy," said Ray Martinez, EVERFI Co-Founder & President of Financial Education. "We jumped in an RV and traveled all around the country to meet with schools, community leaders, and credit unions. That road campaign hasn't ended."

EVERFI has since traded in the RV for its Washington DC-based offices, where it curates, distributes, and disseminates 50 learning modules on topics ranging from checking accounts to improving a credit score.
Some of the world's leading CEOs and Venture Capital firms — names that include Jeff Bezos of Amazon, Eric Schmidt of Google, and Evan Williams, co-founder of Twitter — believe so strongly in EVERFI that they've invested in the company.
"They've allowed us to really build out our financial capability network, where we empower education for students, members of credit unions, and select employer groups," Martinez said.
If you're one of the few people who hasn't heard of EVERFI, it could be because the company enables partnered institutions to private-label the software to reflect their mission, values, and goals in communities they care about.
Member institutions have access to the breadth of modules created by EVERFI, as well as a host of tools and calculators that expand learning beyond the lessons. These tools improve learning outcomes and support consumers of all ages who want to set better goals and create a clearer path to financial freedom.
"These modules are designed to cater to the busy family," Martinez said. "Each is between three and five minutes in length, available in English or Spanish, and work on multiple device types."
50 Different Modules Ranging from Budgeting to Retiring
EVERFI modules aren't limited to the basic ins and outs of daily banking. Users can learn about personal finance, running a small business, or homeownership all from the comfort of their home — or anywhere else with an internet connection.
"We serve up real time, just in time, meaningful financial education," Martinez said. "This can include anything from savings to budgeting to how you think about your credit score. The learning platforms are very sophisticated in that they're multi-sensory learning experiences for the end user."
EVERFI caters to learners of all types, offering auditory instruction and kinesthetic lesson opportunities in a gamified setting that makes learning more engaging.
"The system is serving up knowledge gain and behavioral surveys inside of the learning platform as the end user makes progress through the topics," Martinez said. "We track, measure, and assess the platform every step of the way."
The anonymized tracking collects no personally identifiable information. Instead, EVERFI focuses on pinpointing which modules are most popular and what topics are most interesting to the millions of users who access the courses each year.
"What we care about, as an education company, is that we are really driving knowledge gains and are moving the needle on what actions people are taking and how the lessons impact long-term behaviors," Martinez said.
Catering Learning Modules to Meet Credit Union Needs
Financial institutions partner with EVERFI to offer education modules to their members and get access to 50 current lessons offered on the platform. The company and its partners vet, test, and approve every lesson over time.
"The benefit of our financial capability network is that it's made up of 750 financial institutions and nonprofit partners, as well as regulators, governors, state treasurers, and departments of education," Martinez said. "Then you have to include the end users of our software, which includes hundreds of thousands of teachers and millions of adult consumers. We really want to listen to that audience to make the user interface and learning experiences unique, relevant, and timely."
Martinez said the most popular modules include lessons on credit scoring and reports, financing higher education, opening checking accounts, and identity protection. The company remains engaged with its user base and partnered institutions and always looks for new topics to add to the curriculum.
"One of the emerging topic areas that we're getting more requests to deliver is around elder financial fraud abuse and prevention," Martinez said. "That demand is particularly from our credit union partners."
EVERFI's platform is quickly scalable to clients' needs and includes subscription packages curated to meet each institution's goals.
"Since we're a software company, we really like to provide our credit union partners with a subscription," Martinez said. "That subscription gives them access to a really robust library of online learning experiences. They can customize those experiences for the select audiences."
Celebrating a 10-Year Anniversary, But Just Getting Started
EVERFI's mission since its January 2008 founding is to bring financial education back into classrooms and living rooms across the country. In the 10 years since that mission began, the lessons have broadened and the audience has grown from teenagers to learners of all ages and stages of their financial lifecycle.
"We feel like we're just getting started," Martinez said. "There's so much more that we can and want and need to do here in the US and eventually internationally. We want to be a company that financial institutions and people rely on when they think about their own financial education journey."
Credit unions turn to EVERFI to help their members cultivate new financial skills and learn ways to improve themselves. EVERFI takes that responsibility seriously and aims to continue on its path of providing timely and necessary information for consumers.
"We really try to view our relationships with companies as partnerships," Martinez said. "We want to make sure the credit unions we work with are maximizing the investment they're making, so we do our best to make it a turn-key onboarding process. We personalize the learning experiences to reflect how the credit union wants to position the tools to their members, local schools, and select employer groups."
Advertiser Disclosure
CardRates.com is a free online resource that offers valuable content and comparison services to users. To keep this resource 100% free, we receive compensation for referrals for many of the offers listed on the site. Along with key review factors, this compensation may impact how and where products appear across CardRates.com (including, for example, the order in which they appear). CardRates.com does not include the entire universe of available offers. Editorial opinions expressed on the site are strictly our own and are not provided, endorsed, or approved by advertisers.