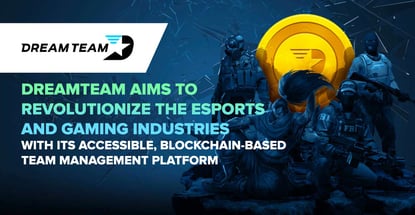 credit card news
Our experts and industry insiders blog the latest news, studies and current events from inside the credit card industry. Our articles follow strict editorial guidelines.
In a Nutshell: DreamTeam is the first professional platform that connects esports gamers, team owners, and sponsors. Led by Alexander Kokhanovskyy, a former professional gamer, the blockchain-based social platform lowers the barriers to entry for new teams and owners. It also provides a payment gateway through its proprietary DreamTeam Token so teams can pay salaries, receive prize money, and purchase advertising. The platform is also working on assisting teams with selling brand merchandise and partnering with sponsors.
When Rick Fox retired from professional basketball in 2005, he left behind a 14-year career that netted him more than $34 million in total salary.
Following retirement, he remained competitive by investing in a growing sport that his son loved. Today, the $1 million Fox fronted to create the esports franchise, Team Echo Fox, is worth several times that investment. And his esports earnings may soon outpace his basketball earnings.
Esports has amassed a fan base of approximately 500 million people worldwide and brings in more than $700 million annually. Alexander Kokhanovskyy, CEO and Co-Founder of DreamTeam, understands the significance of those numbers more than the average gamer.
Kokhanovskyy started in 1999 as a professional player of the popular Counter-Strike video game series — though professional was a loose term in those early days.
"When I started, we'd play tournaments for 25 cans of beer as the first prize," Kokhanovskyy said with a laugh from his office in Santa Monica, California. "Right now, you can earn a first-place prize of $500,000 in one weekend."
After Kokhanovskyy hung up his controller, he and a partner started ESorce to purchase stakes in teams and build a broadcast studio and arena in Moscow. By 2017, the company had reached an audience of more than 100 million people and made approximately $35 million in revenue.
In early 2018, Kokhanovskyy and his partner sold ESforce to Mail.Ru for $100 million. But that didn't end his affiliation with the gaming world.
Kokhanovskyy founded DreamTeam to merge the rapidly growing world of esports and blockchain technology. It is the first professional platform that connects gamers, team owners, and sponsors.
Players can find teammates, manage their teams, improve their skills, and earn an income through DreamTeam. After 18 months of operation, the platform already supports more than 1.5 million registered users.
"We're building a LinkedIn for esports," Kokhanovskyy said. "We're providing players with all the tools they need for recruitment, team management, and statistics."
But the long-term vision for the project is tied to the DreamTeam Token, which funds the payment gateway that Kokhanovskyy predicts will change the esports landscape.
"We're uniting players, tournaments, and team sponsors on our platform and enabling all financial operations between those parties," he said. "You can do anything inside the gateway using the token. You can pay out a salary to a team or a player, receive prize money or a sponsorship fee, purchase advertising, or receive merchandising funds."
Lowering Barriers to Entry for Players and Team Owners
The explosion in prize money and potential profits has attracted many competitors to the esports market. And online streaming platforms, including Twitch, make it easier for the best players to attract fans and grow their personal brands. Kokhanovskyy said that these platforms have done for the esports world what the birth of live television broadcasting did for other sports.
"These platforms were instrumental in the growth of esports," Kokhanovskyy said. "Right now, there are about half a billion people all around the world who are esports enthusiasts, occasional viewers, or somehow involved in this ecosystem."
Players and teams can create individual DreamTeam pages where they can promote themselves and socialize with other users. They can also find new players for their teams and organize practice games to sharpen their skills.
And as viewership numbers increase, more teams enter the landscape in hopes of getting a piece of one of the world's fastest-growing entertainment businesses. That $1 million investment Fox made in 2015 to start his own team couldn't even buy a small portion of an established team today.
Kokhanovskyy thinks DreamTeam is what esports needs to even the playing field for would-be competitors, team owners, and the organizations that help fund their work.
"Players need sponsors, but no one really knows how to get a sponsor," he said. "It's very confusing. DreamTeam helps facilitate relationships between sponsors and players."
Another problem Kokhanovskyy pointed out is the overall fragility of the current esports market. He included several examples of events in which teams participated, but never received their prize money. That can happen when tournament organizers don't honor contracts, team owners don't pay players, or sponsors don't fulfill their obligations.
With those problems in mind, Kokhanovskyy set out to ensure that DreamTeam could solve those issues, among many others.
Proprietary Token Economy Fuels Payment Gateways
Kokhanovskyy's goal is to build a multi-billion-dollar ecosystem on the DreamTeam platform that handles media right sales, sponsorships, player salaries, and prize money. And its proprietary DreamTeam Token will power it all.
He said he expects the token to increase its utility by Q4 2019, with far more functionality by the end of 2020.
"People can use tokens for different needs, including a premium account or one-time payments," Kokhanovskyy said. "In the near future, we'll add many more features and ways that users can spend the token."
The foundation of the token, and the platform, is blockchain technology — and smart contracts. They work together to ensure secure, prompt payments with automated obligation control and antifraud enforcement.
"In the esports market, you're never certain if you're getting paid," Kokhanovskyy said. "You almost always have to deal with a third party, but why do you need that? On our platform, you can just enter a peer-to-peer file and send payment on your own."
He noted that DreamTeam doesn't control user funds at any time — and tokens can be purchased or sold through multiple online exchanges. The DreamTeam platform acts as an intermediary to ensure smooth and secure payments. That feature can make running an esports team easier and cheaper, without the need for third parties to hold or disburse funds.
"A third party can go bankrupt or get hijacked and lose its money," Kokhanovskyy said. "But, on the blockchain, it's completely straightforward. All parts of the transaction are transparent, and you can see who paid, who received payment, when it happened, and how much was paid. That essentially removes all of the frustration and pain points."
Kokhanovskyy understands those frustrations well — both from his time as a competitor and as an owner.
"As a team owner, there were times when my team won $20,000 or $30,000 at a tournament, and we never got paid," Kokhanovskyy said. "We would have around 25 sponsorship deals, and around 10% to 15% of the deals were never covered or paid. We didn't get a cent out of them, although we fulfilled our obligations."
With DreamTeam, competitors, owners, and tournament organizers can ensure payments while engaging fans and building a following. While streaming platforms, including Twitch, extend an esports competitor's social reach, they don't help manage the backend functions of building a career and receiving earnings.
DreamTeam also works as a social media platform to engage fans while eliminating the high barrier to entry when it comes to building a team.
Innovating in an Industry Poised to Outpace the Growth of Traditional Sports
The NBA that Rick Fox retired from 14 years ago is far different than today's professional basketball league. TV rights fees and sponsorships have sent salaries soaring with no end in sight.
Today, eight NBA players make as much money — or more — in a year as Fox did during his entire 14-year career.
And Kokhanovskyy predicts a similar future for esports.
"Within the next five or seven years, I assume that esports will become bigger than traditional sports," he said.
Recent trends show that he may be right. Television rights are the lifeblood of professional sports leagues and esports are starting to draw the attention of major networks.
In 2018, ESPN agreed with Blizzard Entertainment to broadcast the Overwatch League. A separate deal with Riot Games gave the network the rights to stream League of Legends competitions on its ESPN+ subscription streaming service.
Turner also entered the esports arena after a 2018 agreement with EA Sports to broadcast FIFA 19 events on Twitch and Bleacher Report's Live streaming service.
While these events will attract new fans and a more diverse audience, Kokhanovskyy and DreamTeam have plans to create a grassroots effort that cultivates the next generation of esports stars organically.
"We want to increase the number of professional players and teams," Kokhanovskyy said. "Right now, we are focusing on young players and helping them learn how to make the jump from novice to amateur to advanced to professional."