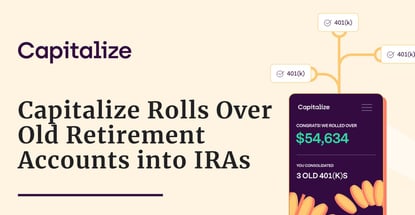 In a Nutshell: Capitalize turns forgotten 401(k)s into new opportunities for saving for retirement. The company does the hard work to find and retrieve the funds from 401(k)s left behind from previous jobs and rolls them over into individual retirement accounts (IRAs). IRAs are more flexible, and account holders can dictate where they want to invest their money. Capitalize offers a free service that uses algorithms to recommend IRA providers that make the most sense based on the customer's financial goals.
In the United States, there are 24 million forgotten 401(k)s. These are accounts with thousands of dollars in them that were left behind when their owners changed jobs. These accounts sit inactive and can lose money through fees or unrealized gains.
Capitalize is a retirement savings platform that works to find those forgotten 401(k)s and places them in more flexible individual retirement accounts. Capitalize's CEO and co-founder Gaurav Sharma started in investment banking with UBS before transitioning to the hedge fund industry.
Friends and family would turn to Sharma for help managing their retirement accounts. The common trend Sharma found was that many of them had 401(k)s they had left behind from prior jobs. 
401(k) accounts are good as retirement savings because they are mostly invisible. The money automatically comes out of paychecks and is put in a tax-efficient account, such as an Individual Retirement Account (IRA) or a 401(k) plan. The issue arises when those invisible accounts are forgotten when people switch jobs.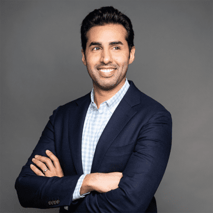 "Every three or four years, we go through this process of saying 'what do I do with this money that I save, and how do I go and interact with a brand new 401(k) with a new employer?" Sharma said. "Unfortunately, when you look at the data and the stats, a lot of people end up doing the wrong thing at that point in time."
Capitalize finds and retrieves that money for people for free. If it is not able to retrieve it, Capitalize will walk you through how to get it step-by-step. After the funds are back in your possession, Capitalize helps find the perfect partner that will grow the money in an IRA.
Automating the Process of Rolling Over Accounts
The process of rolling over old 401(k) accounts into new 401(k) accounts is long and tedious. Capitalize describes it as an old-school undertaking that requires account owners deal with paperwork, faxing, finding checks, sending and receiving mail, and spending hours on the phone.
"That was kind of the aha moment," Sharma said. "There's so many people who do the wrong thing, because doing the right thing is just so difficult. If we could actually build a better way for people to find and consolidate their accounts, we could not only help the folks who already do it, but we could capture some portion of the people who don't do it, because it's just a common thing."
Capitalize's system is completely free. Anyone can use Capitalize to rollover accounts into an IRA. The company makes money from referring people to IRA providers.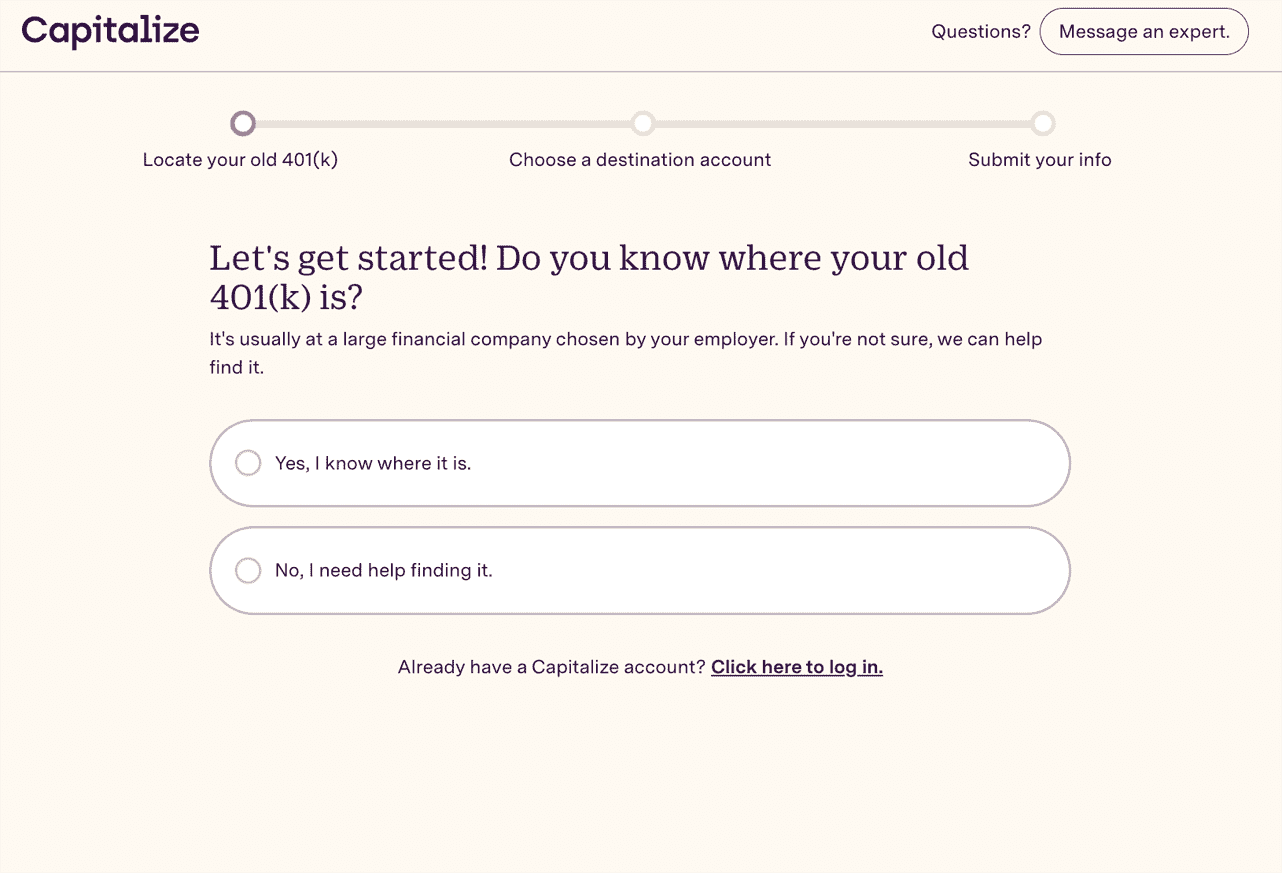 The process is easy to follow and only requires three steps. The first step involves Capitalize locating the old 401(k). That comes either from the account holder telling Capitalize where the account is, or Capitalize searching for it after receiving a few key details.
Capitalize then helps compare IRA providers so the account holder can make a decision on where to put their money. Capitalize takes several factors into account when suggesting IRA providers to its users.
"We'll actually take our users through a short questionnaire, and it will ask them 'are you someone who likes to actively manage your money?'" Sharma said. "'Are you more likely to want to set it and forget it?' On the back of those answers, we will actually show you three to five provider options for you and will help you very clearly compare them."
Customer support is available to answer user questions about IRAs throughout the process. Afterwards, the company will retrieve or help the user retrieve the money from the 401(k) and put it in the IRA the user selected.
Capitalize researches the best ways to get money from each provider, and digitizes the process to make it easy. On average, the signup process only takes about five minutes.
Taking Advantage of the Benefits of IRAs
Those 24 million forgotten 401(k) accounts across the country hold $1.35 trillion in assets. The money left in old accounts could be shuffled to other accounts that charge fees without the account holder knowing, meaning the account balance drops.
The funds take about five business days to move into an IRA after Capitalize helps retrieve the money from old accounts. From that point, users are free to manage the money any way they want in the institution they choose, rather than the one their employer chooses.
Consolidating all of the money into one IRA account instead of having funds spread out in several 401(k)s makes it easy to keep track of the account and monitor fees. Capitalize said its service is especially relevant now as so many people are switching jobs.

IRAs are an easy way to make sure savings are well invested. IRAs have flexibility in investments. People can invest in ETFs, individual stocks, and even invest in cryptocurrencies. And they can have a robo-adviser that provides investment advice based on algorithms.
"There are three big advantages," Sharma said. "The potential for lower fees, the high likelihood that you can actually improve your asset allocation, and the psychological comfort of knowing that it's visible to you, all in one place."
Capitalize also helps move Roth 401(k)s to a Roth IRA. The company said it works with any account tied to an employer, with the only exception being pensions. But Capitalize cannot move 401(k)s into other 401(k)s. Its focus is solely moving funds into IRAs.
Emphasizing Early Savings to Create a Nest Egg
Capitalize helps clients focus on saving money early to enjoy it later in life. While having credit cards is good for earning rewards and making purchases, accruing debt early in life is not ideal. Saving for retirement is critical to avoid accruing credit card debt when you're older.
It's especially important to take advantage of retirement accounts like a 401(k) where an employer matches the funds you put inside. Using those accounts is basically like receiving free money. 
The key is to make as large a contribution as possible, even if you can only spare a little bit. As time goes on, it is critical to increase contributions. Once the money is in your account, make sure the cash is not just sitting there without growing or disappearing due to fees.
When you change jobs, make sure to rollover 401(k) accounts. Capitalize makes the process easy and automates most of it.
The company constantly listens to the feedback from users on what they do or don't like about the service. Capitalize takes the feedback and applies it to build in new features into its product. It attributes its high Trustpilot scores to its dedication to a positive user experience.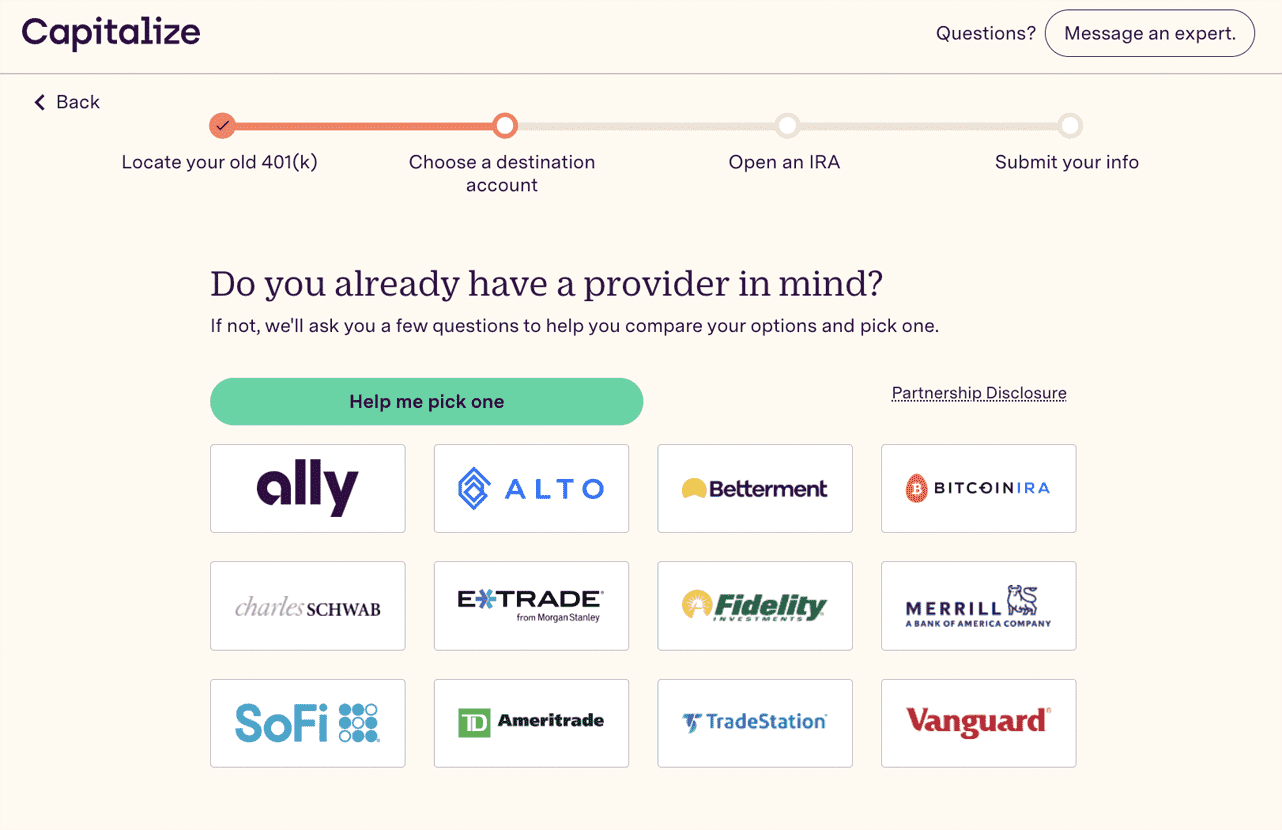 An important part of the Capitalize experience is how it helps users compare IRA providers. Capitalize showcases between 12 and 18 providers to each person who goes through with its service. The company gives guidance on each institution so the user can make an educated decision they feel right with.
"If you want guidance on filtering through institutions, then we'll take you through that process," Sharma said. "At the end, we will show the results and the fees. Allowing users a couple of different ways to select an IRA is really helpful. At the end of the day, we have to do what's in the customers best interest to retire."
Advertiser Disclosure
CardRates.com is a free online resource that offers valuable content and comparison services to users. To keep this resource 100% free, we receive compensation for referrals for many of the offers listed on the site. Along with key review factors, this compensation may impact how and where products appear across CardRates.com (including, for example, the order in which they appear). CardRates.com does not include the entire universe of available offers. Editorial opinions expressed on the site are strictly our own and are not provided, endorsed, or approved by advertisers.