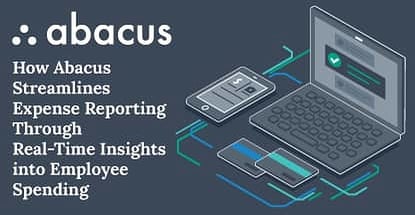 In a Nutshell: Expense reports help companies keep track of costs, but processing these reports incurs its own expenses in terms of time, money, and frustration. Abacus presents a fresh, innovative approach to expense reporting by eliminating traditional reports and allowing employees to submit real-time expenses that trigger ACH reimbursements once approved. This eases the workload on employees as well as on finance teams, who get instant insights into employee spending and can use them to make fast, strategic decisions. The software adjusts the policy rules as they apply to individual employees so their expenses are reported accurately and correctly, and Abacus' routing rules make sure the reports go to the appropriate approver, expediting the approval and reimbursement process. //
In 2015, Global Business Travel Association (GBTA) evaluated the cost of expense reporting and found a simple expense, like a one-night stay in a hotel, took an average of 20 minutes and $58 to process. GBTA also discovered that 19% of expense reports contain errors, which required an additional 18 minutes and $52 to correct — not to mention the cost in human frustration.
These time, monetary, and emotional costs are exactly what Abacus alleviates by providing an expense reporting method that is faster and more efficient for employees and finance teams.
"Abacus is the first and the only real-time expense reporting solution," said Bethany Walsh, Vice President of Marketing for Abacus.

The service takes a novel approach to tracking, reimbursing, and monitoring employee expenses.
"All the players in the expense management space right now have essentially digitized what was once the horrible process of taping your receipts to a piece of paper and filling out a spreadsheet," Walsh said. "We actually remove the traditional employee expense report from the process."
Eliminating traditional reports allows employees to file expenses on the go and provides a stream of real-time information to finance teams.
"What we're trying to do is really rethink the structure of that process," said Walsh, "because it gives our customers a lot more flexibility and scalability for how they can build their policies, how they can invest that information, and, therefore, what they can do with it later on."
Hassle-Free Expense Reporting on the Go
Abacus is simple for employees to use — just snap a picture of your receipt, add a note and categorize it, then submit it. The app automatically applies a policy to the expense, removing the guesswork from reporting and expediting reimbursement.
"You know whether or not it's in policy or if you need to change anything," Walsh said. "By the time it gets to the finance team, it's been verified and categorized. Then the system takes all of the information off of the expense and dynamically sorts it into what we call live reports — which is our replacement for expense reports."
This means reimbursement is equally quick and painless. "One of our founding principles was to help employees get paid back faster," Walsh said.
When the finance team approves an expense, it triggers an ACH payment for direct deposit into the employee's bank account. "It's like a nice reward for submitting their expenses in a timely manner," said Walsh, "because they're not out of pocket as long."
Enabling Smarter, Faster Decision-Making
Abacus' benefits go beyond making employee expense reporting easy, however, and extend to managing charges on company credit cards. "We're trying to keep it simple for employees as well as for finance teams," Walsh said.
"Finance teams are getting visibility into those expenses as they're happening," Walsh said. "They can track the spending of the company, make adjustments, and make decisions as those expenses are coming in."
Abacus can sort expenses by category, by employee or client, by time period, and every permutation thereof. "It's more of an intuitive and intelligent way to review expenses," said Walsh, "and it really helps you get through them in a more efficient manner."
To help manage all expenses, Abacus also offers a Corporate Card Dashboard for tracking and managing charges to company credit cards.
"Expenses show up on that dashboard as they post to the card," Walsh said. As with out-of-pocket expenses, employees categorize and explain charges to the company account, providing their finance team with context and immediate insight into the transaction.
Finally, Abacus' customizable routing rules direct incoming expenses through the appropriate chain of approvers. Because expenses aren't bundled into a traditional report, these rules expedite the review and approval process.
"We provide a continuous flow of data that are available for finance," said Walsh, "so they can make more strategic decisions, faster."
Easy Implementation of Customized Policy Rules
Abacus also allows finance teams to create customized expense rules that help to minimize errors in expense reporting by prompting employees to adjust their reports in real time — saving time and effort for employees as well as approvers.
Abacus' tutorial video (seen below) explains how the service draws on information from employee profiles and other expenses to apply policy rules for newly created expenses. It's checked against established criteria, such as spending limits for certain employees or expense categories, and immediately tells the employee if the expense adheres to policy. Each rule is applicable to groups of employees or to specific users.
There are two types of policy rules in Abacus: warning rules and blocking rules. If a warning rule isn't met, Abacus will prompt the employee to provide more information about the expense. Violating a warning rule doesn't block an expense report, but it does warn the employee that the finance team may request additional information.
Blocking rules, on the other hand, lock the submission process until the employee corrects the outstanding error in the expense. "Employees won't even be able to submit the expense if it's out of policy," said Walsh.
These rules save everyone involved both time and money by alerting the employee to issues the expense team will deem problematic. This helps employees get their reports right on the first attempt.
"It allows them to fix it in real time," Walsh said, "so by the time they submit it, they have a good sense that it's in policy."
Improving Access to Actionable Information
Abacus' dedication to responding to the needs of businesses is apparent in its streamlined reporting process and customizable reporting and workflow systems — but the Abacus platform isn't done growing.
"We recently rolled out an insights platform, which allows our admin to do a lot more reporting on approved expenses," Walsh said. "Our big plans are really focusing on scaling out the way we can serve mid-market companies, and understanding what their needs are, whether it's more detailed accounting integrations or advanced features."
As Abacus continues to grow and develop, it plans to adapt to the changing needs of its clients. What exactly those needs may be is anyone's guess, but one thing is certain: Abacus will continue to provide valuable, on-demand information in real time for finance teams.
"It's really about giving them more of that data," Walsh said, "so they can make actionable decisions."
Advertiser Disclosure
CardRates.com is a free online resource that offers valuable content and comparison services to users. To keep this resource 100% free, we receive compensation for referrals for many of the offers listed on the site. Along with key review factors, this compensation may impact how and where products appear across CardRates.com (including, for example, the order in which they appear). CardRates.com does not include the entire universe of available offers. Editorial opinions expressed on the site are strictly our own and are not provided, endorsed, or approved by advertisers.