In a Nutshell: Credit card rewards enthusiasts often look for the best travel opportunities to use their hard-earned points. The World Footprints blog and podcast offers information, education, and inspiration on the social impact of travel. Its goals is to inspire explorers to seek culture over consumption. Founders Ian and Tonya Fitzpatrick, and a global network of contributors, highlight how travelers can positively impact the places they visit and share insights on connecting travel with global social issues.
Sometimes, travel is just a commute from point A to point B. We barely notice it. For many people, travel is a distraction from the routine. But some people are more passionate about travel and seek to leave their comfort zones to search for adventure.
Card rewards holders are often in the adventurous category, possessing the discipline and a willingness to defer short-term gratification in favor of a longer-term payout as they rack up points or miles.
Those explorers also understand that card rewards are too precious to spend on distractions and a lackluster trip that doesn't create lasting memories. However, they may still have trouble selecting a worthy destination.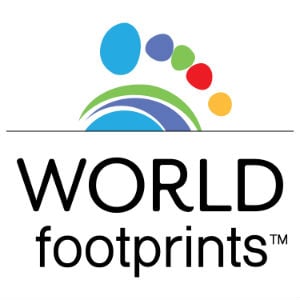 The World Footprints blog and podcast inspires people to create lasting memories through travel. The travel media company challenges visitors to other countries to engage with the places they visit and leave a positive impact.
Tonya and Ian Fitzpatrick founded World Footprints, a content network that shares stories celebrating the shared humanity of world travelers. The stories published on World Footprints also serve to dispel fears about travel and help Ian and Tonya pursue their lifelong commitment to global social justice.
"From the beginning, we have intended to connect people to other cultures and help them create meaningful travel experiences," Tonya said.
"So we're not one of those consumer-oriented travel advice platforms," Ian added. "We're more about going behind the scenes of history and culture and promoting a global travel ethos to just get out there and explore."
Social Impact Media for Cultured Travelers
Ian and Tonya, like many frequent travelers, take advantage of tools, including card rewards, to create extra value to pay for trips.
World Footprints also works with brand ambassadors and travel bureaus interested in reaching its large audience of engaged and socially conscious travelers.
The blog and podcast aren't focused on just numbers. Instead, Ian and Tonya said they use their space to share global voices and promote cross-cultural understanding.
Ian and Tonya met in Washington, D.C., where they both worked as lawyers. After they got married, they said they found that something was missing in their lives. In 2007, the media-savvy couple became co-hosts of a radio show that merged their dedication to the law and justice with their love of travel.
They restructured the radio show and rebranded it to World Footprints in 2010. According to Ian, it has evolved from a business-to-consumer radio show into a social impact travel media organization.
"A lot of people ask us why we moved from law to travel journalism," Tonya added. "And our answer is that they're related. I went into the law because I wanted to help people who didn't feel empowered to help themselves. And that's what we're doing in the travel space as well."
A dedicated staff and a cadre of freelance writers bolster Ian and Tonya's efforts. The platform organizes the blog articles around geography, travel strategies, culture, and global citizenship.
The World Footprints podcast is widely available online and has invited prominent experts and celebrities, including travel personality Rick Steves, for engaging and illuminating conversations. The platform also has an entertaining YouTube channel.
Planning for Trips When the World Reopens
Ian said he and Tonya understand the global impact of the COVID-19 pandemic on world travel. That's why World Footprints has incorporated content for dealing with travel downtime and taking stock of the travel industry's positives and negatives.
"The upside is that we've been like a whole bunch of other people, staying close to home and rediscovering a lot of things that we haven't had the time to do as global travelers," Ian said.
"We made a personal decision to give the vaccine time to work," Tonya added. "One thing we did not want to do was go into a community, especially one that doesn't have the health infrastructure that we have, and negatively impact that community."
Downtime also offers opportunities for travelers to assess their card and rewards strategies. Ian and Tonya have shopped for new cards and make sure they're enrolled in the rewards programs that make the most sense for them.
Watch on
"It's always a good thing to have a credit card that will allow you to earn points and save," Ian said.
They also address travel housekeeping duties, including how to streamline border checks by joining the U.S. Customs and Border Protection Global Entry program.
"Even though the interview process has been delayed because of the pandemic, it's valuable because TSA PreCheck is included," Ian said.
Ian and Tonya said they have enjoyed virtual travel and cultural content online to keep the travel passion alive. They take virtual tours of European cities and have even taken online cooking and bartending classes.
"Those are things that have helped us sustain that desire for exploration," Ian said.
World Footprints Shows How Travel Connects Humanity
Ian and Tonya said they know they belong on the road because travel is a mission informed by their philosophy of unity.
One 2020 World Footprints podcast with Author Janet Cheatham Bell recounted her experiences in the American civil rights movement and how world travel taught her that "being human is the same everywhere and it has nothing to do with color or culture."
A blog entry on Glacier National Park went behind the scenes of that iconic destination to tell the story of how the creation of the park affected the lives of Blackfeet Nation natives who had been living there for centuries.
Ian and Tonya also emphasize the travel industry's impact on global environmental and economic sustainability.
"I want everyone to be cognizant of the impact their expenditures have," Tonya said. "Unless you get out of that resort or cruise terminal, you're not benefiting the local community."
No matter where card rewards lead you, World Footprints offers resources that can make travel experiences more memorable. Even a visit to the French Quarter Festival in New Orleans becomes imbued with additional significance after listening to an interview with renowned Author Maya Angelou.
The insight World Footprints provides users can best be expressed in the foundational principles Tonya and Ian have included on the site. One is the Zulu word Ubuntu, which translates to "I am because we are," and another is the Hindu phrase Tat tvam asi — "I see the other in myself and myself in others."
"It's a deep way of saying we're unified, and we are one family," Tonya said. "And there's a responsibility that we have to each other because we are family."
Advertiser Disclosure
CardRates.com is a free online resource that offers valuable content and comparison services to users. To keep this resource 100% free, we receive compensation for referrals for many of the offers listed on the site. Along with key review factors, this compensation may impact how and where products appear across CardRates.com (including, for example, the order in which they appear). CardRates.com does not include the entire universe of available offers. Editorial opinions expressed on the site are strictly our own and are not provided, endorsed, or approved by advertisers.