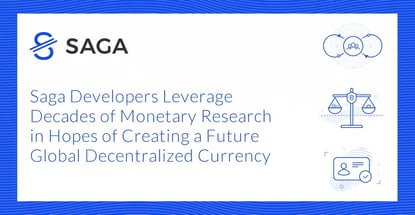 credit card news
Our experts and industry insiders blog the latest news, studies and current events from inside the credit card industry. Our articles follow strict editorial guidelines.
In a Nutshell: The Saga token (SGA) is a recently launched digital currency with ambitious goals of one day becoming a global currency. SGA's reserve value is held in the same configuration as the International Monetary Fund (IMF)'s special drawing rights (SDR), which was defined and maintained to diversify central banks' currency reserves. Most pundits consider Saga the main challenger to Facebook's as-yet-to-be launched Libra coin.
Most startups enter the marketplace hoping to create a product or service, catch the attention of a larger company, and sell the business to make a quick and profitable exit.
Ido Sadeh Man has experienced this firsthand. As a startup veteran, he's taken part in projects that went from concept to sale in three years or less. But he's expanded his timeline horizon by a few decades for his latest venture.
Sadeh Man is the founder and chairman of the board of Saga, a crypto company with ambitious goals of making its SGA token a global currency for the next generation. Consumers can already trade the token in many parts of the world and adoption has increased steadily since its late 2019 introduction.
For Sadeh Man, the Saga project is a return to his true passion. After spending 16 years in Israel's startup scene, he said he decided to head in a different direction and study political science.
"The aim was to write a sort of investment thesis or playbook for investing in the blockchain," he said. " After two or three weeks of many sleepless nights, I realized I wasn't going anywhere. I hadn't lost my passion. But I think that political science and technology are coming as close together as they ever have."
Sadeh Man pointed to the blockchain as a way to merge the two ideologies together. Through this decentralized and secure technology, tokens can create governance and structure in areas that don't currently have such a balance, which is exactly what Saga hopes to bring to the global financial marketplace.
"Saga's main vision is to help create the global currency that we desperately need," Sadeh Man said. "We're nowhere near a Star-Trek-like Global Federation for banks, but this technology allows us to implement monetary policy on a global scale."
Though the project began in 2017, Saga didn't begin trading until December 2019. The development team spent years overcoming regulation and compliance issues and creating its governance model that ensures Saga can operate efficiently worldwide.
While three years of development may seem like a long time, the coin has experienced far greater progress than Facebook's Libra coin, which has similar goals and was met with tremendous regulatory pushback within moments of its 2019 announcement. To date, Libra still lacks the regulatory approval to launch.
Saga sets itself apart by tying the value of its token to special drawing rights (SDR), an international type of monetary reserve currency created by the International Monetary Fund (IMF). These funds operate as a supplement to the existing money reserves of member countries.
This means Saga doesn't tie itself to the monetary or fiscal agenda of any single nation.
"As the economy grows, and more people buy Saga, we won't continue to mint more," Sadeh Man said. "Saga only mints based on the market's decision. No one at Saga can actually mint Saga. As the economy grows, the reliance on the SDR decreases ever so slowly."
A Long-View Approach to Building Security and Trust
Successful decentralized currencies don't develop overnight. Those that do tend to succumb to volatility or regulatory issues over time. The Saga team understands this, which is why it's set no expectations of sweeping the globe anytime soon.
"We won't know for another 30 or 50 years whether Saga succeeds or not," Sadeh Man said. "This isn't a short voyage. We were never naive enough to believe that Saga would quickly become a medium of exchange. It will take years."
But despite the long-term horizon, Sadeh Man applauds the token's development team for the victories it's earned in its short time together — gaining more ground than larger companies, such as Facebook, could manage in a similar time frame.
"We've achieved tremendous progress, whether it's on the technology side, the monetary policy side, or the regulation side," he said. "Just being able to launch is very important for a project like this."
In the months since Saga launched, hundreds of other cryptocurrency tokens have joined the market. New coins are minted every day with the hope of achieving similar success as well-known giants like Bitcoin or Ethereum. While Sadeh Man said he plans to one day eclipse those early adopter currencies, he understands that true growth takes time and patience.
"We departed from a very conceptual statement that said the currency was just a quantifier of trust," he said. "When a new currency comes and hasn't demonstrated its value, it does not deserve any trust and, therefore, any such currency that will try to be intrinsically appreciated will be subject to volatility."
A Currency Based on Coherence and Serenity
Saga refers to its token owners as participants, and every participant has a say in the future of the currency. New coins are only minted when there's demand. Participants also make up the governing body that determines how the currency runs.
"The goal is to have a coherent currency where the incentives of all players align," Sadeh Man said. "We don't want a system where the benefit of one comes at the detriment of others."
To that end, Sadeh Man said his part in the Saga project is determined by participants. Despite three years of hard work, sacrifice, and investment, his role with Saga rests in the participants' hands.
"I founded Saga," he said. "But on December 10, 2020, Saga's holders can elect someone else to lead the project and I'll have nothing to do with the currency anymore. Every currency holder should have the fundamental right to choose who is acting on their behalf."
One thing should remain clear for whoever runs the Saga project after its December election, he said. There's a psychological aspect that comes into play when introducing a new currency. While some may latch on to flashier coins as a means of investing, adopting a currency as your principal means of transacting requires an entirely different mindset.
"This is all about shifting the human paradigm," Sadeh Man said. "We are born to the fact that the only currencies we know and trust are issued by states. For the most part, it's actually good for the Saga ecosystem to grow slowly through trial and error."
So while most participants currently look to Saga for its current value — and not necessarily a medium of exchange — the Saga team said it sees adoption in certain regions as a means to overcome the shortcomings of their current fiat currency.
"Countries like Argentina, Brazil, Turkey, and South Africa have currencies that don't provide the security that they should provide," Sadeh Man said. "Saga makes a lot of sense to people in those regions because our currency doesn't rely on just one nation or state."
New Partnership Helps Token Holders Earn Interest
Saga's recent partnership with Celsius Network allows participants to safely store and earn interest from their SGA holdings, which helps build consumer trust in the budding currency.
"We want to focus on countries that need an alternative to their monetary system and make sure they have access to Saga," Sadeh Man said. "At the same time, we're enlarging our partnership network, as you can see through our partnership with Celsius."
Consumers can continue to track Saga's progress in achieving its goal of becoming a global currency and bringing consumers together under one fiscal umbrella.

"Over the next two or three years, we are very much focused on Saga's value and proving the worthiness of our monetary model as a stabilizing factor," Sadeh Man said. "We will focus on that before we move our focus to creating a Saga payment network or moving to using Saga as a medium of exchange."