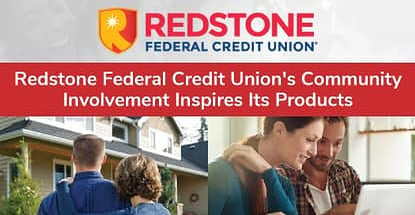 In a Nutshell: Consumers want choices when they shop for a product or service. When it comes to credit cards, people want to choose their own rewards and how they're redeemed. For residents of Alabama's Madison, Morgan, Jackson, Marshall, and Limestone counties, and Lincoln and Rutherford counties in Tennessee, the choice is clear. Redstone Federal Credit Union has spent the last 65 years working within the communities it serves and has used that experience when creating its portfolio of credit and loan options that appeal to a diverse audience. Members who have an active Redstone checking account are automatically enrolled in MemberPlus, a program that offers members to receive better loan rates, discounted fees, and higher dividend rates. //
Marketing a product or service to consumers can be a painstakingly difficult task. The process starts with creating a product that appeals to the masses, and the job for financial services representatives gets more difficult when it's time to get the word out about the product.
But some products tend to sell themselves. If a company can package together quality, convenience, and value into one product, chances are it's going to find success over time.
Redstone Federal Credit Union adds an extra ingredient into its recipe for crafting popular financial products — community. Redstone covers Madison, Morgan, Jackson, Marshall, and Limestone counties in Alabama and Lincoln and Rutherford counties in Tennessee. With more than 419,000 members and $4.7 billion in assets, the institution serves a diverse audience with an ever-changing set of needs.
"Being a credit union, we really focus on people of modest means," said Fred Trusty, Executive Vice President and Chief Marketing Officer at Redstone Federal Credit Union. "When we look at our credit products, we really try to price them appropriately."
Those products include a pair of Visa-issued credit cards and a portfolio of loan options that rank among the most competitively priced in the area.
"We know people need a car, so we make sure to offer the best rates in our area for auto loans," Trusty said. "That's why, when you look at market share, you'd see that we definitely have the highest market share in our area for used auto loans. If you strip out the manufacturer's promotional 0% offers, we have the highest market share of new auto loans, also."

Membership to Redstone is open to anyone who lives, works, worships, goes to school, or volunteers in the institution's service area. Membership is also available to members of more than 1,500 organizations, clubs, churches, and businesses.
A Redstone membership not only provides access to competitive checking and savings products but also offers loan rates that consistently beat out the competition.
"We issue a lot of Payday Alternative Loans (PAL) or Stretch and Save Loans," Trusty said. "These help those people who have modest means and are struggling to get that $500 loan. Instead of going to a payday lender, they can go to us and get that same loan with very attractive rates."
Credit Options with No Annual Fee, Rewards, and Low APRs
Redstone's two credit card offerings were intentionally curated to meet the needs of members who voiced their opinions on what makes a perfect credit card.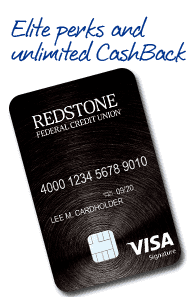 "We did research among our members, and included some non-members, to find out what they were looking for in a credit card," Trusty said. "Across the board, we heard that they wanted no annual fee and low interest rates, but they also wanted to be rewarded for using their card. Options are important."
Those options are most noticeable in Redstone's Visa Signature® card, which offers a 0% introductory APR for the first six months, followed by an APR that will range from 9.50% to 13.00% based on creditworthiness.
Cardholders earn one point for every dollar spent, with a double-points bonus during the first 90 days.
"You can use those points for cash back, travel, or even give them to charity," Trusty said. "That is something we believe strongly in because, as a credit union, we're all about giving back to our communities and our members."
The addition of points is new to Redstone members. The institution previously only offered cash back rewards on their credit cards but added a catalog of choices through MyChoice Rewards after listening to cardholder feedback.
"We've only been running a points program since March, and we've already had many people take advantage of it," Trusty said. "This is a very popular program that our members were excited to see introduced."
The Visa® Traditional card boasts no annual fee, a six-month 0% introductory APR on balance transfers made within the first 30 days, and a 0% introductory APR on all new purchases made during the first six months. After that, the APR shifts to a stellar range between 8.50% to 12.00% or 18.00% fixed, based on creditworthiness.
"The interest rate on this card is very favorable," Trusty said. "If you're someone who is trying to build or rebuild your credit, this card is very, very attractive."
Enroll in MemberPlus for Discounts and Better Rates
Redstone members are also rewarded for their loyalty by receiving automatic enrollment in MemberPlus when they maintain an active checking account with the institution.
"Enrollment in MemberPlus allows our members to receive better loan rates, discounted fees, and higher dividend rates," Trusty said.
To make membership even more profitable, Redstone compiled a set of perks that competitors will be hard-pressed to match.
"Once a year, if you have one of our CD products, you can change your rate," Trusty said. "I know that none of the credit unions in our area offer that. We may be the only credit union in the country allowing this."
Say the current rate on your CD is 2%, but rate increases have improved the current rate to 2.25%. Once a year, you can change your rate and benefit from the higher yield through MemberPlus enrollment.
Building on Over 65 Years of Community Service
Any marketer could tell you that more is better. The more people you reach, the higher your success rates will climb. Redstone has proven this theory over time by remaining loyal to its community, which, in turn, makes the community loyal to Redstone.
"Our offerings and accessibility have helped us earn an 85% household penetration rate in the Huntsville and Madison areas," Trusty said. "What company — not just a financial institution — has that kind of household penetration?"
Trusty attributed Redstone's popularity to the variety of products it offers, the company's history of more than 65 years of community service, and the employees who work hard to make every experience a positive one for members.
"We have an incredible team that understand the needs of all of our members," he said. "They strive every day to provide exceptional service."
Advertiser Disclosure
CardRates.com is a free online resource that offers valuable content and comparison services to users. To keep this resource 100% free, we receive compensation for referrals for many of the offers listed on the site. Along with key review factors, this compensation may impact how and where products appear across CardRates.com (including, for example, the order in which they appear). CardRates.com does not include the entire universe of available offers. Editorial opinions expressed on the site are strictly our own and are not provided, endorsed, or approved by advertisers.