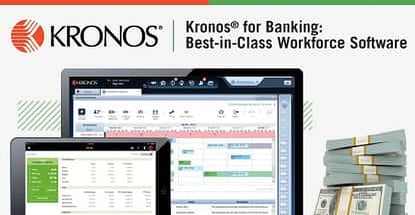 In a Nutshell: Customer satisfaction is everything in banking, and your employees are on the front lines every day as the faces of your institution. Your workforce is your biggest expense, so it makes sense to get the most out of it. While Kronos and its workforce management software isn't limited to financial institutions, its Kronos for Banking solution is specifically tailored to the needs of banks. The software makes it easy and cost-effective to manage employee scheduling, lobby management, and appointment scheduling. It can forecast business trends so that your branch isn't over- or understaffed, leading to efficiency in workforce and smooth customer experiences that boost retention rates. For this reason, CardRates is honoring Kronos for Banking with the Best-in-Class Award for its Workforce Software. //
The biggest expense for almost any company — banks and financial services companies included — is recruiting, retaining, and paying its workforce. In fact, more than 60% of corporate expenses go into labor costs.
Staffing and scheduling the right employees can be a double-edged sword. On one hand, having too many employees on the clock can be a drain on your bottom line. Too few can lead to longer wait times by your customers, missed appointments, and frustrated account holders who are forced to deal with stretched-thin tellers who might not be properly trained. It's important to find the sweet spot where the experience outweighs the expense.
Recognizing the need for efficient workforce management software that serves a variety of verticals, Massachusetts-based Kronos has created unique suites of tools and applications that serve back offices everywhere. One such solution is its Kronos for Banking software, which stands out for its ability to provide comprehensive workforce management and lobby management solutions in one user-friendly interface.
Kronos for Banking helps forecast and schedule employees as needed, and streamlines your customers' lobby experience. With staff scheduling, lobby management, and appointment-setting software, bank staff can improve branch operations and optimize sales opportunities.

Not only does Kronos for Banking improve your branch's staffing abilities, the software is designed to allow the staffing manager to know when more employees may be needed and when fewer should be scheduled, optimizing payroll based on past data. The easy app-based interface for employees also makes arranging schedules, requesting time off, and identifying availability easier on their end, which, in turn, cuts down on the time you need to create schedules each week.
Financial institutions have other software options to manage their workforce, but Kronos for Banking stands out as the most efficient and cost-effective choice.
Adding the Human Touch to a Personal Transaction
Although the number of US bank branches have been in decline over the last five years, many customers still prefer the human interaction of working with a teller or account representative. This is especially true when handling sensitive transactions, like large deposits or withdrawals, loan applications, or estate planning.
But, as the trend moves toward virtual banking and technology-based services, a streamlined, motivated workforce becomes all the more important to retain those customers who still want a personal touch in their banking experience.
In most cases, the happiness of your employees goes hand-in-hand with the happiness of your account holders. Flexible scheduling and easy access to their personal information is one step toward creating the new branch experience that a satisfied employee gives to a customer.
Studies have shown that for transaction-based business customers with the best past experiences spend 140% more compared with those who had the poorest past experience. Improving the overall experience of your customers means they're more likely to return to a branch instead of joining the migration online or to a competing brick-and-mortar bank.
Save Money and Increase Customer Satisfaction in One Step
With branch numbers decreasing and more customers banking on the web, the first reaction might be to cut staff and lower the overall workforce in each location. However, this can be a mistake, leading to improperly trained, or overworked, employees who deliver poor customer service to the branch's remaining clients.
With Kronos for Banking, you can manage your workforce more efficiently. The software's forecasting abilities enable the staffing manager to easily determine when more employees are needed and where to place them to increase productivity.
Alternately, staffing can be trimmed down during non-peak times to save costs. The lobby management software minimizes customer wait times by creating queues and notifying available employees when a customer is in need of help. Appointment software keeps schedules intact without overlapping, or creating too wide a gap, between meetings or other scheduled appointments.
Scheduling Software that's Secure, Compliant, and Easy
Kronos makes creating schedules and the employee' task of managing their schedules fast and easy. Plus, the software's user-friendly interface is adaptable for the needs of nearly any type of company in the financial services industry.
Through the app-based interface, staff members can view accrual balances, request time off, update availability, and complete other tasks via web, mobile device, or time clock. You can even schedule employees to work at different branches on different days to move your top-performing staff members where they're most needed.
Placing key employees where they can deliver the highest level of customer service saves time and increases efficiency, according to a Kronos industry brief. That may explain why some of the top US banking names — Fifth Third Bank, Comerica, Bank of New York Mellon, Woodforest National Bank, and First National Bank — are already using the software.
Kronos for Banking is also completely audit-ready with printable compliance data. The software tracks hours worked and leave taken by staff, and their planned and unplanned absences. The software facilitates compliance with the Fair Labor Standards Act, the Family and Medical Leave Act, and the Affordable Care Act, as well as legislative, licensing, certification, and regulatory requirements.
Efficiency Starts with Proper Workforce Management
Financial institutions already use software for optimizing investments and conducting mobile transactions so it only makes sense to employ specialized software for getting the most of their largest expense — their workforce.
When back-office leadership spends too much time setting schedules and dealing with employee requests, that's time taken away from other tasks that affect revenue. Kronos for Banking helps management save time and stress and get the most out of staffing costs. The software opens a window to your daily business practices and makes it easier to have the right people in the right place at the right time.
Since most banks offer similar services, they tend to compete on customer service. While many financial institutions are trimming their staff and branch locations, or cutting corners to save a few dollars off the bottom line, Kronos for Banking is helping many corporations keep customers satisfied and coming back for life.
Advertiser Disclosure
CardRates.com is a free online resource that offers valuable content and comparison services to users. To keep this resource 100% free, we receive compensation for referrals for many of the offers listed on the site. Along with key review factors, this compensation may impact how and where products appear across CardRates.com (including, for example, the order in which they appear). CardRates.com does not include the entire universe of available offers. Editorial opinions expressed on the site are strictly our own and are not provided, endorsed, or approved by advertisers.