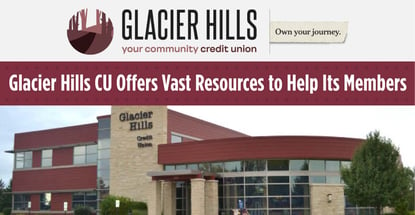 In a Nutshell: Glacier Hills Credit Union encourages members to own their journey, and the Wisconsin-based institution provides plenty of resources to help them along the way. Members have access to tax professionals and financial planners who can help create concise fiscal plans. Free financial checkups allow members to meet with loan officers to find ways to improve their credit scores. Glacier Hills also works with area high schools to develop curriculum and promote financial education requirements for graduation. For that dedication to its members and the people of Wisconsin, Glacier Hills Credit Union earns our Editor's Choice™ Award for Community Commitment.
When Glacier Hills Credit Union decided to update its branding in late 2018, it considered several paths to appeal to its Wisconsin footprint that includes West Bend, Hartford, and Fond du Lac.
But after talking to its existing members, the path became clear.
"We did a lot of research and surveys and found that many people in our community have a strong sense of hometown pride," said Travis Livingood, Director of Marketing at Glacier Hills. "People said that they moved away, but they always wanted to come back here, to the area where they grew up."
The credit union's employees held that same pride and wanted it to show — which led to the rebranded tagline of "Own Your Journey."
"Nobody's path is the same and everyone's changes throughout life," Livingood said. "We all have different dreams and aspirations."
Glacier Hills is celebrating its 85th anniversary in 2019, and it has come a long way since employees of the West Bend Aluminum Company established the institution in 1934. Today, the credit union manages more than $140 million in assets, and uses its resources to help members, and communities, own their journeys.
"Our goal is to get people to take ownership of their financial well-being," Livingood said. "We look for ways to guide them through the process along whatever their path may be — whether that's buying a house, buying a car, going to college, or saving for retirement."
Glacier Hills has a diverse team of experts who work to educate residents — from young students to retirees — on their options to maximize their financial health.
And, according to Livingood, those outreach efforts are a labor of love.
"We live and work in the same places as our members," he said. "Our dreams and hopes for our community are the same as our members. That's different from a big bank, which may be more concerned with turning a profit."
That outlook is just one of the reasons why Glacier Hills Credit Union has earned our Editor's Choice™ Award for Community Commitment.
Financial Checkups and Tax Advisors Make a Difference
Every bank and credit union relies on sales and deposits to fund its operations. But while some institutions may depend on meeting sales goals to increase profits, Livingood said Glacier Hills thrives by helping its members succeed.
"We focus on what our members need, whatever that may be, for their goals and dreams and stage of life," he said. "We don't have quotas where we want to sell a certain number of checking accounts each day. We're going to find out your needs and work to meet those."
And since no two members have the same needs, the credit union's team can help members in just about any situation. And it shows that ability through its Financial Checkup program.
The free program allows members to stop by a branch or call in a request to have their credit file reviewed. The credit union analyzes that profile and meets with members to go over their financial health.
"A loan officer team member will walk through your credit report and discuss how you're doing," Livingood said. "If your credit score is low, we'll discuss ways to bring the number up. We'll also verify that everything on your report is legitimate and that there are no fraudulent accounts in your name."
Loan officers already perform these tasks with members when they're processing a request, but any member can meet with an officer — even if they aren't ready to apply for a loan.
Glacier Hills also goes beyond the typical advisory offerings by providing tax experts to help members create an even more complete plan.
"A lot of banks and credit unions will offer access to a financial advisor," Livingood said. "But we feel that it is important to look at the entire picture. If your tax advisor doesn't know what your financial advisor has planned, it can cause some unintended tax consequences."
Livingood said the program has helped members save money on their tax bills while improving retirement and goal planning.
The credit union also offers regular community workshops to help anyone, regardless of membership status, understand complicated topics, such as social security, Medicare, and tax planning.
Reality Fairs Help Students Envision Their Futures
Long before most people were worried about things like home loans, credit card debt, and retirement planning, they were young kids with big hopes and dreams. Glacier Hills understands that every success story starts as a dream and wants to help more Wisconsin youth realize their goals.
That means advocating on behalf of West Bend's high school students while also educating them on their options after graduation.
"We worked with the business department of the local high schools for multiple years to increase financial education for students," Livingood said. "In the beginning, West Bend was one of the last large school systems that didn't have a financial literacy requirement for graduation. We worked with the school and they agreed that this is an important part of education."
The lobbying paid off. Starting with the graduating class of 2021, every student will have to meet a financial education requirement to graduate.
But even before those students get their diplomas, they can get a dose of adulthood through the reality fairs that Glacier Hills sponsors.
"Each student at the school takes a job assessment that shows the different career paths they can take in fields that interest them," Livingood said. "We've created a program that runs through the Wisconsin average, median, and top pay for that job."
Students receive a random family size, with some taking on a spouse, children, and credit card or student loan debt. The student then gets a life summary that matches his or her goals and shows them an expected lifestyle.
"I've been to some reality fairs where the students are just assigned a random job," Livingood said. "So you may have a student who wants to go into computer science who suddenly becomes a salesperson. The students are far more engaged with the way we do things because it reflects what they actually want to do with their lives."
For some students, reality hits hard, as they find that a dream can look a little less attractive when they're faced with debt, bills, and other responsibilities.
"We've had students who have looked at their numbers and realized that maybe they should consider a different profession," Livingood said. "They may decide to go on a different professional path and have their original path as a hobby on the side."
Glacier Hills Credit Union Rewards Members for Their Loyalty
While Glacier Hills offers much of its community outreach to anyone in Wisconsin — member or not — the credit union still emphasizes giving members the experience they expect.
The Glacier Hills Rewards program is one way it accomplishes that. Members earn points for doing business with the credit union, and redeem them for perks, including interest rate reductions on loans, Certificate of Deposit rebates, and other valuable rewards.
"The more business you do, the more perks you can get — for free," Livingood said. "That's because we don't just want single relationships with our members. We want to partner with them to offer them as many services as we can to meet their needs and make their financial lives better."
Glacier Hills is in the process of a core operating system upgrade that it plans to complete in 2020.
The upgrades will also provide Glacier Hills members with new tools to make owning their financial journey easier. Livingood said the core upgrade will allow us to bring great products and services to market even faster.
"We offer the same technology and tools that you'd find at the big banks, "Livingood said. "And we're focused on giving our members the best while still providing the small-town experience that our members appreciate."
Advertiser Disclosure
CardRates.com is a free online resource that offers valuable content and comparison services to users. To keep this resource 100% free, we receive compensation for referrals for many of the offers listed on the site. Along with key review factors, this compensation may impact how and where products appear across CardRates.com (including, for example, the order in which they appear). CardRates.com does not include the entire universe of available offers. Editorial opinions expressed on the site are strictly our own and are not provided, endorsed, or approved by advertisers.