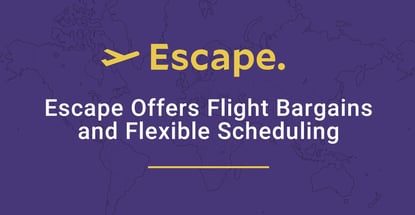 In a Nutshell: The airline industry uses a dynamic pricing approach, which means travelers can never be sure if they're getting a bargain. And traditional travel search engines aren't set up for people who just want to explore their options before deciding where and when to travel. Escape eases those pain points by pulling real-time pricing data from trusted global sources and allowing users to filter it any way they want — including for COVID-19-related restrictions. Whether users know the exact trip they want to book, or are open to suggestions, Escape helps them find the best flight deals.
Frequent travelers are familiar with the airline industry's dynamic pricing strategy, in which incremental, real-time price fluctuations drive strategic demand for seats.
It's an ingenious approach that solves a bottom-line corporate problem, but it means consumers searching for the best ticket prices have to do a lot of digging to find the best bargain.
While many travelers have set itineraries, others aren't so constrained. And most flight search engines aren't as helpful for those who are willing to travel anywhere but don't want to pay an arm and a leg. The data is available, as airlines participate in global reservation and price sharing systems. But figuring out how to access it is a challenge for consumers.

That problem was a natural focus for researchers affiliated with MIT's Senseable City Lab at the Singapore-MIT Alliance for Research and Technology. In 2017, one team set out to find a solution, and that's how Escape was born. Escape is a new kind of travel search engine that puts powerful tools in the hands of consumers to help them find cheap flights on their own terms.
"At any given time, travelers have more than 1 billion flight deals available to them," said Mohit Shah, Escape Project Leader and Developer. "And American millennials are flexible about flying — they're even willing to change destinations in return for a significantly cheaper ticket."
The Escape team saw that the current airline price system had a void that kept those travelers from finding the right information.
"We said, 'There has to be a better way,'" Shah told us.
Users Can Explore and Compare the Best Deals
Millennials are more than doing their part to drive the airline industry as a generation in search of experiences over conspicuous consumption. Escape fits right in with those trends by allowing users to explore deals and compare multiple destinations simultaneously.
Escape goes a step further by providing filters for various external conditions and pulling data not only from the airlines but also from other publicly available sources.
"We have 100 data points for each destination to help you find a trip that suits you," Shah said. "So you're doing two things — you're finding an affordable destination but also something you're going to like."
Escape first asks travelers to choose between round-trip or one-way itineraries and enter the number of passengers. The site accommodates multicity journeys and can also help plan itineraries based on a range of dates and destinations.
Enter any city or airport — or multiple destinations — and travel dates or identify a flexible trip duration. Escape searches all possible destinations, including specified cities, airports, countries, regions, or continents.
Escape shows ticket price ranges, direct-only flights, and blocks certain airlines and destinations, based on user preferences. From there, the site can filter for visa requirements, destination popularity, weather, safety concerns, activities, and attractions. Escape even reveals destinations that are LGBTQ friendly.
"You can be very specific, and for every city, we'll find the cheapest deals that fit your criteria," Shah said.
Filter for COVID-19 Travel Regulations Adds Flexibility
Escape makes visualizing your adventures easy and enjoyable with mapping features provided by the open-source Mapbox platform.
Users can zoom in to access pop-ups with details about trips and consider color-coded pricing information into consideration while tweaking filters along the way. And the Escape team develops new filters and features based on feedback from more than 10,000 customer conversations.
"One thing we're working on is showing flights by cabin class," Shah said. "If you're only interested in business class, for example, you can tell Escape not to show any economy flights."
Millennials traveling during the COVID-19 pandemic may be a saving grace for struggling carriers, but it also informed another Escape feature, according to Shah.
"In June, we started showing travel regulations for every country in real time," he said. "When you click on any destination, the right side shows what kind of lockdown measures are happening there. That includes the country's quarantine policy and whether a medical certificate or insurance document is required to enter the destination."
And COVID-19 has brought an unprecedented level of change to the industry, Shah said.
"On the airline front, things are still moving very rapidly," he said.
While stability is returning in some parts of the world, airlines continue to modify refund, seating, and masking policies in response to changing regulations and customer demand.
In other parts of the world, of course, the pandemic remains a challenge.
"We're trying to bring changing carrier policies to Escape in real time," Shah said. "When it comes to refunds, we facilitate communication with the travel agent. If one of our customers has a problem, we ensure the agent is held accountable."
A Global Platform Serving More Than 1 Million Travelers
Escape spun out of the research stage and became an independent business in January 2020. In a relatively short time, the platform has grown to serve more than 1 million travelers.
Relationships with travel search engines, including Kayak and Skyscanner, give the platform access to practically all airline and travel agent fares. Meanwhile, the World Health Organization provides it with COVID-19 data.
"There's a 99% certainty that you'll find the cheapest fare on Escape," Shah said. "There's always a deal going on somewhere."
For those whose travel plans are open-ended, the best way to use Escape is to add a flexible date within the next six months, a broad trip duration, and then search. Shah said they often discover possibilities users didn't know they had.
People with more limited time to search can create a deal alert and have the system notify them when their requirements are met.
"Set as many alerts as you want for all the destinations you like," Shah said.
Establishing a country or region as a destination is also a good way to explore, Shah said.
"For example, you can express interest in deals to Eastern Europe for a 10-day trip. You'll receive an email whenever there's a deal available from your origin," he said.
And with a mobile app rollout set for the coming months, using Escape promises to be even more convenient.
"In the end, you just want to have a good time," Shah said. "If you just want to relax or get away for the weekend, Escape is for you."
Advertiser Disclosure
CardRates.com is a free online resource that offers valuable content and comparison services to users. To keep this resource 100% free, we receive compensation for referrals for many of the offers listed on the site. Along with key review factors, this compensation may impact how and where products appear across CardRates.com (including, for example, the order in which they appear). CardRates.com does not include the entire universe of available offers. Editorial opinions expressed on the site are strictly our own and are not provided, endorsed, or approved by advertisers.