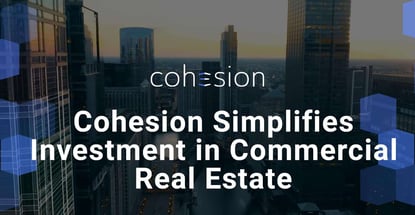 Our experts and industry insiders blog the latest news, studies and current events from inside the credit card industry. Our articles follow strict editorial guidelines.
In a Nutshell: Commercial real estate owners and investors need digital systems to enhance the office experience as they rely on more remote workers. Cohesion is a unified platform that provides real-time insights into tenant engagement and operations and reduces costs through automation and space optimization. The platform also makes buildings more sustainable and healthier by promoting worker engagement and collaboration. Through its tools, Cohesion aims to maximize ROI and market impact for owners and investors.
The commercial real estate market is changing. Average office space utilization rates shrank dramatically during the pandemic. Although occupancy numbers are increasing in 2022, workers know they can perform well at home. Some form of hybrid work is here to stay.
That's why building owners and their investors need to use their spaces more efficiently and enhance the tenant experience. To do that, they need a holistic understanding of how occupants use building systems within individual units and across real estate portfolios.
Operators within those portfolios need more streamlined workflows that reduce workload and add anywhere/anytime flexibility, enabling them to assess and manage variables such as air quality, energy use, and tenant engagement on the fly.
Tenants and workers want office spaces that bring convenience and a collaborative experience that work-from-home spaces can't. And as new generations of workers come online, they're more likely than their predecessors to prefer workplaces that reflect their sustainability and other values.

Cohesion offers a product that can meet all those needs. Cohesion adds value and ROI to office space ownership and investment through its unified software platform, which can quickly integrate into existing management platforms for minimal cost.
When the Cohesion team begins with a new client, it performs a tech survey to determine interoperability potential and where upgrades are warranted. The team recently converted one building, with elevators, card readers, access controls, and other infrastructure components all installed in 1989, to the Cohesion platform for less than the cost of a compact car.
"Owners think they need a massive capital investment to make their buildings smart, but most often, you don't have to rip and replace existing systems," said Thru Shivakumar, Cohesion's Co-Founder and CEO. "You can leverage them — and that's where we come in."
Understand Building Operations and Utilization
Cohesion started in 2018, before the pandemic. Shivakumar had advocated for digital building operations since 2007, when she worked for a parking real estate company that took a then-typical seat-of-the-pants view of asset utilization.
"In 2008, we started retrofitting our garages with automated lighting to get the energy savings," she said. "And I just kept asking, how are we running massive real estate portfolios without data on day-to-day ground operations?"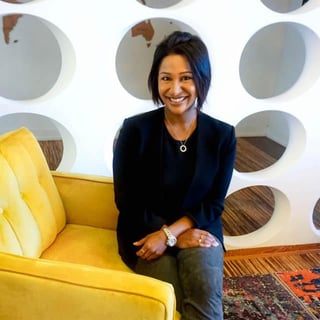 Fast forward a few years, and Shivakumar now leads a company that can provide those insights. The Cohesion platform replaces passive management with active digital engagement for commercial real estate owners and asset managers.
The platform facilitates real-time responsiveness to occupant behavior, improves operational efficiencies, stabilizes expenses, and drives revenue. The data is there to justify management decisions. It's easier to report credibly to investors, lenders, and sustainability certifiers and protect assets from digital threats. And benchmarking portfolio-wide assets is easy.
"Digitize the workflows and assets and get the data out," Shivakumar said. "If you're considering investing in real estate that doesn't have a data strategy, I would run."
Cohesion also allows property managers to increase their effectiveness. With a global view of building or portfolio operations, containing expenses and adhering to sustainability practices is easier. And it's easier to provide the seamless service modern tenants require.
Going digital reduces manual workflows so teams can focus creatively on what's essential and use data to justify decisions. And they can reduce turnaround time on tenant requests and automate reporting to stakeholders and regulators. Equipping buildings with Cohesion enables operators to put their best foot forward.
"Tenants today want concierge-level service, that hospitality element," Shivakumar said. "Operators need a level of insight to provide that."
Seamless and Engaging Tenant-Worker Experiences
Tenant and worker satisfaction makes a building valuable. Cohesion's mobile tenant experience app puts power in the right hands to provide a compelling on-site experience that workers can't get at home, including a high level of self-service for employees, with modern conveniences that meet worker expectations and streamline building operations.
For a fully integrated experience, workers can download mobile keycards to enter and exit without interacting with another device or checking in at the security desk. They can also use the app to pay for daily parking and find nearby community events after work.
"The experience at the office has to be very similar to the experience at home — plus more," Shivakumar said.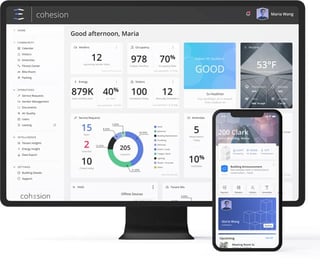 Because the platform supports role-based permissions, workers may also use the app to engage and collaborate. Using the same tool, they can book meetings, reserve time to enjoy amenities, such as yoga classes or other perks, and make service requests. When the light bulb burns out, the app supports live chat for efficient interactions with service personnel.
Cohesion puts all the puzzle pieces on the same table for operations folks. With sanitization and air quality top of mind for many office workers after the pandemic, the platform supports protocols and integrations for maintaining building cleanliness.
"Workers want to know buildings are taking those things seriously," Shivakumar said. "The way to assure that is by sanitizing surfaces and ensuring air is safe to breathe."
Those sensitivities go hand in hand with the desire of many workers, especially younger employees, to associate with companies that share their sustainability values. Companies that work with the Cohesion platform can align building operations with a sustainability commitment and gain an additional selling point to attract the most committed workers.
Cohesion Increases ROI for Owners and Investors
Ultimately, the commercial real estate portfolios that survive the ongoing office transformation will be those that provide the most integrated environment for the next generation of workers.
Cohesion's unified software platform can integrate everything from parking and entry to access control, HVAC, and air quality. Occupancy sensors help stakeholders monitor building and elevator use. And the tenant experience app ties together all the variables that make working in one building more pleasant and productive than working in another.
What's more, it's not a one-size-fits-all solution. Cohesion integrates with more than 50 certified platform partners and can collect more than 1 million data points per building. But the Cohesion team helps each owner choose the best-suited systems and integrations.
Most are up and running within a few days or weeks with very little capital outlay. The software itself then brings additional efficiencies.
"We can displace up to 17 cents per square foot on software displacement," Shivakumar said. "And from an operating income perspective, we can increase the bottom line by up to a dollar per square foot."
Cohesion does that, for example, by incorporating revenue sharing into owner-tenant air-quality monitoring transactions. And by tightening up building controls, Cohesion helps reduce revenue leakage in situations where property managers cut informal deals on amenities with favored tenants.
The platform also brings efficiencies by cutting utility spending for unused conference space. Shivakumar reports that shutting down the HVAC in unused areas can produce as much as a 3% savings.
Finally, happy tenants remain where they are. As office spaces continue to change, it's less likely that Cohesion buildings will need refurbishing to accommodate new tenants.
"There is a real financial incentive for investors to think about smart buildings and explore what the options are," Shivakumar said. "It's cheaper than people think — and it will pay for itself."