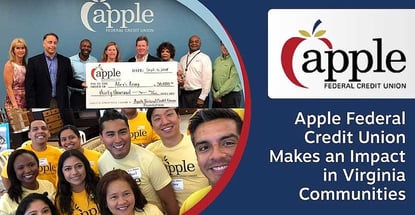 In a Nutshell: Apple Federal Credit Union was founded by teachers in 1956 and offers membership to those with ties to three counties across Northern Virginia. The credit union manages more than $2.5 billion in assets for 200,000 members, but remains committed to employee volunteerism and corporate philanthropy in its communities. Apple FCU supports scholarship and professional development programs and its employees donate more than 1,000 hours each year to causes they're passionate about. For supporting education and fostering greater dignity for individuals and families in Virginia, Apple FCU has earned our Editor's Choice™ Award for Community Commitment.
During National Breast Cancer Awareness Month every October, a group of Apple Federal Credit Union employees participates in the American Cancer Society's Making Strides Against Breast Cancer walk. It's just one of the many ways Apple FCU donates time and resources to support the Northern Virginia communities it serves.
"The American Cancer Society, and other major breast cancer charities, organized National Breast Cancer Awareness Month not just to raise awareness of the disease's impact but also to put dollars on the line as we fight for a cure," said Dawn Davis, Apple FCU's Director of Community Engagement. "Our participation in the walk puts our employees front and center in that effort — and we have a great time doing it."
Apple FCU believes in making lives better through both the direct impact of employee volunteerism and corporate philanthropy spearheaded by the Apple Foundation, the credit union's charitable arm. It is as passionate about investing its time to uplift communities as it is about serving the financial needs of its members.
The credit union even makes its volunteerism part of the work routine. Employees looking to use volunteer-time-off hours awarded by the credit union consult Apple FCU's internal e-newsletter, Tuesday Newsday, for opportunities to donate their time.
"Every month on the calendar is filled with volunteer opportunities for our employees, and every month we have employees going out to spend those hours," Davis said.
For nurturing the communities it serves through employee volunteerism, fundraising, and educational resources, Apple FCU has earned our Editor's Choice™ Award for Community Commitment.
A Growing Partnership with Northern Virginia Family Service
Partnerships often grow to profoundly touch the lives not just of the individuals and families receiving assistance but also of Apple FCU employees. And the inspiration that comes from helping people in need spreads throughout the organization.
A prime example is Apple FCU's partnership with Northern Virginia Family Service (NVFS), a nonprofit that provides more than 35,000 individuals with educational resources aimed at boosting their financial, emotional, and physical well-being.
"Our partnership with NVFS began back in 2015 with our staff working in their three thrift stores. They would go out for a couple of hours every month, usually just to help with stocking and sorting items," Davis said.
Over time, those volunteers found additional ways to contribute, including donating items to the thrift stores, then getting involved with SERVE, NVFS' temporary family residential facility that also houses a food pantry called the Hunger Resource Center that serves more than 600 families per month.
"As our employees unloaded and stocked food items at the Hunger Resource Center, they interacted directly with the SERVE residents who needed that support. They began to understand the depth of the challenges facing shelter families," Davis said.
The employees also got together and started game nights at SERVE. A large group of them bring board games that children can play while their parents attend classes on financial and other life skills.
"Now those kids have more chances to just relax and enjoy time with each other," Davis said.
Apple FCU also partners with a local coffeehouse to offer acoustic music nights at the shelter. Credit union employees bring refreshments, tablecloths, and create a menu while the coffeehouse supplies the music.
And those programs haven't gone unnoticed. In recognition of the work Apple FCU does to make Northern Virginia a better place for everyone to work, live, and play, NVFS presented it with a 2018 Care Award.
Community Impact Grant Program Goes to Worthy Causes
The Apple Education Foundation enriches students, teachers, and schools through scholarships, grants, and support for the Virginia Teacher of the Year program. The Foundation has donated more than $3 million in the name of learning since it was founded in 2006 on the principle that education drives positive change in the lives of children and the community.
And Apple FCU has expanded the view of the Foundation over the years.
The Foundation continues to award scholarships to students and support teachers and schools. In fact, every year, Apple Education Foundation awards $5,000 scholarships to at least 25 deserving Apple Scholars. But it is looking for more opportunities to make an impact.
"As the credit union has shifted and refocused its commitments to be more inclusive to the community at large, the Foundation is doing that as well," Davis said.
That expansion in the Foundation's strategy is manifested in Apple FCU's community impact grants, whose purpose, Davis said, is to have a positive effect on families.
Over the past year, the Foundation has donated $60,000 —proceeds from its annual golf tournament — in community impact grants to Alex's Army and Ellie's Hats, two charities that support pediatric cancer research and donate needed items to children suffering from cancer.
Apple FCU plans to do more of this kind of work with an eye on establishing long-term relationships with worthy community charities.
"We want to make as much impact as we can — we don't want to just give money and then walk away," Davis said. "We see our community impact grants as investments for establishing partnerships. We're looking for organizations and programs that have longevity and that we can grow with."
Apple FCU Fosters Dignity Within the Community Through Direct Volunteer Engagement
Like the proverbial apple on the teacher's desk, Apple FCU's commitment to its communities is a gift of appreciation. On behalf of its members, Apple FCU gives the gift of helping community members move forward. And AFCU's direct impact is growing.
For example, Apple FCU has long participated in an annual holiday gift-giving program. Employees donate money through payroll deduction, with the proceeds used to purchase gifts for students at schools with a high percentage of families in need of targeted financial assistance.
"We've expanded the number of counties we cover beyond the counties in our membership base," Davis said. "And this year, Apple FCU is matching employee contributions up to $2,000."
Meanwhile, game nights and acoustic nights at NVFS continue. On acoustic night, the shelter takes on the vibe of a hip coffeehouse — an experience usually beyond the reach of many SERVE residents.
"We know the NVFS coordinator at SERVE well," Davis said. "She's told us that SERVE residents don't get many chances to go out, and when they do, they need to be looking for work. This gives them an evening of feeling special, where they don't have to worry about something at that moment, and they get to live like other people. We see the impact, and it's a source of immense pride for us."
Sometimes the simplest things make the biggest difference. For being a part of that solution and treating people in need with the dignity they deserve, Apple FCU has earned our Editor's Choice™ Award for Community Commitment.
Advertiser Disclosure
CardRates.com is a free online resource that offers valuable content and comparison services to users. To keep this resource 100% free, we receive compensation for referrals for many of the offers listed on the site. Along with key review factors, this compensation may impact how and where products appear across CardRates.com (including, for example, the order in which they appear). CardRates.com does not include the entire universe of available offers. Editorial opinions expressed on the site are strictly our own and are not provided, endorsed, or approved by advertisers.