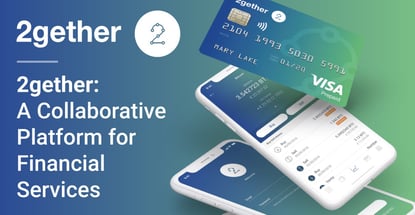 In a Nutshell: Thanks to the advent of blockchain technology and cryptocurrency, traditional financial systems are being challenged by emerging ideas. And 2gether is ready, with a collaborative financial platform that allows its customers — who are also its owners — to take full control of their financial lives. The platform is currently available in the 19 eurozone countries. Customers can download the 2gether app and manage or transfer their cryptocurrencies as if they were handling fiat assets. Similarly, the 2gether Visa card allows users to spend their cryptocurrency just as they would use a Visa credit or debit card. The platform will be powered by the 2GT token, which is currently in its first presale in Europe.

The nature of the financial industry and currency itself is changing, according to the Co-Founders of 2gether, a collaborative platform that aims to lay the foundation for tomorrow's financial ecosystem.

After 25 years as a leader in the banking industry, Salvador Casquero came up with the idea for 2gether just as cryptocurrency entered the finance world, said 2gether CEO Ramón Ferraz.

"He had a very particular vision on how the financial industry in general, and banking in particular, were going to evolve in response to blockchain technology," Ferraz said. "And how digital currencies are a natural evolution of money."

He said the basic thesis is that money is going through an evolutionary stage and we are entering a world that will hold both private, digital money as well as fiat currency.

"This is going to create new business models, and those new business models are going to need new financial services to support them," Ferraz said. "So basically, the belief here is that in the future, all the banks are going to have to support this new economy."

Ferraz said Casquero then took his ideas to exponential technology expert Luis Estrada to help realize his vision, and in 2016, they founded 2gether.

Since its launch, Ferraz said 2gether's vision continues to become clearer as blockchain technology and cryptocurrency continues to evolve.

2gether Lets Consumers Conveniently Buy, Sell, Trade, and Purchase with Cryptocurrencies

Platform development began in late 2016, Ferraz said, and 2gether launched its open beta project in Spain in January 2019. Three months later, 2gether expanded to all 19 eurozone countries.

"The team spent two years actually developing the technology stack, and then developing the first product on top of that," he said. "It is a long-term project because it is built toward this vision of the future of finance that will eventually become very big, but it needs time.

2gether's initial focus is on cryptocurrencies and helping users conveniently use crypto in the real world. This is all done through the platform's mobile app, Ferraz explained.

"Once people download the app, they can basically manage their crypto just like they manage their euros," he said. "So, everything you would normally do with your euros, you can do it with crypto in 2gether from the start."

This includes depositing cryptocurrency into their account, securely storing it, transferring it out of the accounts and wallets, and sending it to friends in the app, Ferraz said.

The other major offering available from 2gether is the ability to spend crypto using the 2gether Visa card.

"Use your 2gether Visa to spend crypto as easily as if they were euros," according to the company website. "Anywhere, instantly, without fees. You will not have to worry about acceptance; you will be able to pay anywhere that accepts Visa."

Ferraz said 2gether is a pioneer in this territory because it is the first platform of its kind to launch the Visa with Visa's consent.

He said the card is very convenient for consumers because, although there is a complex system at play in the background, from the user perspective the process is very straightforward and simple.

Users Share Returns, Receive Rewards, and Have a Say in Platform Decisions

Another distinguishing pillar of 2gether's platform is the fact that its customers are also its owners, Ferraz said.

"In under five minutes, open an account and invest in 2gether´s native token (the 2GT) to gain all the privileges of being a community member," according to the company. "Become one of our early founders and help change the world of financial services as we know it."

2gether is the first collaborative financial platform where users can participate and share the returns from the company, be rewarded for their contributions, and even have a voice when it comes to the platform decisions, according to the company whitepaper.

"It takes the business principles of traditional mutuals to the digital space, leveraging blockchain technology to support collaborative model," the paper explains.

In fact, the company does not actually make money from users, but rather it profits from the financial product suppliers it works with, such as bank insurers and asset managers. And users reap these benefits.

"2gether shares a large percentage of its revenues with users, based on their individual contribution," according to the company. "2gether rewards users for their collaboration through its native token called 2GT, whose demand is intrinsically linked to the platform's activity."

The platform essentially strives to give its users full control over their economies by incorporating digital currencies and data into their financial experiences. And 2gether complements its users' financial literacy by leveraging big data, artificial intelligence, and machine learning to their benefit.

The platform's product road map also acknowledges the importance of anticipating user demand for services that are not only free but reward users for their activities or reputation within the ecosystem.

Preparing to Launch the 2GT Token and Attracting Investors

"We are now very close to issuing the token," Ferraz said. "The 2GT token, for us, is a utility of the service. It's what lets us create that collaborative model where users can capture all the value."

2gether has been taking all the appropriate steps for the 2GT token to be a fully regulated VFA (Virtual Finance Asset) token that also complies with the regulations of Malta, the blockchain-friendly island nation.

"The scope of a Virtual Financial Assets Act is to provide a comprehensive set of rules that will protect consumers and support the growth of the industry and its stakeholders," according to 2gether. "By having a fully regulated VFA token, we can provide both institutional and retail investors with a token that meets rigorous legal expectations."

The company is capping the permanent supply of 2GT tokens at 2.4 billion.

"The token will be directly available in the 2gether app, and investors will be able to withdraw them once they become eventually approved as a VFA by the Malta Financial Services Authority," according to the company website.



The first round of token sales is currently open to EU countries, with the second round planned for 2020.

To limit potential volatility in the value of the 2GT token, the company has built-in specific lock-up periods to "ensure progressive token issuance following the 1st and 2nd token sales," according to a 2gether article at Medium.

2gether has also planned for specific amounts of tokens to be reserved for various parties, including 7.9% reserved for the 2gether community, 4.2% reserved for partners, 12.5% reserved for the 2gether team members, and 4.2% for early investors.

The community tokens will be used to create and boost 2gether's client base and will not be subject to a lock-up period, according to the Medium article.

"A strong network of partners is important to create a platform like 2gether — that's why we'll use these 2GT Coins to foster partnerships," according to the company. "Some of our partners already include A.T. Kearney, KPMG, Uría Menéndez, and Swiss Crypto Advisors. These 2GT Coins won't have a lock-up period."

More information can be found in 2gether's white paper or in its Tokenomics document.

2gether's Expansion into More Markets

2gether's long-term goal is to expand into more global markets, and Ferraz said reaching this goal may not actually be all that far away.

"We will expand, and I hope it's soon," he said. "I would say that it could come as soon as 2020 or 2021 if things continue to go well."

The company's plan is to expand slowly but steadily, first moving into the whole European Union and then the U.S. and the rest of the world.
Advertiser Disclosure
CardRates.com is a free online resource that offers valuable content and comparison services to users. To keep this resource 100% free, we receive compensation for referrals for many of the offers listed on the site. Along with key review factors, this compensation may impact how and where products appear across CardRates.com (including, for example, the order in which they appear). CardRates.com does not include the entire universe of available offers. Editorial opinions expressed on the site are strictly our own and are not provided, endorsed, or approved by advertisers.