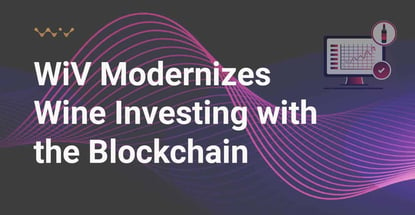 Our experts and industry insiders blog the latest news, studies and current events from inside the credit card industry. Our articles follow strict editorial guidelines.
In a Nutshell: WiV makes fine wine investing easier and more accessible to regular investors looking to diversify into alternative assets. Wine investing typically meant buying an expensive bottle of wine and storing it until its value went up. The cost of entry is high because investors need to purchase and maintain cold-storage units, and transactions usually take weeks or months. WiV modernizes the entire process by incorporating blockchain technology to verify transactions and authenticate assets in its own storage facility. WiV is also investing in the metaverse, bringing fine wine enjoyment into the digital world.
Playing the stock market this year has mostly been a losing proposition. After the record highs of late last year, Wall Street is on a downward spiral it can't seem to get out of.
The Nasdaq 100 is down about 33% and the Dow Jones has lost about 20% this year alone. Even the most popular alternative investment, Bitcoin, has lost more than 60% of its value.
Finding somewhere to put your money to grow has been difficult. But one area of alternative investment has not only held its value, it's actually gone up more than 20%.
Fine wine is rising in price when other areas of investment seem to keep falling. The issue with investing in fine wine comes in its accessibility.
Investing is not as easy as just buying an expensive bottle of wine and storing it in a fridge. There are specific storage conditions wines need to maintain their value.
Transactions are slow and take weeks or even months to complete. While wine is technically a liquid, it's not an easily liquid investment.

These are all issues WiV's founders wanted to tackle. The company, featuring a diverse team of wine and tech experts, merges wine investing with cutting edge technology.
WiV incorporates the blockchain into its wine funds, ensuring quick and easy transactions, as well as verifiable ownership over the fine wines. The company's mission is to make wine a more streamlined asset and build products around it.
"We are always trying to find ways of enhancing or improving our product in terms of digitizing," said Tommy Nordam Jensen, WiV's CEO & Co-Founder. "Wine is a great passion for most people, but it's also a good investment class. The lack of digital tools made it too difficult to get involved, and we are changing that."
Fine Wine Tends to be a Less Volatile Asset
Fine wine has grown into a more popular alternative asset because of its lack of volatility. Against other assets, such as real estate and bonds, wine stands out as the least volatile with a higher annualized return.
WiV said wines only experienced two periods of high volatility over the last 20 years: once in 2007 and another time in 2012 due to global financial crises. But, wine prices never dropped massively in one day, and fared well during the COVID-19 pandemic.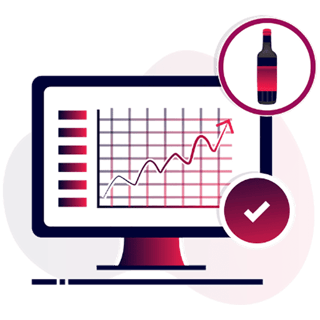 Many pension funds, hedge funds, and family offices are working closely with WiV based on the potential to grow wealth. WiV's primary market is the United Kingdom – where it has its storage facility and maintains its trading system.
"We are talking with presidents of pension funds, and they are moving into safer environments," Jensen said. "They want to have some allocation for less volatile investments after losing money in the stock markets or in the crypto space."
WiV is planning to incorporate lending into its system through wine assets. Investors can borrow against their own wine assets, and because wine prices are not very volatile, it is a safer asset. Investors normally will not have to sell the wine to cover their loans.
WiV's wine funds allow investors to get involved through fractional shares of fine wines. The company builds its products into the blockchain with a focus on Web3 to attract more investors.
"It's been a very interesting journey," Jensen said. "Looking at the different markets that we facilitate, a lot of our current market is more of the younger generation and we try to make investing more accessible for them."
Maintaining Wine Value with a State-of-the-Art Facility
Climate-controlled storage is making wine collecting more accessible, but it does not make wine investing any easier. WiV has its own state-of-the-art storage facility that ensures wines stay at their optimal condition.
Using blockchain technology, WiV tracks all of its wines with its token system. As long as a bottle is part of its system, it does not move from the climate-controlled storage.
WiV insures all of its wines and secures them within its facility. Its unique blockchain system allows trades to process instantly because WiV knows exactly where the wine is with a guarantee that it is a genuine bottle.
Investors can exit WiV's wine funds easily if they have to. Normally, exiting a fund is a long process, but with WiV's blockchain integration, the exit process is much faster.
The company tries to avoid selling distressed assets because history shows prices will rebound. When WiV is comfortable making a sale on a bottle of wine, it can process the transaction immediately without worrying about fluctuating prices.
Normally, the transaction process would take two to six weeks. Buyers can get their hands on the wine they want faster, with a guarantee that WiV stored the wine correctly and at the right temperature throughout its life.
"If you have it in your cellar and you want to sell your collection, it's not easy," Jensen said. "No one knows what the temperature was in that cellar. Even in today's market, investors won't want to touch it because they don't know where the wine is coming from."
Democratizing Wine Investing for the General Public
Wine has always been a symbol of luxury and status. The more expensive the bottle, the finer the wine, age, and grapes inside. It was only a few hundred years ago that wine was one of the first things people bought when they came into wealth.
Wine has always been an asset consumers can enjoy and have a good time with, but people are now realizing the investment potential. 
Because wines tend to go up in value, investors also see it as a form of insurance. When falling on tough times, investors can sell their wines that have appreciated over time to settle debts.
With WiV, investors can get involved with wine investing with no infrastructure investment. WiV offers two wine funds, one of which is open to any accredited investor.
WiV said it focuses on three products. Those include its wine funds for investors, pension funds, and family offices, its tech side that builds technologies for brands and countries, and a long-term project with big wine brands, producers, and countries to educate people on the wine creation process and environmental impacts.
One of the technologies WiV developed is a consortium around the classification of wine for the former Soviet republic of Georgia. WiV plans to support investments from other platforms, including cryptocurrency, soon.
WiV said it is enthusiastic about the future of its wine funds. In addition to integrating more technologies into its platform, WiV is also putting work into the metaverse to bring fine wines into the digital world. Wine enthusiasts can enjoy their wines within the "wineverse" together with other wine lovers from around the world.
"We want to democratize investments into good wine products," Jensen said. "That's something we're looking to successfully implement by following all of the steps laid out for us."