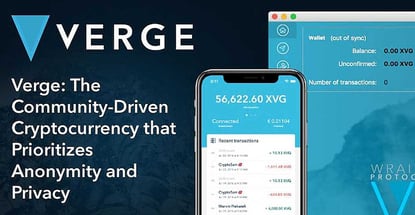 In a Nutshell: Since Bitcoin pioneered the way for cryptocurrencies, hundreds of altcoins have sprung up in the decentralized financial ecosystem, serving a wide range of audiences. Verge is a notable addition to the altcoin lineup because of its strong focus on privacy and anonymity. The cryptocurrency uses networks including, Tor and I2P, that obfuscate user IP addresses. Operating on an open-sourced platform, Verge is maintained by a group of independent volunteers around the world. Verge is currently gearing up for wider adoption with a new fiat pairing, a new code base, and e-wallets.
The rise of cryptocurrencies has led to a decentralized financial ecosystem, running parallel to traditional financial structures. This more libertarian spin on economics is appealing to some. But, for others, it doesn't go far enough.
Cryptos like Bitcoin and Litecoin allow users to conduct financial transactions outside of the established banking system. But, IP addresses and know-your-customer identity standards still make it easy to identify who is making a transaction and from where.

That's where Verge comes in — the cryptocurrency places privacy and anonymity at the top of its priority list, so users can truly conduct transactions without being identified.
The cryptocurrency first popped up in 2014 under the moniker DogeCoinDark (it is not related to the Doge meme-inspired DogeCoin) as a privacy-focused altcoin that doesn't use a blackout ledger as do other privacy coins. The crypto re-branded to Verge (XVG) in 2016 under the guidance of its Founder and Lead Developer, with Technical Director CryptoRekt providing a "black paper" laying out the roadmap for the currency.
To find out more about Verge's approach to privacy in the crypto world and to learn about what's in store for the altcoin, we spoke to one of its advisors who goes by Lloyd, who works closely with Verge developers on its infrastructure. Keeping in line with Verge's anonymity-first approach, many of its developers only go by their first names or their internet handles.
A Secure and Anonymous Cryptocurrency Designed for Everyday Use
Verge is a cryptocurrency designed for everyday use and improves upon Bitcoin's original blockchain, Lloyd said. It seeks to provide people and businesses with an efficient, decentralized way to make direct transactions while maintaining privacy.
Verge is able to offer users a completely private experience by operating on anonymous networks, including Tor and I2P to obfuscate the users IP address and location as well as optional stealth addressing which hides the receivers address. Their developers are also currently working on an implementation of RingCT (Ring Signatures and confidential transactions) to preserve the anonymity of the senders address.
He said the optional obfuscation of one's personal identity is a very important component of what Verge offers as a cryptocurrency. But he said users do not have to remain anonymous if they prefer not to, and in those cases, it functions just like Bitcoin.
"But, if you are interested in not letting people know who you are or where you're sending funds, you can throw a couple of switches and voila!" Lloyd said. "Nobody knows who you are or where you are, which is one of the more important things with the Tor obfuscation."
"Our mission is to empower people around the world by bringing blockchain transactions into everyday life," according to the Verge website. "Verge makes it possible to engage in direct transactions quickly, efficiently and privately. With Verge, businesses and individuals have flexible options for sending and receiving payments."
Lloyd said that Verge also offers valuable integrations and tools that allow users to facilitate large-scale transactions between merchants as well as small-scale private payments.
Overall, he said Verge is striving to appeal to the masses at this point by making sure transactions are easy for anyone, and that everyone feels comfortable with the service and with the technology. This includes using Verge wallets to send and receive payments.
"For all intents and purposes, my wife is a no-coiner," Lloyd said. "She doesn't really get into the crypto scene, but I downloaded the iOS wallet to her phone, and she was really excited about it. She was like, 'Wow, this is really easy to use, and it's so fast.'"
With Its Open-Sourced Platform, Verge is a Decentralized Cryptocurrency with Team Members Across the Globe
Cryptocurrencies are a decentralized mode of currency at their core. Likewise, Verge is decentralized in that it is not a business but an open-source project strictly run by volunteers.
"It's not a company — there's actually pretty much zero structure other than what a group of ragtag volunteers gives it," he said. "We are structured pretty much just like Bitcoin."
Lloyd said there are currently about 40 Verge members across the globe with about 20 of those volunteers remaining extremely active at any given time. Lloyd said it's a passion project.
"That's why I'm doing what I'm doing," he said. "The cases are few and far between where you can actually exercise control over what you're interested in. You can call your politician and complain all day, but are they going to listen to you? Maybe, maybe not."
He said with Verge, it's possible to actually contribute to your goal, and see results. And, if a person is really interested in pushing Verge's goals forward and helping the community grow, anyone is welcome to offer their services or time to further the project.
"Verge is open-source software that is constantly improving due to its many contributors," according to the website. "If you would like to contribute as well, take a look at our Github repositories to see where you could make a difference."
Another measure of the team's passion for its goals is the fact that nobody is getting paid, Lloyd said. "So, it's not like there are underlying agendas conflicting with one another or holding the project back."
Lloyd said the current team of volunteers is spread all across the globe. Sunerok, the founder, is in Florida. Other U.S. volunteers are in Texas, California, and Wisconsin. On the other side of the Atlantic, the Verge team has members in The Netherlands, Germany, and even Turkey. Lloyd said Swen (iOS), Manuel (Android) and Marvin (Desktop and blockchain) are currently some of Verge's most active developers located in Europe.
Stepping Into the Next Phase with Fiat Pairings, E-Wallets, and a New Code Base
In January, Verge disseminated the news about its first fiat pairing on the NetCents exchange, which allows consumers to buy Verge using U.S. dollars, Canadian dollars, or Euros. Previously, to purchase Verge, users had to purchase another cryptocurrency first, like Bitcoin or Ethereum, and then trade it for Verge on an exchange.
Verge first announced the new partnership on Twitter:
"We are proud to announce our partner @NetCentsHQ is the first Exchange to enable buying #XVG with #USD, #CAD, and #EURO Today! Soon, you'll be able to pay merchants accepting #XVG from their app! This feature will be available on both #Apple and #Android devices, soon."
Lloyd said the Verge team is excited to move forward and has plenty of other exciting developments on the horizon.
"We also just finished the release of our new code base," he said. "A lot of altcoins will set everything up and then just not touch the code base again, but we are committed to refining and improving as we go."
The new codebase allows for improved blockchain performance, enhanced chain security, improved CPU and memory performance, and a block indexing time reduced by 89%, according to a post on Medium.
Additionally, Verge is working on new and improved e-wallets. The team anticipates the release of an electron desktop wallet in the near future as well as public beta testing for its iOS wallet. Verge will also release an updated Android wallet that will be easier than ever to use.
"We've been working hard over the past few months and we're excited to see these things roll out," Lloyd said. "We're also looking at a few more fiat pairings coming up later in the year, so that's very exciting."
Advertiser Disclosure
CardRates.com is a free online resource that offers valuable content and comparison services to users. To keep this resource 100% free, we receive compensation for referrals for many of the offers listed on the site. Along with key review factors, this compensation may impact how and where products appear across CardRates.com (including, for example, the order in which they appear). CardRates.com does not include the entire universe of available offers. Editorial opinions expressed on the site are strictly our own and are not provided, endorsed, or approved by advertisers.