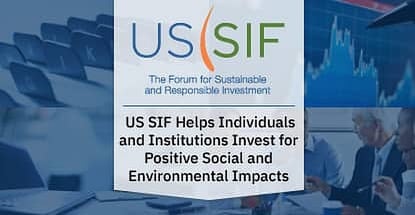 In a Nutshell: As individual investors and institutions turn a keen eye toward the future of the planet and the quality of its inhabitants' lives, the movement toward sustainable investment is stronger than ever before. Today, up to three-quarters of individual investors express an interest in sustainable investing. The Forum for Sustainable and Responsible Investment (US SIF) serves as the leading voice in the United States for sustainable, responsible, and impact investing (SRI). US SIF educates investors across all asset classes about sustainable investing practices through research, policy and advocacy activities, and educational events. Its mission is to rapidly shift investment practices toward sustainability, focusing on long-term investment and the generation of positive social and environmental impacts. //
As of 2018, the surge of interest in sustainable investing in the United States is undeniable: a 2017 study by Morgan Stanley reported that 75% of respondents — and 86% of millennials — were interested in sustainable investing, with 71% holding the belief that companies with leading sustainability practices are better long-term investments.
According to US SIF Research Consultant, Farzana Hoque, the Forum for Sustainable and Responsible Investment has been tracking the data on sustainable, responsible, impact investing (SRI) assets under management (AUM) for more than 20 years.
US SIF's data, published in its biennial Report on US Sustainable, Responsible and Impact Investing Trends since 1995, indicates steady SRI AUM growth that significantly jumped between 2012 and 2014 and culminated in an impressive 33% increase from $6.57 trillion to $8.72 trillion in 2014-2016. New data will be released at the of 2018.
Sustainable and responsible investment has carved a space in defining the legacy of the millennial generation, and in shaping the future for those who follow.
US SIF Advocates the Importance of ESG Issues in Investing
US SIF is a membership organization of the leading firms offering sustainable investment products and services. The organization supports its members to assist investors who want to grow their portfolios steadily, sustainably, and responsibly, by helping them understand and pursue long-term investments that promote positive environmental and social impacts. US SIF provides research and analysis on environmental, social, and corporate governance (ESG) trends and issues — factors that affect the ethical and sustainable impact of an investment in a fund or company.
US SIF's vision is that ESG impacts are meaningfully assessed in all investment decisions, resulting in a more sustainable and equitable society.
The Washington, DC-based organization propels its vision through a series of programs, events, and activities that support its members.
Advocacy is a tenet of US SIF, which interacts with policymakers on Capitol Hill and the executive branch of US government to advance the policy priorities of sustainable and responsible investors. US SIF is also part of the Global Sustainable Investment Alliance.
The US SIF Foundation, a 501(3)(C) geared toward research and education, operates the Center for Sustainable Investment Education for investment advisors, analysts, consultants, and investors who seek to gain expertise in SRI. The digital education center provides valuable resources that include an introductory online course about sustainable investing, as well as facts sheets and research publications, thematic handbooks, and information on retirement options and community investing.
SRI is a Trend for the New Millennium
Citing US SIF research, Hoque described a 14-fold increase in sustainable and responsible investment over the last two decades. Assets under management grew by 33% between 2014 and 2016 alone.
"Most of the significant asset growth has been among institutional investors, but new studies are demonstrating growing interest from individual investors," Hoque said.
She noted that an increasing number of studies show that sustainable and responsible investors do not have to pay more or sacrifice investment results to align their investments with their values, or to avoid companies with poor environmental, social, or governance practices.
Hoque also attested to the current generation's desire for meaningful long-term investments, citing a 2016 survey by Natixis Global Asset Management of participants in 401K and other defined contribution plans that found that 74% of participants would like to see more socially responsible investments in their retirement plan offerings.
"In response to this opportunity, we see asset managers increasingly releasing new SRI investment products. These include mutual funds, ETFs, separate account strategies, and more," Hoque said.
Investors Can Positively Impact Causes They Care About
"There are many environmental, social, and governance issues to consider. For individuals, it depends on their personal values, areas of concern and interests. For example, some people may be focused on climate change and pollution while others are more interested in human rights and labor issues," Hoque said.
US SIF offers a helpful chart to describe the three categories of ESG: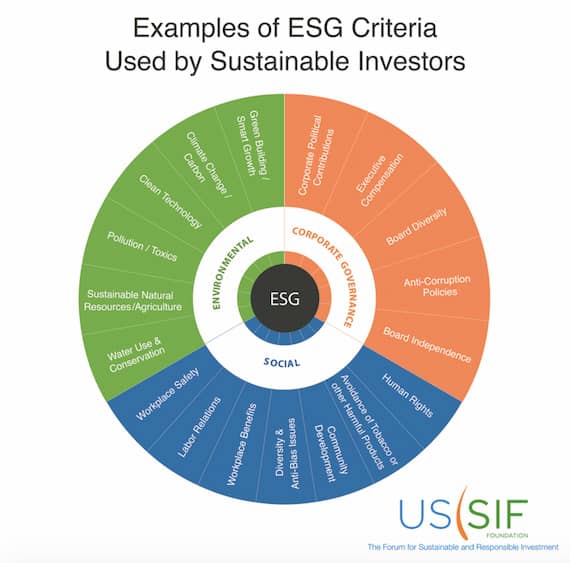 "Recently, the media has been covering investment options that exclude guns, or investments that promote gender equality, due to recent happenings such as mass shootings and the #MeToo movement. For individuals, it's all about personal preference and issues, as they arise in the real world, that they may be concerned about," Hoque said.
As an example, she cited the response from some gun retailers to the public outcry for stricter gun ownership regulations following the February 2018 high school shooting in Parkland, Florida.
"In general, we see that corporations often do hear public opinion and investors when they ask for change. Three nationwide retailers and publicly-traded companies, Walmart, Dick's Sporting Goods, and the Kroger Company, have announced measures to enhance gun safety after the Parkland shooting," Hoque said.
Opportunities to Learn and Explore the Future of SRI
US SIF's eighth annual conference, Investing for a Sustainable World, will take place May 30 through June 1 at the Omni Shoreham Hotel in Washington DC, featuring networking opportunities, social events, and content from thought leaders in sustainable and responsible investing.
Speakers at the 2018 conference include newly confirmed SEC Commissioner, Robert J. Jackson Jr., Mark Tercek, President and CEO of The Nature Conservancy, and Charlotte Laurent-Ottomane, Co-Founder and Executive Director of The Thirty Percent Coalition, an organization that promotes gender diversity on corporate boards. The conference will also feature an Oxford-style debate on whether Europe will be more successful than the United States in embedding sustainable and responsible investment across the financial system in the next five years.
Can't make it to the conference, but looking for a learned launching point into the world of Sustainable and Responsible Investment? Hoque recommends exploring US SIF's free e-guide, Getting Started in Sustainable and Impact Investing. Investors can also stay abreast of the latest sustainable and impact investing trends with US SIF's Fast Facts data sets, scheduled for their next full update in November 2018.
Advertiser Disclosure
CardRates.com is a free online resource that offers valuable content and comparison services to users. To keep this resource 100% free, we receive compensation for referrals for many of the offers listed on the site. Along with key review factors, this compensation may impact how and where products appear across CardRates.com (including, for example, the order in which they appear). CardRates.com does not include the entire universe of available offers. Editorial opinions expressed on the site are strictly our own and are not provided, endorsed, or approved by advertisers.