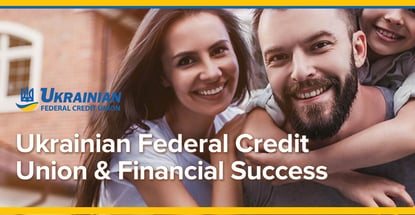 In a Nutshell: Credit unions are known for their close relationships with their members, and Ukrainian Federal Credit Union is no exception. The Rochester-based organization was founded in 1953 specifically to serve Ukrainian Americans, but has since broadened its membership pool to include many other groups and organizations. Its mission is to help its members achieve financial success, and it does this through a combination of competitive financial products, financial literacy, and high-quality customer service. Ukrainian Federal Credit Union also works specifically to educate immigrants about the U.S. financial system, including the importance of establishing and building a credit history.
Credit unions were once thought of as the down-home little siblings to the big banks. But those days are long gone. Credit unions today continue to maintain a close connection with their members and communities, but they also offer comprehensive and competitive financial products and services that rival those offered by national banks.
We like to highlight these credit unions for the great work they are doing, whether it's providing top-notch personalized service, disseminating financial literacy resources, or helping members get a financial leg up.

To that end, we recently chatted with Alex Oryshkevych and Tetiana Kozak, the Marketing Coordinator and Lending Project Coordinator, respectively, for the Ukrainian Federal Credit Union.
"We were founded in 1953 by a group of Ukrainian American volunteers in Rochester, New York," Oryshkevych said. "And we have grown over the years to 13 branches in seven states, with assets now exceeding $300 million. There's been a lot of growth."
Oryshkevych said that, while the focus of the credit union and its field of membership was initially geared toward Ukrainian Americans, its membership pool has grown by a significant amount over the decades. It now includes a number of churches, nonprofit organizations, and cultural centers.
"I would say the overall pool is Slavic-centered more than just being specifically Ukrainian," he said. "The preferences in terms of language — English and Ukrainian — are very common, but our staff speaks at least seven different languages. It's a very culturally diverse membership."
A Wide Range of Financial Products that Support Financial Health and Good Credit
Ukrainian Federal Credit Union's stated mission is to help its members achieve financial success by providing them with the highest level of personalized service. This includes offering competitive products such as its suite of Visa credit cards.
"We went from one to four credit cards, and that was a huge change for us," Oryshkevych said. "Tetiana manages any projects related to our credit card programs."
Kozak offered some insight into the credit union's card offerings.
"The most popular card is the UFCU Everyday Rewards Visa Card," Kozak explained. "We also offer a secured Visa card for new members. Then they can usually switch to the Everyday Rewards card. We've issued over 7,000 cards."
A secured credit card is a great way for consumers to establish or begin to rebuild their credit. This is particularly relevant for an organization like the Ukrainian Federal Credit Union which sees a lot of new members who are coming to the U.S. for the first time and do not yet have credit histories here.
And after making timely payments and establishing a credit history, it becomes easier for members to qualify for cards with more perks, such as the Everyday Rewards card Kozak mentioned.
"The secured card is certainly nice for our members and especially for new immigrants who don't really have a whole lot in their pockets," Oryshkevych said. "And we've noticed that they are very good at paying their debt, so it's good for building credit."
The credit union also offers a Premier Rate Visa card and a Visa Elite Signature card.
Ukrainian Federal Credit Union also provides members with competitive rates on auto loans and personal loans and offers a free checking account and digital banking services.
Financial Literacy Resources Address an Array of Important Topics
With a significant number of members coming from other countries, financial literacy is an important component to Ukrainian Federal Credit Union's mission of service.
Oryshkevych said the credit union often partners with some of the big players in the financial literacy arena to deliver resources to members.
"We work with (credit union service organization) PSCU, and they have been really great in supporting our efforts," he said. "We also built a custom page about FICO scores. Immigrants might not have the knowledge or really understand what a credit score is, why they need it, or why it's important to build up your credit history."
The FICO tool addresses these questions and more, Oryshkevyck said.
"Ukrainian Federal Credit Union (UFCU) is committed to helping you better understand your credit health," according to the organization website. "That is why with a credit card from UFCU, you now get free access to your FICO® Score."
Watch on
Oryshkevych said a lot of financial education with members takes place one-on-one as questions and situations arise.
"Members love to call or walk in and talk to us," he said. "We know our members. They just come in and talk to our member service representatives, and we can help answer their questions."
Prior to the COVID-19 pandemic, the credit union often engaged members and members of the community at large via financial education workshops and seminars.
"Normally, we're out in the field in small group settings of 20 to 30 people, and we'll talk to them about specific topics," Oryshkevych said. "We would set up seminars at our common bond churches. And we'd open it up to question-and-answer sessions as well."
He said that the credit union has often seen people who grew up in Soviet Union-era Eastern European countries and hold a certain mistrust of institutions such as banks and credit unions. Ukrainian Federal Credit Union works to educate them on how the U.S. financial system works, and helps them overcome some of their mistrust.
Helping Members During the COVID-19 Pandemic and Giving Back to the Community
As with so many organizations and communities, the Ukrainian Federal Credit Union was impacted by the COVID-19 pandemic.
"At Ukrainian FCU we start and end with U," according to the website. "Through life's twists and turns, ups and downs, our team works for and together with U every step of the way, and has done so for over 65 years. Even now with the spread of COVID – 19 / Coronavirus in our communities, we are committed to assisting our members."
The credit union altered some of its policies in 2020 to help ease the financial burden and stress that some of its members were experiencing while working to ensure that all essential financial services remained available.
Some of the ways in which the organization provided relief to its members in the first half of 2020 included skip-a-pay options on credit union loans and waived overdraft fees. It also offered 0.0% signature loans for those directly affected by COVID-19. Members were also able to skip monthly credit card payments.
But this is all in line with Ukrainian Federal Credit Union's general approach to helping its members and serving its communities.
"As a credit union, we are here not only to provide financial services to our members, but to also support the communities in which we live. Our Ukrainian-American Community Foundation sponsors and supports various community events throughout the year," according to the credit union.
Since the foundation was established in 2010, it has donated more than $250,000 to help support an array of community, cultural, humanitarian, and educational initiatives. It has also awarded more than $121,000 in undergraduate and graduate-level scholarships.
A Balance Transfer Promotion for the New Year
Oryshkevych said that Ukrainian Federal Credit Union is running a special balance transfer promotion for the new year.
"It's 0.0% APR for 12 months, which is a little bit more competitive than some of our previous promotions," he said. "The market was telling us we needed to offer something to help our members feel a little bit of relief, so we really took into consideration what people are going through right now."
He said the promotion runs until April 30, 2021.
Advertiser Disclosure
CardRates.com is a free online resource that offers valuable content and comparison services to users. To keep this resource 100% free, we receive compensation for referrals for many of the offers listed on the site. Along with key review factors, this compensation may impact how and where products appear across CardRates.com (including, for example, the order in which they appear). CardRates.com does not include the entire universe of available offers. Editorial opinions expressed on the site are strictly our own and are not provided, endorsed, or approved by advertisers.