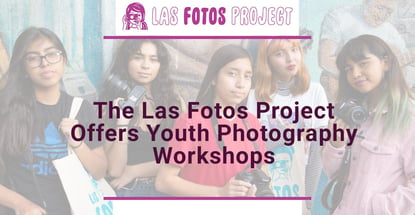 Our experts and industry insiders blog the latest news, studies and current events from inside the credit card industry. Our articles follow strict editorial guidelines.
In a Nutshell: The Las Fotos Project helps teen girls and gender-expansive youth of color learn photography skills in the Los Angeles area. The organization provides more than 150 students access to professional cameras, mentorship, and instruction every year. The Las Fotos Project also gives participants a safe space for introspection, self-expression, and engagement with family and community issues. In the process, students can learn valuable life and career skills.
Even though photographers mainly stay behind the camera, choosing and framing their subjects is a form of art. And mastering photography skills can be a means of self-expression — and a fulfilling way to make a living.
Los Angeles-based photographer Eric V. Ibarra sought to help young people achieve those goals in his community. So, in 2010, he decided to hold a photography workshop for youth of color living in struggling LA neighborhoods. His goal was to instill confidence and self-esteem in a group lacking in both.
Initially, all of the students who enrolled were girls, and at the end of the workshop, they told Ibarra they appreciated having an all-girl space. They told him they felt they could express themselves more freely and share more intimate details about how the images they were taking connected to their own lives.
From that first workshop came the Las Fotos Project, which now works with more than 150 teen girls and gender-expansive youth of color each year. Students work with mentors and teaching artists, exhibit their pictures, and even offer their services to paying clients.

Today, the Las Fotos Project depends on direct individual donations for operational support. The organization is a project of the LA-based nonprofit fiscal sponsor Community Partners.
Contributions through the donation portal on the Las Fotos Project website qualify as charitable tax write-offs. Some credit card issuers allow cardholders to redeem credit card rewards as charitable donations or statement credits to cover their philanthropic funding.
"It's exciting for us to offer this space," said Lucia Torres, Executive Director of the Las Fotos Project. "Students can be vulnerable and share their experiences without any expectation of who they should be."
Inspiring Community Connection and Career Exploration
The Las Fotos Project offers a creative framework it calls participatory photography. It allows students to explore who they are, understand their connections to families and communities, and consider the career possibilities inherent in what they're learning.
Three core programs admit two student cohorts for 12- to 14-week sessions each school semester. Esta Soy Yo is the project's flagship program.
"It's our self-identity initiative — 'esta soy yo' translates to 'this is me,'" Torres said. "Students use experimental photography and self-portraiture to convey a story of who they are and how they connect with their families and the world around them."
For example, a student might create a photo diary that reflects the challenges she faces as a teenager growing up in a community that seems unforgiving. Students also learn therapeutic photography and journaling techniques to bring their stories to life. And they can share their projects at public group exhibitions.
Watch on
The Digital Promotoras (digital advocates) program teaches the values and techniques of photojournalism. Students learn to use documentary photography to describe their environments around themes that are important to them. One such theme is resiliency.
"During the pandemic, a lot of students documented how their communities came together to support their small businesses," Torres said. "They've also shown how families have become self-sufficient by creating gardens in their homes."
Creative Entrepreneurship Opportunities, also known as CEO, teaches students how to use photography to make money. Students explore what it means to become a professional photographer and launch a freelance business. They learn to work with clients, create contracts, build portfolios, and grow a revenue stream.
"CEO is especially attractive to students who have gone through the first two programs and are thinking about making photography a career," Torres said.
Creating a Safe Space for Self-Expression
Behind all of the organization's work is an effort to help teen girls of color in struggling LA neighborhoods — or any LA youth on a journey of gender exploration. Las Fotos Project ensures they have a place where they can feel safe and express themselves.
Photography at the Las Fotos Project becomes a powerful vehicle for engaging with self-identity and experimenting with new modes of identity. From behind the camera, students can learn who they are and how they fit into the world in a fulfilling and productive way.
Those may be challenges that all young women face. But in the Los Angeles neighborhoods where Las Fotos Project operates, young people of color often balance family and community priorities as they explore peer groups and navigate daily obstacles.
"It's always difficult growing into who you are as a young woman, especially with social media and identities constantly shifting and so many messages being thrown at you," Torres said. "But on top of that, being a young woman of color with the messages the media and your family and your culture are sending you, it can just be a very confusing time."
Unsurprisingly, many of the young women who come to the Las Fotos Project struggle with anxiety and depression. Mental health challenges add to the burden of growing up not knowing whether there's a space for authenticity.
"What drew me to the project was the opportunity to help create that space," Torres said. "When you're able to lift the restrictions so people can just be themselves, their stories start flowing so beautifully."
Donations Empower Youth and Provide Materials
Las Fotos Project receives funding from large public and private foundations, but the project also depends on direct individual donations for operational support.
Torres said foundation grants often come with stipulations that, while necessary, tend to limit how it can use the funds. Through the Las Fotos Project's fiscal sponsor Community Partners, individual donations are fully documented and accounted for — and they provide more flexibility.
"When we receive individual donations from folks who just want to support our work, it helps," Torres said. "Because we're working with teens who get hungry after school, sometimes we just need to buy snacks."
The Las Fotos Project offers its programs for free, but professional-grade cameras and equipment are expensive and eventually need replacement. Even when students occasionally damage or lose cameras, they can pay the organization back in kind rather than in cash.
The project also operates a large facility that functions as a studio space. Students experience hands-on training in lighting, backdrops, and setting up strobes in the facility. Las Fotos Projects intends for the workspace to evolve into a community arts hub. Eventually, it will function as a space for young creatives who can't afford their own studio space.
Torres said the staff and students are always looking for ways to increase the project's community footprint while bringing more clarity to underserved teen girls and gender-expansive youth of color in LA.
"In the beginning, a lot of our students are very shy, very reserved," Torres said. "But by the end, they have these amazing images and amazing stories."