In a Nutshell: Skyline Financial Federal Credit Union, based in Waterbury, Connecticut, continues through a digital transformation to improve its member service and employee experience. As online banking services grow in popularity, Skyline CEO James Higgins set out to enhance the company's remote-based offerings and align its operations with this increasingly digital landscape. The credit union promotes fair credit features while prioritizing member needs through its advocacy program.
In the past year, online banking has become more essential than ever to the way people handle their finances. According to PR Newswire, 52% of consumers were visiting physical banks less often while four out of 10 consumers used their bank's mobile app more regularly than before the pandemic.
What's even more eye-opening is that the older population, and specifically baby boomers, have been the fastest-growing demographic to adopt money transfer services like Zelle. Since the pandemic began, older Americans have taken advantage of digital offerings, including online banking services. This adoption has led to reduced branch bank traffic and more first-time digital service users.
As the average age demographic of credit unions tends to be older, credit unions still relying on legacy infrastructure can work to align themselves with this trend and promote the digitization of their services. One way credit unions can do that is by going through a digital transformation. Skyline Financial Federal Credit Union, located in Waterbury, Connecticut, has been undergoing this same metamorphosis.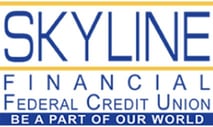 Skyline President and CEO James Higgins said he understands what it takes to thrive and serve credit union members in this current climate. Higgins, who began his new role in May of 2021, has taken on an ambitious agenda to digitize the credit union's business operations and member banking services. 
"I'm investing in close to $200,000 worth of technology upgrades. Skyline is implementing new services to bring us up to today's technological expectations. Everything is brand new! I'm also rolling this all out simultaneously," Higgins said. "Our paradigm shift consists of 20 years of technology upgrades within six months. My membership and my team is loving it and grateful that we're going through it."
The credit union seeks to provide its members an enhanced experience filled with all-new tech-advanced features to promote convenience and financial education.
Creating Opportunities for Members to Build Credit
Skyline Financial Federal Credit Union uses a unique approach that focuses on making credit available for everyone. The credit union provides its members with competitive offerings to help them build credit, whether they're first-time credit users or not.
"The nice thing about our credit cards is that they are a fixed rate. And what makes it even better is that it's regardless of your credit score, unlike most places where they are doing variable rates. Ours is flat at 9.99%," said Higgins.
Its fixed-rate even allows members with no credit history to establish a line of credit and increase their credit score without a variation in their rates. This quality hands Skyline and its members a competitive edge.
Recently, the Skyline membership base has seen some decline, due to aging and members leaving the state. However, the credit union has positioned itself to capture a younger population with its fixed credit rate and improving technology.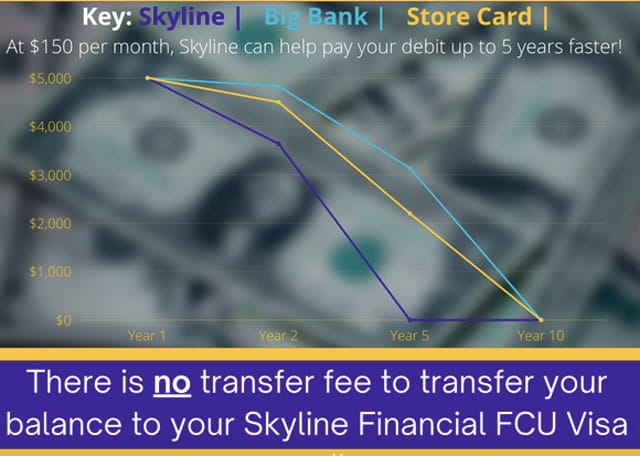 "We have anywhere from six to 10 people starting their credit card with us a month. And only a few months later, they are ecstatic that their credit score is in the 700s, and this was their first time," said Higgins. 
With an aging credit union demographic that is past its prime borrowing years, credit opportunities like this can help draw younger generations looking to borrow and help them get their credit scores on track. Younger members can build credit with ease and speed so they can buy their first homes and begin to build generational wealth. 
Addressing Needs Through Education and Advocacy
Skyline boasts a dedicated membership base. Members find great service and satisfaction because, since its inception in 1935, Skyline has set them on course to achieve financial freedom and success. 
"We have a really great membership here where they're very dedicated to the credit union. We are about 4,700 members or so and are hovering over $38 million. A few years ago, it was probably close to $30 million. So, it has grown assets-wise," said Higgins.
And the credit union looks to keep it that way. Supporting its members in their financial journey is a high priority on its list. Higgins said his strategy is to veer from the traditional sales approach for lending to one with a more educational tone. 
"I don't have tellers. I have member advocates. This new title is non-sales oriented. That's right, no sales goals. It's advocating for the member in front of us based on what their needs are. We ask them open-ended questions so that way we get them in the right hands," said Higgins.
The credit union's marketing all leans toward educating its members on what they need to know for financial success. The credit union seeks to bring its members financial literacy at every stage of life.
Its member advocates engage in conversations with members to target the best financial plan tailored to their lifestyle. From accountants to member advocates, the whole team dedicates its time to serving its members.
A CEO on Fostering Digital Transformation
Skyline Financial Federal Credit Union has undergone a sweeping transition with its new CEO. Previously, Higgins held a COO position at a different credit union where he was involved in state-level politics. When Skyline's board began its search for a new leader, Higgins was a popular choice to improve profitability.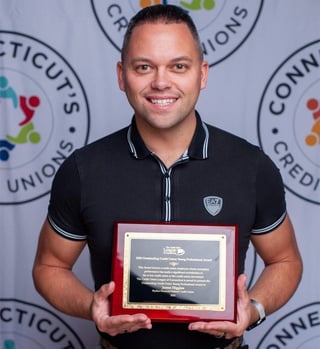 In less than six months, Higgins revamped and digitally evolved most of Skyline's operations, rolling out a lot of its new technology features simultaneously. Higgins said he wanted to modernize the credit union's processes to create a smooth experience for both his employees and members. 
Both the frontend and backend have received upgrades. Employees have new equipment , including portable headsets and widescreen monitors, to simplify their work and service to members. 
Higgins said members should expect more to come in 2022 as the credit union launches around 10 new tech enhancements. Members will soon enjoy features like mobile wallets, a dedicated app, remote deposit capture, and a new ATM, among other things. The credit union will also capitalize on more remote-based services, allowing its members to access account applications and close on their loans through electronic signatures. 
As the credit union continues its quest to tackle digital evolution, Higgins said his team is also looking to expand its reach.
"We're working now with the NCUA (National Credit Union Administration). I just started talking to them about going to a community charter so we can open it up for New Haven County in Connecticut. We're looking to make those moves to get on a community level so that we can help and serve the residents," said Higgins.
Advertiser Disclosure
CardRates.com is a free online resource that offers valuable content and comparison services to users. To keep this resource 100% free, we receive compensation for referrals for many of the offers listed on the site. Along with key review factors, this compensation may impact how and where products appear across CardRates.com (including, for example, the order in which they appear). CardRates.com does not include the entire universe of available offers. Editorial opinions expressed on the site are strictly our own and are not provided, endorsed, or approved by advertisers.