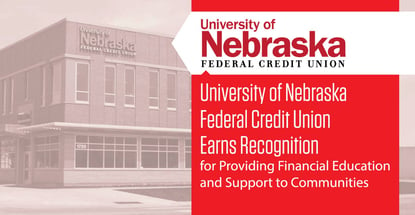 In a Nutshell: In the vibrant university town of Lincoln, the University of Nebraska Federal Credit Union (NUFCU) dedicates itself to saving members time and money while supporting community outreach and philanthropic programs. NUFCU hosts financial education seminars at the university and in its own community development space and has earned recognition as one of the best financial institutions in the state. The credit union also contributes to a variety of charities and assists people who are struggling with money, all while helping members achieve their financial goals. That combination of dedication and compassion has earned NUFCU our Editors' Choice™ Award for Community Commitment.
The University of Nebraska Federal Credit Union (NUFCU) helps more than 11,000 members in the university community of Lincoln save, borrow, and live better.
Achieving those outcomes involves a combination of support for member goals and a dedication to the community. According to NUFCU President and CEO Keith Kauffeld, the multifaceted strategy starts with great products and services, and expands from there.
"I've been here for six years," Kauffeld said. "The mindset I've conveyed to our staff is that our mission is to help our members save time and money. Everything we do filters through that, and it's led to many great stories."
One of those stories involved a woman who came to the credit union with $15,000 in credit card debt carrying a 15% interest rate and a home equity line of credit written at 3.5%. NUFCU helped her refinance the card debt to 6.95% and reduce the home equity line to 3.25%.
Another story involved a single mother who came to NUFCU with a 60-month car loan at 14%. "She had a little bit of earned income credit, so we could write that loan at 48 months and 8.5%," Kauffeld said. "Now her payments are only $18 more, but she's getting out of debt in four years instead of five. When we can do that, it's fantastic."
NUFCU even made the Forbes 2018 Best-In-State Credit Union list, which was based on a survey of more than 25,000 financial services customers in the U.S.
"It speaks highly of our staff and mission statement because it comes down to trust and transparency," Kauffeld said.
And NUFCU builds that trust through its involvement in the community, as well. The credit union team runs a variety of financial education initiatives in its main office in Lincoln, at the university, and throughout the area. NUFCU strives to bring the benefits of sound money management practices to everyone through those programs.
And for that dedication to both its members and communities in Nebraska, NUFCU earns our Editors' Choice™ Award for Community Commitment.
Encouraging Sound Money Management Through Educational Resources
A cornerstone of the credit union's financial education initiative is its contribution to the university's Student Money Management Center.
"When members join our credit union, we donate money to it, and that helps promote its program," Kauffeld said.
The Student Money Management Center offers mentoring, presentations, and online resources to help students increase their financial literacy. Topics range from understanding financial aid to establishing credit, saving money, debt repayment, and more.
Meanwhile, NUFCU's internal seminars also attract standing-room-only audiences in the credit union's community development room. Workshops aimed at seniors cover subjects including retirement, Social Security, and estate planning. Other sessions inform young people and cover topics like planning for college.
Kauffeld and colleague Dena Noe, VP of Marketing and Communications at NUFCU, also visit the university and community to conduct seminars and provide other forms of instruction. For example, classroom sessions on big-picture topics, like cooperatives and international marketing, expand the horizons of students looking for a broader context.
"Budgeting 101 is an on-campus event we've taught to the Women in Business group at the College of Business," Kauffeld said. NUFCU has also presented to young professional groups and even university staff in areas such as facilities and food services.
According to Kauffeld, "Adulting 101" is another seminar favorite. "That was an idea that came from staff members, and Dena Noe teaches it," he said. "Because having a college education doesn't mean you know how to purchase a car or what you should look for in a credit card."
Service Partnerships and Counseling Promote Positive Outcomes for Individuals
NUFCU has established partnerships with organizations that help it extend service to members who fall anywhere on the spectrum of financial well-being. For example, its relationship with GreenPath Financial Wellness provides members with free counseling and access to an optional low-fee debt management program.
GreenPath is a nonprofit that has been active in the financial wellness space for more than 60 years and empowers people to lead financially healthy lives. The organization guides NUFCU members through challenges involving debt, bad credit, bankruptcy, foreclosure, and more, to help them acquire the skills and tools they need to handle the inevitable financial hurdles of life with confidence.
Kauffeld said the goal of the partnership is to turn lives around.
"We had an individual who came into our credit union who had lost her part-time job and also her roommate who was helping with the mortgage," Kauffeld said. "All of a sudden, she found herself with $34,000 in credit card debt — all with other financial institutions. We sent her to GreenPath in November 2013, and by September of 2018, she was completely out of debt. And none of it was written down — it was all completely paid off."
And NUFCU provides members — and the public at large — with access to content from the Visa Practical Money Skills program through its website.
Visa believes that financial literacy empowers people to improve their lives, and connects consumers, educators, banks, and governments through its Practical Money Skills Program to achieve their goals. Topics range from budgeting, saving, and financial institutions to credit, debt, identify theft, and more. Games, instructional materials, and other resources help get these important messages across.
Supplementing NUFCU's financial education and wellness initiatives are several community-focused efforts that go to great lengths to make lives better in Lincoln — and beyond.
In the healthcare arena, NUFCU supports the Nebraska-based Team Jack Foundation, which funds research combating pediatric brain cancer. It also supports the Children's Hospital and Medical Center in nearby Omaha, which is a full-service pediatric healthcare facility that is part of the Children's Miracle Network.
Fostering the Financial Vibrancy of a University Community
NUFCU has earned national recognition for its achievements in helping both members and communities — but that is all part of its mission.
"Helping our members save time and save money drives a lot of things," Kauffeld said. "We celebrate when we can reduce an interest rate or help someone get out of a bad situation."
The credit union also supports organizations that encourage members to get outdoors after the cold Nebraska winter. NUFCU provides resources to TrailTrek, an initiative of the Great Plains Trails Network, which funds a network of jogging, walking, biking, and horse trails in Lincoln's Lancaster County. TrailTrek is an annual summer celebration and fundraising event that encourages area families to explore the 150-mile network of local trails.
NUFCU also raises money for — and donates to — the Lincoln Food Bank and Cedars Home for Children. And on the education front, the credit union helps fund scholarships offered by the university-based UNL Women's Club.
All of these initiatives, along with helpful products and services for members, add up to a wealth of benefits for NUFCU members — and students and others in the Lincoln community.
"It's great working at this credit union," Kauffeld said. "Because we're driven by a mission statement as opposed to a bottom line."
Advertiser Disclosure
CardRates.com is a free online resource that offers valuable content and comparison services to users. To keep this resource 100% free, we receive compensation for referrals for many of the offers listed on the site. Along with key review factors, this compensation may impact how and where products appear across CardRates.com (including, for example, the order in which they appear). CardRates.com does not include the entire universe of available offers. Editorial opinions expressed on the site are strictly our own and are not provided, endorsed, or approved by advertisers.