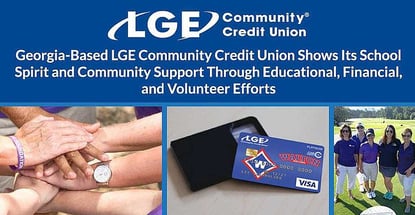 In a Nutshell: LGE Community Credit Union was founded on the idea of finding a better way to bank. That desire to constantly improve has carried through not only to LGE's emphasis on high-quality service, but it drives its community support efforts, as well. LGE has established strong partnerships with the schools in its four-county service area near Atlanta to provide funding, financial literacy, and scholarships to students. The credit union also supports schools through its Spirit Card offering, which raises funds for schools and gives cardholders cash back. Finally, the LGE Community Outreach Foundation serves numerous charities in the region and promotes volunteerism among LGE staff. For its shining school spirit and community dedication, we are recognizing LGE with our Editor's Choice™ Award. //
In 1950, the US government sought to bolster its military and defense supplies in numerous ways as the country entered the Korean War. In some cases, this meant reusing equipment from World War II, which had just ended several years earlier.
In one such instance, the U.S. Air Force scrambled to refurbish 120 B-29 bombing planes that had been deployed in the previous conflict.
California's Lockheed Corporation secured the refurbishing contract and its new division, known as Lockheed Georgia, set up shop in Marietta, in 1951 at what was then called Dobbins Air Force Base.
Lockheed Georgia's presence would create a new industry in the Marietta area that continues today as Lockheed Martin, one of the world's largest defense and aerospace companies.

Back in 1951, as the new division was getting off the ground, seven of Lockheed's employees wanted to forge their own financial path in seeking a better way to bank and formed the Lockheed Georgia Employees' Federal Credit Union.
Like Lockheed, the credit union's presence is still very much a part of the Northwest Metro Atlanta region today. In 2008, Lockheed Georgia Employees' Federal Credit Union secured a state charter to broaden its membership to those who live or work in Cobb, Paulding, Cherokee, and Fulton counties, and select partner groups.
That's when LGE Community Credit Union was born, and today, it boasts around 108,000 members, $1.3 billion in assets, and 13 branches throughout the Northwest Metro Atlanta area.
"We're tied to the communities we're in," said Scott Brooks, LGE's Vice President of Marketing and Business Development. "We have pride in our communities. We set ourselves apart through the service in our branches and our willingness to help our local communities."
Brooks said the branches even maintain that support through local photography on display.
"If you're in the Smyrna branch, you'll see pictures of the Chattahoochee River and some other historic elements that are key to that area," he said.
This focused support of its communities also reveals itself in LGE's initiatives in local schools to promote financial literacy, provide funding, and award scholarships. Additionally, the LGE Community Outreach Foundation raises and donates funds for numerous charities in the region. We are recognizing these efforts with our Editor's Choice™ Award.
LGE Supports Area Schools Through Philanthropic and Financial Literacy Resources
LGE has long-standing relationships with many schools in the communities it serves through its Partners in Education program, Brooks said. In the past year, the credit union has been working to develop even deeper relationships within the school systems.
"Each branch selects a high school that's really close to the location, and we'll partner with them," Brooks said. The partner school can also be a middle or elementary school if there is one in proximity to a particular branch.
He said LGE will then support the partner school by helping to fund particular programs and provide financial literacy education. The financial literacy efforts can come in a variety of forms.
Brooks said LGE might sponsor a breakfast or lunch at the school in which LGE employees come in and provide financial education information to the teachers and staff. It also offers financial education in the classroom.
"We'll typically work with a teacher who reaches out, to find out what their wants and needs are from an educational standpoint," he said. "It could be a variety of topics. We'll talk to students in front of their classes on days they might be trying to learn how to balance a checkbook or learning to save."
LGE also lets students know about its youth savings account that earns up to 5% APY on the first $500. Brooks said LGE also holds a campaign once a year where it will deposit $50 into the youth accounts.
"Finding 5% APY on any account is very difficult," he said. "It's really an account we launched to help teach the students about saving." By enrolling in a youth savings account, the students are also placed in one of its youth programs, which deliver financial education tips online or through a newsletter.
LGE offers the Dollar Dog Kids Club® and Savings Account for children up to the age of 12. The Cha-Ching!™ youth program is for children ages 13 to 17. And The Edge™ account is for young adults from 18 to 22 years old.
Brooks said LGE recently expanded its relationship with schools in the Cobb County School District, where LGE is based. He said the partnership has resulted in greater volunteer efforts and increased funding. LGE is currently giving back between $50,000 and $55,000 annually to the Cobb County School System, he said.
"And we're now partnering with them to give away a scholarship each year to one high school senior," he said. "The principals from each of the 16 high schools nominate one person based not just on grades but on their participation in the community."
LGE also holds the Achiever Scholarship Competition, which is a video contest where the top five winners receive a $3,000 scholarship.
Spirit Cards Show Pride While Giving Back to Area Schools
LGE also supports local schools with its Spirit Cards program for credit and debit cards that features branding from the area high school of the member's choice.
"Each school will receive a portion of the revenue earned from the interchange income of each card swipe when used as a signature-based transaction," according to the LGE website.
Brooks said the Spirit Card program is a win-win because the school gets a shared revenue payment at the end of the year and the cardholder receives cash back through LGE's High Rewards Checking program. He said it's just another way for LGE to show its support for local schools and help with fundraising.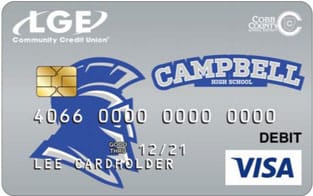 "It's something that's been really unique and different in that we haven't seen too many financial institutions give back in that way," he said. "It's a fundraiser for them and a partnership with us."
Brooks said members can choose between a debit or credit Spirit Card. But LGE does not offer the credit card option to people under 18 unless they are accompanied by a parent.
"If they come in with a parent, they can get what we call an Achiever Card that helps establish credit," he said. "They can have a minimum approved credit line as low as $500, so it really teaches you not to go above and beyond your limits, and it helps with your ability to start building credit."
LGE is currently working to expand its offering of Spirit Cards, according to its website, and members should check back to see if their preferred school is added to the list. New members interested in a Spirit Card should mention it when they open an account, and existing members can pick up an instant issue Spirit Card at any LGE branch, via telephone or the LGE website.
LGE Foundation Reaches People in Need Through Funding and Volunteer Efforts
The credit union established the LGE Community Outreach Foundation to support its efforts that reach beyond school and further into the local community.
"Since 2010, we've raised over $750,000 to give back to our communities," Brooks said. "LGE staff members take time out of work and have volunteered over 2,600 hours each year."
Funds raised through volunteer efforts, events, and personal contributions are matched by the LGE Community Credit Union board of directors, up to a certain amount. The proceeds are then donated to local nonprofit organizations, families, or individuals in need.
"We have a number of charities we give back to," Brooks said. "They can be anything from homeless shelters to domestic abuse causes to food pantries. Our employees actually select the groups that we're giving the dollars back to."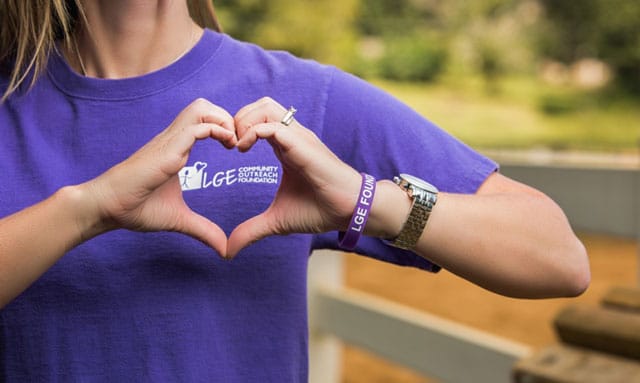 Brooks said the Foundation has a discretionary fund, where it asks for employees to share stories of those in need from the community and the Foundation donates directly to individuals and families in need. 10% of the funds raised annually are set aside for the discretionary fund. The discretionary fund has helped individuals and families in various capacities, like assisting a family whose house burned down, and a cancer patient whose treatments had put him in a financial bind.
LGE holds an annual holiday breakfast in which the selected charities are invited to attend and speak to how the Foundation has assisted their organization.
"It's a chance to meet the people you're actually giving back to," Brooks said. "It's a really great event and a great day to celebrate the accomplishments of what the charities and our foundation have been able to accomplish."
It's fascinating to see how actions from decades ago impact our world today. In this case, Lockheed Georgia refurbishing B-29 bombers for the Korean War led to LGE Community Credit Union supporting numerous schools and charities throughout the Northwest Metro Atlanta region. And, with the introduction of its Spirit Cards and the launch of the LGE Community Outreach Foundation, it appears that its community support will only continue to grow.
Advertiser Disclosure
CardRates.com is a free online resource that offers valuable content and comparison services to users. To keep this resource 100% free, we receive compensation for referrals for many of the offers listed on the site. Along with key review factors, this compensation may impact how and where products appear across CardRates.com (including, for example, the order in which they appear). CardRates.com does not include the entire universe of available offers. Editorial opinions expressed on the site are strictly our own and are not provided, endorsed, or approved by advertisers.