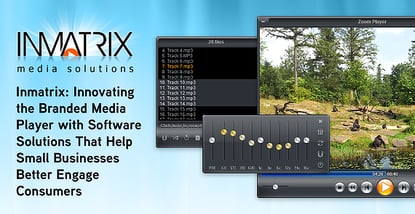 In a Nutshell: Small businesses know that engaging visuals tend to pique consumer interest most efficiently. That's why — to stay competitive in the digital age — they need to create and manage branded digital media at a price that's within their budget. Founded in 2003, Inmatrix offers affordable digital signage solutions for businesses through Zoom Player and its control framework, Zoom Commander. For its development of Zoom Player and its deep integrations, user-friendly interfaces, and customization capabilities, Inmatrix has earned our Editor's Choice Award™ for Branded Media Player Solutions.
Media saturates nearly every aspect of the consumer experience, so it's no surprise that shopping habits are strongly influenced by visually engaging digital displays and advertisements. As many as eight out of 10 customers have entered a store because a digital sign caught their attention, while 40% say digital displays can even affect what they buy by providing useful information at just the right time.
Digital signage is becoming a popular option among brick-and-mortar retailers looking for ways to keep an edge over growing e-commerce and social shopping channels. Already, 71% of consumers believe digital billboards stand out more than online advertisements. That revelation suggests that the saturation of online advertising, often viewed as a competitive advantage, is instead making on-premise digital displays more prominent — and effective.
Digital signage may be the next best thing for retail, but it can quickly bust a small-business budget. Inmatrix, an Israeli software company founded in 2003 by Yaron Gur, is reversing that trend by making digital media tools more affordable for both consumers and smaller businesses.
"Our solutions in digital signage — including ZoomPlayer — are quite affordable for small businesses. The cost includes the software and control module, and, depending on which hardware you use, you can run it on several screens," said Yaron Gur, Founder and CEO of Inmatrix.
Because its media software has such diverse applications, the company's clientele ranges from small businesses in need of visually-engaging branding materials to large corporations like the IBM Research Lab developing new technologies.
With Inmatrix, small businesses have an affordable, flexible option to customize their branding in the ways that will most engage their shoppers and patrons. For its Zoom Player and the branded video management capabilities it provides to businesses, Inmatrix is receiving our Editor's Choice Award™ for Branded Media Player Solutions.
Zoom Player: A Customizable Media Player to Fit Your Brand's Styling
Among the environments that use digital media players to display content for their visitors and consumers are airports, museums, hotels, restaurants, and other businesses. Zoom Player stands out among the scores of media players on the market thanks to its integration, user-friendly features, and its ability to scale from one PC to multiple remote displays.
Since Zoom Player is compatible with PC hardware and even touchscreen tablets, small businesses can save money on equipment and get their digital displays up and running almost immediately. "You can take existing hardware, hook it up to a second monitor, and start displaying advertisements," Yaron said.
Zoom Player has multiple interfaces for playback and control functions, with full-screen navigation through each menu, and its Smart Play technology supports a wide range of video, audio, and image file formats. This means businesses can input their current branded materials without having to worry about file conversion.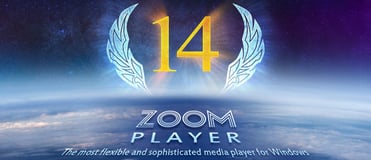 The Juke Box media library also has unique features with numerous business applications. Users can brand their content with custom posters and backdrops, and tag content with metadata so files are easier to differentiate and retrieve.
While Inmatrix works directly with small-business clients, many of its corporate clients have integrated Zoom Player into their larger products, ranging from consumer-facing home theater systems and memory storage devices to digital signage and retail kiosk setups.
"Most of our clients have approached us trying to find a solution for a system," Yaron said. "We've embedded our technology into their products to save them time-to-market. They can get expert tech support and save the cost of in-house training that would be required to reach something close to what we concentrate on."
Zoom Player's versatility has also broadened its applications beyond Inmatrix's original designs. "Our software is very flexible, so sometimes customers use it in cases we might not have even designed for, so it's always nice to hear from our users and see which ways they've found to use the features," Yaron said.
Zoom Commander: Automate and Manage Ads for Your Digital Signage
Feedback on how Zoom Player customers use the product has led Inmatrix to develop a deluxe control framework for the media player, called Zoom Commander.
While Zoom Player could already be controlled remotely, several customers requested additional control features, such as the ability to time videos or specify where content appears on a display. "We decided to build a second product that invisibly uses the first product. It's not something that we went out and marketed – it's just a framework that we wrote that controls our other technology," Yaron said.
Zoom Commander manages, controls, schedules, and presents media through one of many Zoom Presenter configurations. For example on the display end, a video wall configuration coordinates displays on multiple screens to create one large image, while screen zones and numerous screens allow users to segment content to specific areas and devices. These features enable businesses to create specific visual effects and maximize their screen space to showcase more branded materials or tie related content together.
On the control side, Zoom Commander features a tag system for easier content organization, with a scheduler to automate displays for specific dates and times. Zoom Commander's web-browsing technology also enables website-like layouts and design capabilities through content management system (CMS) integration.
With cloud distribution, linked screens, and the capability for remote presentations, Zoom Commander gives small businesses wider-scale options for sharing and presenting their content beyond a single location.
At the small business level, Zoom Commander finds a practical use in restaurants that need to coordinate and time digital menu displays. "You can change the displayed menu based on the hour to have different menus show up for breakfast, lunch, and dinner, and you can even run advertising or push videos at specific times," Yaron said.
Developed in response to user feedback, Zoom Commander provides a more deluxe framework for managing branded digital content. By streamlining operations and encouraging creativity in how they use their digital signage, Zoom Player helps small businesses better engage and inform their customers.
Innovating Digital Media Technology for the End-User Experience
Small businesses recognize that visually engaging displays are effective in attracting customers, and are flocking to use the technology. But use cases can vary widely, which is why Inmatrix relies on feedback to help companies focus on their target audiences.
Through Facebook and other user communities, Inmatrix listens and responds to how people are both using and engaging with its software products.
"Sometimes we get a request saying our media player supports 90% of what they need, and doing one small thing would make it perfect. If the idea is good and we think it's worth the investment, we go ahead," Yaron said.
Inmatrix has also adopted a development schedule that pushes out new updates every few months. "We release a major version whenever we insert one of our milestone features into it," Yaron said. "For the next version, we're focusing on additional connectivity to third parties and more methods of bringing content to the end user. That's most of our focus, as well as polishing the user interface. That's something we try to re-evaluate with every major release to make sure we're not bloating software or inserting features users don't want."
By focusing on the end-user experience, Inmatrix continues to improve its media software in ways that benefit businesses. As small retailers realize the power of digital signage for customer acquisition and purchasing influence, Zoom Player with Zoom Commander provides a simple, affordable, and highly customizable solution.
Providing small businesses the tools to design and manage their branded displays, Inmatrix helps retailers connect with their customers and stay competitive despite market shifts. That's why we're awarding Inmatrix our Editor's Choice Award™ for Branded Media Player Solutions.
Advertiser Disclosure
CardRates.com is a free online resource that offers valuable content and comparison services to users. To keep this resource 100% free, we receive compensation for referrals for many of the offers listed on the site. Along with key review factors, this compensation may impact how and where products appear across CardRates.com (including, for example, the order in which they appear). CardRates.com does not include the entire universe of available offers. Editorial opinions expressed on the site are strictly our own and are not provided, endorsed, or approved by advertisers.