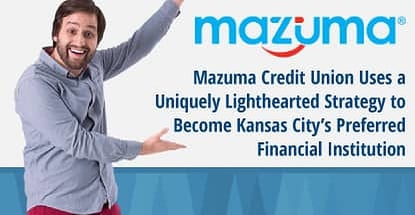 In a Nutshell: Traditional banks use similar approaches to advertising their products and services. Well-dressed executives in suits are often seen praising the functionality and precision of an institution's technology and staff. Financial lingo is mixed in for good measure. Kansas City's Mazuma Credit Union took a completely different approach when it rebranded in 2014 with its spokesperson, the affable, but goofy Mike. The lighthearted attitude was well-received as new millennial membership rose 30%. The credit union offers savings, credit, and loan products, as well as financial technology and educational tools that compete with that of nationwide institutions. Mazuma plans to roll out more offerings in the near future and increase its focus on improving members' financial literacy in its quest to become Kansas City's preferred financial institution within the next three years. //
We tend to have a good time in the CardRates.com offices. Our days are spent researching credit card fine print, bank and credit union products, and other bits of financial information intended to make your life better.
You never know when a rousing debate over Bitcoin futures or the state of the country's housing market will pop up. Then there are days when we discover someone like Mike.
I don't remember when it actually happened, but it was a day like any other. A laugh came from the desk across from me and quickly spread through the office. I'm usually the last to know about things, and, by the time the link was sent to me, I totally understood the reaction.
Mazuma Credit Union's Kansas City roots have run deep for more than 65 years. The institution offers savings, credit, and loan products that compete with — and often beat — its competitors in the Northwest Missouri region. In the last year, the company placed an emphasis its educational product offerings, like Finance Works and added a partnership with CU University to help members learn how to get the most out of every dollar they earn.
President and CEO Brandon Michaels rebranded the company in 2014 to attract new clients. After much deliberation, he decided that to stand out, it would have to go in a direction that no other firm in the banking space was taking. That day, Mazuma Mike was born.
"We wanted to create a brand that articulated our changing demographics of membership," Michaels said. "For so long, banking has had this stodgy, super-formal culture. It's a good ole' boys club, if you will. That's not what people are looking for."

Mazuma has used the added exposure Mike brought the company to bring in a younger member base. To help those members thrive, the company shifted much of its marketing approach to be more educational.
"People obviously want an institution to take care of their money and take business seriously, but they also want one that is approachable," he said. "That's what we tried to create."
Mazuma Mike Brings Laughs and New Millennial Members
Michaels said the company works hard to find a middle ground between humor and seriousness that pleases its members. Three years after Mike's introduction to the world, Mazuma has seen a 30% spike in new millennial members — a highly sought after demographic by any financial firm.
"By that measure alone," Michaels said, "I think it's been really successful."
That younger member base allows Mazuma to further serve its Kansas City community by offering products like Finance Works. The online toolkit is available to all members enrolled in online banking and helps account holders manage cash flows and find ways to spend less so they can maximize their savings. A calendar helps ensure all bills are paid on time to avoid late fees and a tracker shows the "Real Balance" of their account after upcoming transactions are deducted so members don't overspend.
CU University gives members the know-how vital to achieving specific life goals, like buying a car or a new home. These products are offered on Mazuma's traditional and mobile website to meet the varying needs of its members.
"The up-and-coming generations use banking differently than their parents and grandparents did," he said. "They value a cooperative spirit, giving back to the community, and corporate social responsibility. Banks by and large do it because they have to. We do it because we want to."
Products and Services Dispel Credit Union Myths
Having entertaining advertising and a recognizable brand only goes so far in the financial world. Today's institutions need more than a catchy phrase to keep their doors open.
Mazuma's savings and checking options score high not only in Kansas City but among larger national brands. The company's premium checking account offers an unheard of 0.17% APY and includes enrollment in Mazuma Rewards — which lets debit cardholders receive cash back rewards for everyday purchases.
The institution's entire rate structure is listed on its website.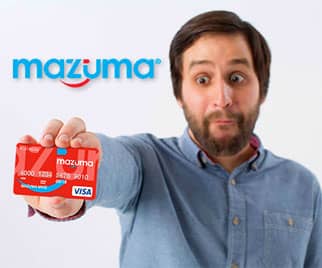 The company also offers online banking and technology products comparable to those of its competition. While some may take that for granted, Michaels said that a stigma surrounding credit unions still exists.
"We did a major study in 2017 about consumer perceptions here in Kansas City," he said. "What we found is probably extrapolated around the whole country, but there is still a mom-and-pop perception of credit unions."
To break those misconceptions, Michaels and his team are ramping up their offerings, while also giving back to the community it serves to show that they're committed to Kansas City. The company puts 5% of its net income into community grants and charities. Each employee is given 40 hours of paid time to volunteer at any organization of their choice.
"Our purpose at Mazuma is to make Kansas City a better place to live, work, and bank," Michaels said. "We are really invested in making our communities better. If that's what you care about, then doing business with an organization that has those same values is what you should do."
Making Kansas City a Better Place to Live, Work, and Bank
Michaels and his Mazuma Credit Union team have lofty expectations for the company. A set of cascading strategies for every department pushes the goal of becoming Kansas City's preferred financial institution within the next three years. These goals include achieving the highest customer satisfaction rating and offering the most innovative products in the space.
"We're working very hard all the time to build up a winning mindset," he said. "Credit unions, by and large, play to participate. They do certain projects because they have to, but it's not coalescing around a common aligned strategy. We don't play to participate, we play to win."
That mindset revolves around offering products and branding that test the limits of modern banking, while still being approachable to members of all ages.
With savings, credit, and loan products designed for consumers at any stage of the wealth-building journey, Mazuma Credit Union sets itself apart from the competition with a lighthearted approach to a typically serious industry.
"We may laugh and joke with our customers," Michaels said, "but we take our business seriously."
Advertiser Disclosure
CardRates.com is a free online resource that offers valuable content and comparison services to users. To keep this resource 100% free, we receive compensation for referrals for many of the offers listed on the site. Along with key review factors, this compensation may impact how and where products appear across CardRates.com (including, for example, the order in which they appear). CardRates.com does not include the entire universe of available offers. Editorial opinions expressed on the site are strictly our own and are not provided, endorsed, or approved by advertisers.