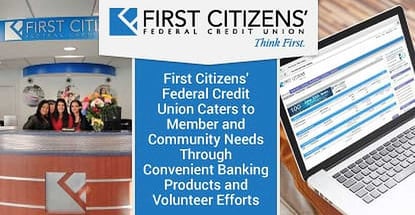 In a Nutshell: Since its founding in 1937, First Citizens' Federal Credit Union has grown to more than 80,000 members throughout Massachusetts and more than $700 million in assets. The credit union has 11 branches located throughout the eastern part of the state, and it works to ensure its checking and check card services are widely accessible, secure, and support those who serve their communities. First Citizens' remains rooted in the Massachusetts towns it serves, but it's not just about providing products and services. The credit union encourages employees to give back through volunteering and directly supports community development programs that improve the quality of life for everyone.
First Citizens' Federal Credit Union operates 11 branches in communities across eastern Massachusetts with employees who are dedicated to service. At First Citizens', however, service not only means helping more than 80,000 credit union members, but it also means supporting the community through volunteer work and providing financial education.
It's all in keeping with the dual nature of the First Citizens' mission: to meaningfully impact its members while maintaining a positive presence in the communities it serves.
The core of First Citizens' commitment to community service and development lies in its employee volunteer program. Employees have the opportunity to volunteer the credit union's time to any program in the communities it serves.
One program that receives a lot of love from First Citizens' employees is Rise Up for Homes, a collaborative campaign based in New Bedford, Massachusetts, that is dedicated to meeting the needs of the homeless population. Rise Up for Homes operates an Emergency Overflow shelter that, at any given night, provides services to more than 30 individuals and helps put those people on a path toward greater security.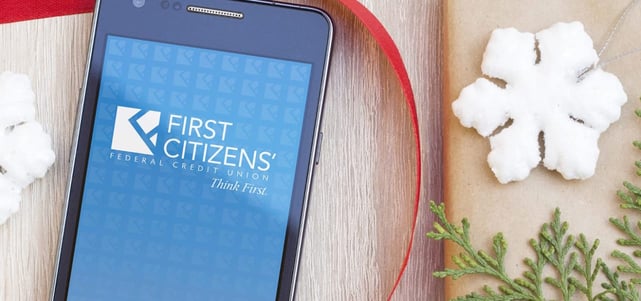 "We have many employees who volunteer at the shelter," said Leslie Poulin, Sr. Director of Marketing at First Citizens'. "During winter snowstorms, especially, it operates as an overflow or emergency facility that offers people a warm meal and a warm bed away from the elements."
First Citizens' focus on community has contributed to its growth from a small, state-chartered institution to a credit union with more than $700 million in assets today.
"We're involved with Rise Up for Homes from more than just a volunteer perspective," Poulin said. "We help with maintaining its website and also offer in-kind support. We help them create their annual report. We're committed to supporting what they do in every way we can."
And First Citizens' brings that same commitment to its members with accessible check card products, special accounts for local heroes and champions, and more digital payment options.
Honoring Community Service with Special Accounts and Rebates on ATM Surcharges
The same passion that makes First Citizens' an exemplary community service organization also shows up in the Visa check card products it offers to its members. The check cards are designed to be as accessible and easy to use as those provided by banks and financial institutions with a nationwide presence.
"Even though we're proud to remain a community-oriented credit union, our products are on a par with any you'll find," Laranjeiro said.
First Citizens' participates in the SUM® Network, an alliance of local banks and credit unions that provides members with access to thousands of surcharge-free ATMs around the country, saving them time and money.
The credit union extends that access even further for community service professionals with checking accounts that offer ATM surcharge rebates on out-of-network ATMs. The First Citizens' Hero checking account is available to active-duty military personnel and veterans while its Champion account is designed for teachers and service workers, including emergency services professionals, police, firefighters, and healthcare providers.
"It's our way of thanking the professionals in our communities who go above and beyond every day in what they do for work. Many benefits and features are associated with these special accounts, including free checks, but we find one of the most popular is unlimited ATM rebates," Laranjeiro said.
First Citizens' supports the heroes and champions in its communities in other ways, as well. Every time a member opens a Hero account, First Citizens' donates $50 to a veterans service organization chosen by the account holder. And with each new Champion account, the credit union contributes $10 to the Champion Family Scholarship Fund, which awards three $1,000 scholarships each year to immediate family members of Champion account holders.
And scholarships aren't the only way First Citizens' supports the educational goals of its members. The First Citizens' student checking account offers ATM surcharge rebates of up to $20 per month.
Protecting Members from Fraud and Identity Theft
First Citizens' is serious about protecting member transactions and financial integrity with a variety of programs designed to make banking safer and more secure. For example, all First Citizens' Visa check card products are chip-enabled, which means greater protection against identity theft.
"Chip cards are a key security solution and crucial to what we offer as more point-of-sale terminals and ATMs become chip-enabled," Laranjeiro said.
The credit union also participates in the Verified by Visa program, which protects First Citizens' check cards with a unique password for online shopping. Every time a member enters a Visa card number registered with Verified by Visa to make an online purchase at a participating store, the member must enter the password before the transaction can be completed.
"Controls accessible within our app let members create a spending threshold limit to control overspending or limit transactions over a certain amount. It's a great way to stay within budget." — Linda Laranjeiro, Director of Payments Portfolio, Growth, and Strategy at First Citizens' Federal Credit Union
"When you participate in Verified by Visa, you help ensure that it's you who's making the online purchase," Laranjeiro said.
Members also have more granular control over the use of their cards. Card controls and alerts accessible through the First Citizens' mobile app let members choose whether to allow online transactions and enable push notifications to keep them informed about card activity.
"Controls accessible within our app let members create a spending threshold limit to control overspending or limit transactions over a certain amount. It's a great way to stay within budget," Laranjeiro said.
Enabling Card-Free Transactions Both Online and in Stores
On the cutting edge of the security front are payment services that allow users to dispense entirely with physical cards in favor of digital transactions both online and in stores. These digital payment methods get rid of the traditional PIN entry on check card purchases and instead provide a unique, encrypted PIN for each transaction for added security.
Online shoppers benefit from First Citizens' participation in Visa Checkout, which lets customers make online payments without having to enter their card information. As a widely adopted online payment format, Visa Checkout simplifies and secures online transactions by storing the member's financial data — as well as the purchase information — behind multiple layers of security, routing checkout through a single secure point of entry that is protected by a password.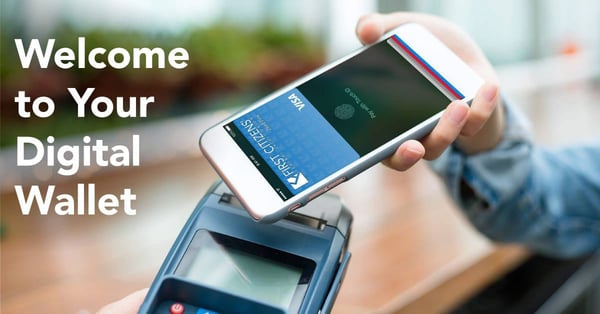 In stores, members can benefit from registering their First Citizens' check cards with mobile payment services Apple Pay, Samsung Pay, and Google Pay.
"Using one of these digital wallets is one of the safest ways to make a transaction today because you're not using a PIN stored on a card," Laranjeiro said. "The PIN is created every time a payment is made through the service."
A Credit Union Dedicated to Community Support
First Citizens' provides members with convenient and secure checking products to use every day while working to make life better for community members most in need. As part of its work with Rise Up for Homes, First Citizens' helps coordinate New Bedford Connect, an annual services fair for those who are homeless or at risk of becoming homeless.
"New Bedford Connect brings local agencies together to help community members with housing and much more," Poulin said. "For example, participants get free dental checks, and, if they need mental health support, they have access to that, too. We also help them get state IDs so they can move forward and get the services they need."
Additional areas of community focus for First Citizens' include support for education, youth and elderly individuals, and cultural arts — which are all part of the community-oriented credit union's dual mission.
"We all want to live in communities where people feel welcome and have a chance to move forward," Laranjeiro said. "And the financial services we provide are certainly important for that. We feel very fortunate that we can apply our success as a credit union toward realizing goals and ambitions for everyone."
Advertiser Disclosure
CardRates.com is a free online resource that offers valuable content and comparison services to users. To keep this resource 100% free, we receive compensation for referrals for many of the offers listed on the site. Along with key review factors, this compensation may impact how and where products appear across CardRates.com (including, for example, the order in which they appear). CardRates.com does not include the entire universe of available offers. Editorial opinions expressed on the site are strictly our own and are not provided, endorsed, or approved by advertisers.