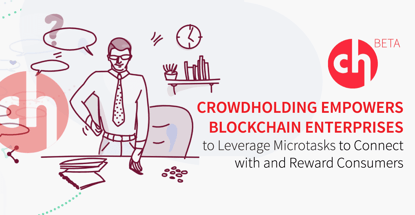 In a Nutshell: Startups often face an uphill battle to reach their target market and publicize their offerings. Crowdholding simplifies those tasks for blockchain-based enterprises by connecting businesses with consumers, experts, and stakeholders who can offer valuable insights and generate buzz. This community — called crowdholders — earns rewards in the form of cryptocurrency, and the dynamic helps startups share ideas, grow revenue, and reach their target consumers. Crowdholders are incentivized to provide detailed, helpful feedback, which also benefits the entire market by informing more well-developed products and services.

On the west bank of the Danube River, between Croatia and Serbia, sits Gornja Siga. According to Croatia, this small plot of land falls within Serbia's borders, but Serbia actively denies ownership. Gornja Siga has gone unclaimed since 1991 and has been uninhabited for decades.

In 2015, Vít Jedlička and Jana Markovicova claimed Gornja Siga and established the Free Republic of Liberland with the goal of creating an ideal democratic society. Liberland is pioneering a tokenized statehood model based on Merit, a crypto asset that represents voting power, economic participation, and collateral for a decentralized judicial system inspired by the DAO.

A crypto-based startup state is an ambitious project. But ambition is no guarantee that Liberland won't fall prey to the common obstacles that most startups must overcome. Among those are lack of market need, lack of consumer interest, and building a network that can generate interest.

On the other side, consumers — or, in Liberland's case, potential citizens — may not have a reliable means of discovering the entities they would support. To address those potential pitfalls, Liberland turned to Crowdholding.

"The whole idea was to allow the crowd, anyone in the world, to give feedback to businesses," said Ethan Clime, President and CEO of Crowdholding. "And in return for the work that they do with these microtasks, they get rewarded."

Crowdholding connects businesses and other crypto-based organizations to consumers — called crowdholders — who possess diverse and valuable skill sets. Startups can rely on crowdholders to validate ideas, enhance and refine products, and raise awareness. Crowdholders, in turn, can build their professional portfolios, gain early access to new products, and earn cryptocurrency.

Under this model, startups benefit by connecting directly to — and getting feedback from — interested consumers. And those consumers have a hand in shaping the future of an offering they wish to support while earning a return.

Blockchain: The Link Connecting Startups and Supporters

Crowdholding's initial plan was to connect early-stage startups with consumers who could help them establish a market fit, value proposition, and business model. In return, participants would be rewarded with a portion of future revenue.

But startups were concerned that traditional investors would shy away if royalties were offered to the public. Further, because startups are niche offerings, connecting them with niche experts proved difficult. And the model required companies to publicly release information that was typically only provided to employees under the security of non-disclosure agreements.

"We were having those struggles and then noticed that the crypto scene is extremely transparent," Clime said. "You have to showcase your whole business end to the public."



So the founders began working with blockchain-based startups which are better aligned to its processes. Those entities can leverage initial coin offerings (ICOs) to generate investment. That bypasses concerns over traditional closed investment practices, aligning it with Crowdholding's vision of vesting early supporters and contributors.

And blockchain enterprises belong to a unique niche as they are rooted in transparency due to the open nature of ledgers. Those ledgers ensure accountability and legitimacy of all activity taking place on the blockchain.

Most of these startups find use cases for the technology and then work to bring those market solutions to the public. But Crowdholding represents an inversion of the standard startup procedure. With blockchain, the company found a technology that intuitively aligned with its ideal use case, enabling it to take its vision from the drawing board to the global marketplace.

Knowledgeable Consumers Complete Tasks to Earn Rewards

The process of accessing consumers through Crowdholding is intuitive and straightforward. When a business has an idea, it can post it to the platform and pledge a reward for feedback and contributions. Supporters submit their thoughts and ideas to improve the offering, and they are compensated in the form of YUP tokens, Crowdholding's proprietary cryptocurrency.

This dynamic is a win for both sides. Companies receive valuable insights directly from independent consumers in their target market, which helps them refine the idea and create the best possible offering. Consumers who contribute to a company's success earn a return for their efforts while playing an essential role in developing and designing a product they're interested in.

The practical units of these interactions are microtasks that crowdholders perform at the request of startups. One common microtask is providing feedback on ideas, for which respondents receive a reward proportional to the number of upvotes their comment or suggestion receives from the rest of the community. The total reward amount pledged is parceled out according to the number of upvotes each comment earns.

Bounty tasks, on the other hand, involve spreading awareness by starting conversations on social media platforms, including Reddit and Twitter.

Both of these types of microtasks serve to create and publicize the best possible product. In essence, they crowdsource sweat equity — an investment of labor that is traditionally the purview of entrepreneurs.

"They could earn money without being restricted by their government or a bank. It brings a little bit of that sharing economy idea because they're earning token assets from a company," Clime said. "Now, the individual doesn't have to have wealth to buy stocks."

And microtasks are open to anyone, at any time, no matter where they are in the world. Crowdholders receive compensation for helping the company succeed, while entrepreneurs get valuable, real-world feedback, and more free time to focus on improving their products and services.

Crowdholding Microtasks Offer a New Use for YUP Tokens

Crowdholders who participate in microtasks earn YUP tokens as a reward, which businesses can purchase directly from Crowdholding or on the IDEX exchange. Crowdholders can either hold their tokens or sell them in exchange for fiat or other cryptocurrencies. Those who choose to liquidate their tokens may even end up selling them back to the business that distributed them, should it need to fund additional microtasks.

Until now, that has been the YUP cycle — businesses buy the tokens and distribute them to crowdholders, who either sit on or sell them. But Crowdholding has launched a new feature that further expands the value of those tokens.

"Our top users want to also publish tasks, so we gave them that option," Clime said. "It's creating more sustainability."

The platform's top users — called gurus — can now publish microtasks just like startups. That means that the consumer community can create and reward other members for performing tasks. Users can find these crowdholder-created microtasks in the newsfeed. Clime said Crowdholding has implemented a choice of being a "contributor" or "project" when applying to be listed to reflect the nature and origin of microtasks.

This innovative way for crowdholders to utilize their YUPs expands the use of the token beyond holding or selling them. Now, anyone invested in YUP tokens can create more labor within the Crowdholding community, further spreading the wealth generated through the platform's unique dynamic.

Advancing the Dream of a More Democratic Gig Economy

By engaging the Crowdholding platform and leveraging its users base's expertise, Liberland has raised awareness of its founding and sovereignty. It has also developed a plan for spurring economic growth and generating government revenue and received feedback on tokenizing the nation's first business, Liberbeer.

The young nation garnered valuable publicity and information from interested individuals, and they earned a return on the work they did on behalf of Liberland.

That opportunity is a massive boon for a nation that has a current population of zero. At the same time, it holds obvious benefits to those who want to support its mission.

But not just Liberland benefits. Another notable entity that has recently joined the platform is the inspiring Blockchain project æternity (AE). Crowdholding has partnered with its branch, AE Ventures, which incubates early-stage AE DApps in its Starfleet Accelerator Program. Crowdholding's role is to support the "process fit" of the business, which involves using the crowd to help identify pain points, business models, value propositions and products — to name a few. It recently onboarded AE's first pilot project Cryptotask.org — a decentralized freelance eco-system — that shares a unique synergy with the Crowdholding platform.

"The whole idea of Crowdholding, the whole dream, was to allow anyone in the world – it doesn't matter where they live – to get paid to put their thoughts down," Clime said. "You're not restricted by where you live."

Crowdholding is popular in India and the United States, but it holds great potential for developing nations and countries where populations are largely underbanked. Thanks to the ever-expanding availability of smartphones and other digital technology, people who lack access to financial products and institutions can acquire and hold cryptocurrency.

With nothing more than access to Crowdholding and some personal insight, they can earn YUPs and support startups they want to see succeed. This democratization of the gig economy aligns the interests of consumers and companies — and benefits both.
Advertiser Disclosure
CardRates.com is a free online resource that offers valuable content and comparison services to users. To keep this resource 100% free, we receive compensation for referrals for many of the offers listed on the site. Along with key review factors, this compensation may impact how and where products appear across CardRates.com (including, for example, the order in which they appear). CardRates.com does not include the entire universe of available offers. Editorial opinions expressed on the site are strictly our own and are not provided, endorsed, or approved by advertisers.