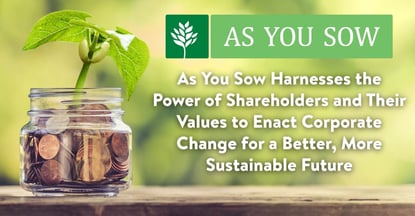 In a Nutshell: Many corporations view profit as the ultimate goal for the company and its shareholders which can lead to efficient but unsafe or unsustainable practices. As You Sow is a nonprofit that works to enact change that leads to safer and more sustainable policies that reflect well on corporate brands and reduces their risks. The company conducts and publishes in-depth research to educate corporations and their shareholders about how their actions impact humans and the environment. It leverages the values of shareholders to help bring about positive change in corporate policies. As You Sow also provides online tools for employees to learn how they can align their investments with their personal values.
In March 2018, Adrian Grenier delivered As You Sow's shareholder proposal to Starbucks annual meeting encouraging the company to move away from using plastic straws in its drinks. Starbucks accepted the proposal and pledged to eliminate 3 billion single-use plastic straws by 2020.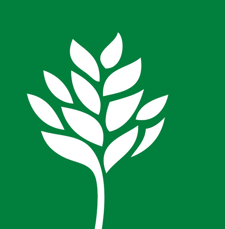 Grenier didn't come to the coffee giant as the lead actor from "Entourage" or the co-star of "The Devil Wears Prada." He approached Starbucks as an environmentalist, Co-Founder of the clean-ocean nonprofit the Lonely Whale Foundation, and — perhaps most importantly — as a Starbucks shareholder.
Grenier's proposal was actually the product of the nonprofit, As You Sow. Since 1992, the organization has worked to leverage the voices of corporate shareholders to enact change across a wide range of environmental and social issues.
"We are shareholder advocates," said Andrew Behar, the CEO of As You Sow. "We organize groups of shareholders to go to companies and ask them how they can do a better job, reduce risk, and take care of their bottom line. Corporations have the power to impact critical issues that are so important for the future of our planet and often these are aligned with company goals as well – we work to find win-win solutions."
We recently spoke with Behar to learn more about As You Sow's mission, the extensive work it does to influence corporations to adopt responsible practices, and how average 401k investors can be sure their funds are supporting corporations that align with their personal values.
Encouraging Corporations to Align Practices with Shareholders' Principles
Last year's Starbucks victory is just the most recent in a long line of wins for As You Sow. The California-based organization has quietly been behind a number of high-profile stories heralding important corporate policy changes over the years.
In 1993, cosmetics company Revlon agreed to remove toxic chemicals from its nail polish. In 1998, Home Depot stopped selling old-growth lumber. In 2013, McDonald's committed to eliminating foam cups at its 14,000 U.S. locations and then expanded this to all global operations. Those cases are just a small sample of real change that As You Sow, working in collaboration with many other non-profits, has been instrumental in facilitating, in the past quarter-century.
So how can a nonprofit encourage such drastic changes in the policies and practices of large corporations? Research and education.
Behar said As You Sow has recently been exploring pesticide and herbicide use on crops and used this issue to explain the company's process.
"We generally start with very deep research," Behar said. "We'll look into an issue and publish a paper on the topic."
"Looking at herbicides, we perceived a problem — almost all our food is treated with glyphosate — a known carcinogen — and we're eating it every day," Behar said. "It's used as a desiccant and they apply it right before the harvest, so it gets onto the kernel of oats, wheat and other grains. Then, it's in your flour, in your bread, in your oatmeal."
The nonprofit takes its research to the corporations that support a supply chain that uses glyphosate and discusses the issue with them.
"We'll say, 'You really don't have to do this. You can tell farmers in your supply chain not to spray the oats and wheat before you harvest it. As shareholders, we think your company is taking an unnecessary risk in associating your brand with this practice and a known carcinogen. Wouldn't you rather be associated with food that is safe to eat?'" Behar said.
Sometimes the companies will take the suggested changes under consideration and other times they will reject As You Sow's ideas. When that happens, the nonprofit escalates the issue by filing a resolution in advance of the annual meeting and it is seen by the board or directors and goes to a vote among all corporate shareholders.
He said one of the biggest hurdles is simply managing the perceived risk that comes with changing a longstanding policy, even when the company is shown evidence and market projections about how this action will improve the corporate brand and reduce risk.
"There are always solutions to these problems we identify," Behar said. "The companies that don't want to do it and put their heads in the sand aren't going to do well in the long run. The ones that want to talk about it and figure out solutions are going to fare much better. It shows a corporate culture looking to always improve – that is something that investors can bank on."
As You Sow Provides Tools for Investors to Assess How Well a Company's 401K Options Match Their Ideals
Some corporations are inherently misaligned with As You Sow's values, such as fossil fuel companies or corporations involved in producing weapons of war. Behar said As You Sow understands that similarly, many citizens would not want to support these types of companies.
But, they often do support them unwittingly through investment plans for retirement.
"Most people don't know even which mutual funds they're invested in, no less what companies those funds actually hold" he said. "When they look into it, there's this cognitive dissonance because most people are trying to create a safe, just and sustainable world for their children and grandchildren, yet they're invested in the past, an outdated paradigm, that runs completely contradictory to that."
And most companies don't give the issue much thought either, he said, and simply pick a few funds that employees can invest in and move on to the next task.
Behard said in some cases this leads to major conflicts between investors and the funds they own.
"We did an analysis of what people in government own, and it is surprising that the Surgeon General owns stock in tobacco. People promoting the Green New Deal own stock in companies like Exxon, Chevron, and coal-fired utilities like Duke and Southern," he said. "They have no choice, they're forced to own the exact opposite of what they believe in. How many women working for the government realize that they are invested in a mutual fund that scores 3 out of 100 on gender equality. How many realize that they own cluster munitions and landmine manufacturers?"
But As You Sow wants to educate investors and companies about how to invest in funds align with their own personal values and goals.
"As You Sow's Invest Your Values free online tools screen mutual fund holdings against specific environmental, social, and governance issues," according to the website. "Mutual fund investors can know what they own, and can align their investments with their values."
Specifically, the tools look at the areas of gender equality, fossil-free funds, weapon-free funds, deforestation-free funds, and tobacco-free funds.
"This transparency gives investors, for the first time, the ability to apply a values lens in evaluating mutual funds," according to the website. "It encourages fund managers to construct and offer responsive investment vehicles, and it exerts market pressure on companies to improve."
Focusing on Key Issues Such as Ocean Plastics, Climate Change, and Safe Food
As You Sow is currently focused on enacting change in six broad areas based on recent research: climate change, ocean plastics, executive compensation, gender equality, slavery in supply chains, and safe food.
Safe food not only encompasses the pesticide and herbicide practices of farms but As You Sow has also shined a light on the overuse and misuse of antibiotics in the meat industry. Antibiotics are given to animals to prevent disease in cramped, unsanitary conditions. The overuse of antibiotics leads to greater antibiotic resistance, which the World Health Organization calls "one of the biggest threats to global health, food security, and development today."
In recent years, As You Sow has played a part in McDonald's, Wendy's, Burger King, KFC, Sanderson Farms, and other large corporations committing to cease the use of medically important antibiotics in chickens. While there is more work to be done, As You Sow considers this a big victory and sees the recent commitment by McDonald's on antibiotics in beef to show where the entire industry is heading.
And of course, it's not only Starbucks straws that are littering the ocean. Plastic bags, bottles, lids, foam cups, and food wrappers swirl around in ocean currents, alongside fish, turtles, and other sea life that may ingest the plastic. And only a fraction of ocean plastic is visible — a large portion of it has broken down into nano-sized particles that impair marine animal digestive systems and spread toxic chemicals they have absorbed.
As You Sow has spearheaded campaigns that led to Procter & Gamble agreeing to make 90% of its packaging recyclable, Dunkin' Brands and McDonald's agreeing to eliminate over 2 billion polystyrene foam cups each year, and Unilever agreeing to make all its packaging 100% recyclable, reusable, or compostable by 2025.
Climate change is another huge issue, Behar said. As You Sow breaks down its climate initiatives to focus on the areas of carbon risk, methane reduction, fossil fuel funding, and energy sector transition.
"(Investors) can lead the way in maximizing opportunities created by climate change — including investing in new products, technologies, and operational innovations, and working with companies to do the same," according to the website.
Further Invest in Your Values by Supporting As You Sow
As You Sow is a 501(c)3 tax-exempt, nonprofit organization, which means it relies on foundation grants and donations to conduct its research and engage with corporations to enact change.
Those interested in supporting As You Sow via donations can find more information on the company's donation page.
"All charitable donations are deductible to the full extent allowed by law," according to the website. "As You Sow does not trade, share, or sell a donor's personal information, nor send donor mailings on behalf of other organizations."
Whether Adrian Grenier is working with As You Sow to keep plastic straws out of the ocean or corporate shareholders are voting on a resolution to keep antibiotics out of meat, it's hard to deny that As You Sow is working hard to help ensure a safe, just, and sustainable planet for the future.
Advertiser Disclosure
CardRates.com is a free online resource that offers valuable content and comparison services to users. To keep this resource 100% free, we receive compensation for referrals for many of the offers listed on the site. Along with key review factors, this compensation may impact how and where products appear across CardRates.com (including, for example, the order in which they appear). CardRates.com does not include the entire universe of available offers. Editorial opinions expressed on the site are strictly our own and are not provided, endorsed, or approved by advertisers.