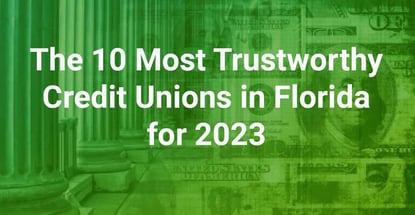 Our experts and industry insiders blog the latest news, studies and current events from inside the credit card industry. Our articles follow strict editorial guidelines.
Florida, the Sunshine State, is on everybody's mind these days. It's the fastest-growing state, with a population topping 22 million and thousands of new arrivals every week.
Many Floridians are experiencing cost pressures in housing and other sectors. The state's vibrant credit union community offers new arrivals and long-time residents a financial alternative where money and energy stay in the community. All Floridians can count on the state's credit unions to deliver more affordable products and services in a spirit of community and trust.
Here's our list of Florida's 10 most trustworthy credit unions, which we compiled strictly on merit after thorough research. We're proud to give voice to these dedicated Florida financial institutions and hope you'll build a relationship with one if you haven't already.
Note: Credit unions may offer membership based on geography, industry, or academic affiliation, among other categories — please check to ensure you qualify for membership.
Best for Military: VyStar Credit Union

VyStar Credit Union's roots are as a credit union for naval personnel in Jacksonville, so you know its commitment to military members and families is strong.
The Military Heroes Mortgage Program offers payment and closing options and access to a dedicated VyHero Mortgage Support Team. VyStar also proudly provides free checking with no minimum deposit or monthly fees.
The icing on the cake is discounts on events and attractions. It's another way VyStar earns the trust of military members, families, and veterans and thanks them for their service.
More About VyStar Credit Union
A total of 12 founding members at Naval Air Station Jacksonville pooled just $60 to start VyStar as the JAX Navy Federal Credit Union in 1952
VyStar now serves more than 900,000 members nationwide
Best for Savings: Suncoast Credit Union
Opportunities to earn extra cash through savings are at a height right now, and thousands of Suncoast Credit Union members enjoy savings products and services that offer flexible terms and higher dividends.
Suncoast earns trust through money market accounts and share certificates (the credit union version of a certificate of deposit or CD) that offer some of the best rates because the credit union's mission is to achieve just that.
Suncoast, based in Tampa, also offers student and educational savings accounts, IRAs, and health savings accounts to help busy Suncoast families maximize their financial potential.
More About Suncoast Credit Union
A group of Hillsborough County educators started Suncoast Credit Union in 1934 as the Hillsborough County Teachers Credit Union
Today's Suncoast is the largest credit union in Florida, with more than 1.1 million members
Best for Students: CAMPUS USA Credit Union

Educators founded CAMPUS USA Credit Union to serve employees and students at the University of Florida in Gainesville. Although it caters to a much broader membership population today than it did at its founding, its commitment to education still rings true as a vision as it strives to make a positive difference in all members' financial lives.
CAMPUS USA's free checking account is perfect for students and everyone interested in an inclusive, no-fuss approach to finance. A full suite of personal and business products and services builds community trust.
More About CAMPUS USA Credit Union
CAMPUS was founded as the Gainesville Florida Campus Federal Credit Union and was the first credit union on a US college campus
CAMPUS now serves more than 140,000 members living and working globally
Best for Digital Experience: Community Credit Union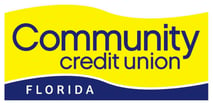 Today, all Florida credit union members can count on a modern digital approach to banking that puts optimum control in each member's hands. Nowhere is that more the case than at Community Credit Union of Florida, a Titusville-based institution with a suite of eServices that ensures complete anytime/anywhere access through the desktop or mobile app.
Community Credit Union's technological approach rivals far larger institutions with more resources to spare. However, the credit union's accomplishments don't come at the expense of trust through market-leading personal and business products and services.
More About Community Credit Union
Ten teachers from Titusville pooled $40 to found Community Credit Union in 1952 as the Brevard County Teachers Credit Union
Community Credit Union is a Certified Development Financial Institution delivering responsible, affordable lending
Best for Financial Education: MIDFLORIDA Credit Union

Florida credit unions are often at the forefront of financial education efforts in schools and communities. MIDFLORIDA Credit Union, based in Lakeland, delivers on that responsibility with maximum impact through its MIDFLORIDA Money Minute financial wellness center, a comprehensive educational platform free to all members.
From courses on homebuying to budget basics, managing student loan debt, and using credit responsibly, MIDFLORIDA Money Minute is packed with trustworthy information applicable to various financial circumstances.
More About MIDFLORIDA Credit Union
MIDFLORIDA began as the Polk County Teachers Credit Union in 1954 with only 10 members but ended its first year with 273 members and about $7,000 on deposit
Today's MIDFLORIDA has nearly 65 branches and serves more than 453,000 members
Best for Credit Card Rewards: Space Coast Credit Union

Some financial institutions consider credit card rewards a game of hoops to jump through, but Melbourne-based Space Coast Credit Union takes a more straightforward approach. Space Coast's Visa Signature® pays 3 points for groceries, 2 points for restaurants, and 1 point on other purchases, returning a steady flow of potential extra income to members.
In-store and online purchases earn the same perks, and Space Coast doesn't try to make up for it by charging an annual fee. It adds up to a trust-enhancing member benefit from a credit union dedicated to member success in everything it does.
More About Space Coast Credit Union
Space Coast is a credit union with a military origin, having been founded as Patrick Air Force Base Credit Union in 1951, with 28 members and $372 in assets
Space Coast now serves more than 600,000 members in 34 Florida counties
Best for Auto Loans: Community First Credit Union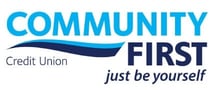 In this day and age in the US, access to reliable transportation is a practical necessity for students, workers, and many others. Unfortunately,  many parts of the country lack affordable mass transit, making access to a personal vehicle especially important.
As a locally operated institution, Jacksonville-based Community First Credit Union understands that necessity and works to deliver some of the lowest auto loan rates and most affordable payment options around. Community First's commitment to community trust includes access to its financial education portal, moveUP Money Talk, with resources to help educate first-time car buyers and others.
More About Community First Credit Union
Community First started in a high school basement in 1935 as the Duval County Teachers Credit Union
Over its 90-year history, the credit union has grown to serve nearly 170,000 members
Best for Mortgages: GTE Financial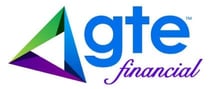 Many credit unions consolidate as businesses and industries grow and evolve, and that's the story of GTE Financial, which began in 1935, soon after General Telephone (later GT&E, then GTE, then Verizon) acquired Peninsular Telephone Company. It has entered its second decade as GTE Financial.
GTE is headquartered in Tampa, one of the most competitive housing marketing in the US, so it stands to reason that home loans would be a hallmark. GTE earns trust among members and communities in the Tampa Bay area through Zero Money Down loans, Construction Loans, and many other instruments for new and established Floridians looking to get ahead in housing.
More About GTE Financial
Peninsular Telephone Company, which gave rise to GTE Financial in 1935, started in 1901 with about a hundred phone lines on its network
GTE achieved the $1 billion level in total loan originations in 2021, providing affordable financing in the community
Best for Community Outreach: First Florida Credit Union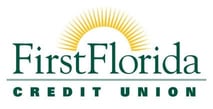 Credit unions are community-focused financial institutions by their very nature, but First Florida Credit Union, based in Jacksonville, stands out with one of the busiest community calendars we've seen.
Not only does First Florida offer It's a Money Thing® financial education for young adults, it operates a Youth Center with checking and savings accounts and financial events. Community engagement is just as much of a priority.
Webinars, financial literacy day camps, and other community-based services help First Florida earn trust as a member- and community-focused credit union.
More About First Florida Credit Union
First Florida started in 1950 as a credit union for state employees when workers pooled $301 to form the Florida State Welfare Board Employees Credit Union
Today, First Florida serves over 60,000 members and manages more than $1.3 billion in assets
Best for Small Businesses: Achieva Credit Union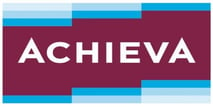 Credit union money stays in the community, so credit unions have a special incentive to do things right by community members. Credit unions earn community trust through their work to support and energize local small businesses, which provide many, if not most, jobs and are responsible for delivering livelihoods and futures.
For all the work it does supporting education in its home county of Pinellas and beyond, Achieva Credit Union offers a flexible, locally based approach to small business financing that puts entrepreneurial energy at the forefront.
More About Achieva Credit Union
A bank turned down a loan application from seven Pinellas County teachers, so they founded a credit union in 1937 by pooling $99.25 in deposits.
Today, Achieva serves 162,000 members through 22 branches in 15 west-central Florida counties
---
It's a challenge to highlight certain credit unions because the credit union mission is about people serving people for the greater good. We're confident we've chosen among the best of the best to give as many financial consumers as possible an alternative they can trust with their financial future.
Times are exciting in Florida. Building a financial relationship with a Florida credit union is a great way to build your financial future while benefiting your neighbors and community.