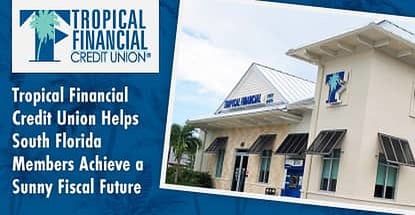 credit card news
Our experts and industry insiders blog the latest news, studies and current events from inside the credit card industry. Our articles follow strict editorial guidelines.
In a Nutshell: Tropical Financial Credit Union has served South Florida for more than 80 years. In that time, the institution has invested in its members with technology offerings that allow them to visualize their spending habits to better budget and grow their savings. Three diverse consumer credit card offerings boast rewards possibilities and low interest rates. Tropical also provides a secure mobile application that replicates the desktop experience and allows members to complete transactions that include making credit card payments and redeeming rewards. //
As a former Miami-area resident, I'm familiar with the three things every Floridian can depend on — year-round sun, a 15-minute thunderstorm each summer day, and an ever-increasing cost of living.
In their own way, each of these factors of Florida life requires protection — good sunscreen, an umbrella for the storms, and a safe place to store and grow your money to guard against inflation.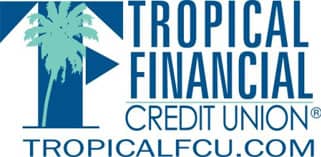 Tropical Financial Credit Union (TFCU) can't help you with the first two, but it's a popular choice among South Florida residents to solve the third dilemma. Since 1935, TFCU has served and helped people who live or work in Florida's Miami-Dade, Broward, Palm Beach, St. Lucie, Martin, Hendry, Collier, Lee, and Sarasota counties.
"One of the things that make us unique is that Tropical puts a lot of attention and focus on providing financial education to our members," said Helen McGiffin, Senior Vice President of Lending at Tropical Financial Credit Union. "It doesn't matter if you're a first-time borrower or if you've been in the financial community for a number of years, we always focus on educating the borrower first and lending second."
McGiffin said TFCU focuses on providing an affordable place where members feel safe storing their money.
"We try to tailor our service to meet the needs of our members," she said. "We underwrite all of our loans manually, so we're paying attention to each borrower's needs individually and not just running applications through predetermined criteria."
Three Consumer Credit Cards Offer Versatile Rewards
TFCU offers a trio of consumer credit cards, each issued by Mastercard, designed to meet the needs of a diverse demographic. To accomplish that difficult task, Tropical focused on a secured card, a low-rate card, and a rewards-heavy offering.
Mastercard® Platinum
TFCU's Platinum Mastercard comes with no annual fee, no balance transfer fee, and a 0% introductory APR for purchases and balance transfers over the first six months. After the introductory period, interest rates stay low and range between 10.49% and 17.99% based on creditworthiness. The APR is the same for purchases and cash advances.
The card also features credit limits of up to $30,000.
Mastercard® Platinum Rewards
The Platinum Rewards card operates on the uChoose rewards network and offers one uChoose point per dollar spent. Points expire after 10 years and are redeemable for gift cards, cash back, travel, and merchandise.
"Our members tend to use the gift cards over the other options," McGiffin said. "We tend to try and make those as attractive as possible to our members since they're so popular."
Like its Platinum sibling, the Platinum Rewards card has no annual or application fee and starts out with a 0% introductory APR for the first six months before increasing to a competitive 11.49% to 17.99% range.
Mastercard® Platinum Secured
Members who don't yet qualify for a TFCU unsecured card — either because they're building or rebuilding their credit profile — have the option to apply for the Mastercard Platinum Secured card, which charges a 14.99% APR and allows a credit limit equal to the security deposit made at the time of signup.
Deposits are completely refundable when the card account closes, as long as the account closes in good standing and with no outstanding debts or balances.
Technology to Help Members Budget and Save
TFCU's mobile banking app is available for iOS devices and features most of the same functionality found on the institution's desktop interface.
"We try and make the app available in a very similar way so that anything they can do on their desktop is available to do on their mobile device," McGiffin said. "Members who have the TFCU app can use Apple or Samsung Pay. They can also use their mobile devices to make payments on their credit card and view any pending or current transactions."
The app also allows members to track and redeem credit card rewards, request a balance transfer, file charge disputes, and contact customer support directly from their phone.
The credit union's members also have access to the virtual Money Management tool through online banking. This powerful resource allows users to visualize their finances to better budget and plan for future purchases.
"Members have the ability to create spending charts that have a smart recall of how they are spending their money," McGiffin said. "These charts help members to see and track how they distribute their money. Members can also create budgets based on their spending history and receive email alerts. They can even forecast debt payoff based on how much money they want to pay each month toward a debt."
The Money Management tool also provides text alerts on predetermined topics and a detailed net worth analysis through account aggregation. The tool refreshes account details in real time to be certain users are viewing correct and accurate updates at that moment.
A Credit Union that Cares About Its Members
While Tropical Financial Credit Union can't protect you from those annoying afternoon showers typical of Florida summers, the institution can leverage more than 80 years of experience in the South Florida financial market to provide a safe and reliable place to store and grow your savings.
TFCU takes its responsibility to the communities it serves seriously and works to be a harbinger of prosperity to the region. That responsibility starts at the top of the institution's corporate hierarchy.
"One of the things we pride ourselves in is that everyone in the credit union is accessible, right up to the CEO," McGiffin said. "If you have questions, issues, problems, or anything where you feel like you need to talk to somebody, we're all accessible."