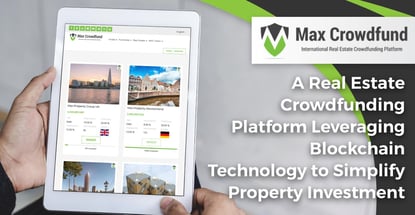 credit card news
Our experts and industry insiders blog the latest news, studies and current events from inside the credit card industry. Our articles follow strict editorial guidelines.
In a Nutshell: Blockchain technology has helped many industries innovate in recent years. Max Crowdfund is one company using the technology to make investing in real estate easier and more accessible. The platform also simplifies investment managment for real estate professionals. Through the use of blockchain technology, properties can be tokenized — or broken down into investment opportunities as low as €1,000 — something that can't be done through traditional real estate investing. Overall, the Max Crowdfund platform makes real estate investing faster, cheaper, and easier for everyone.
The proliferation of blockchain technology — with its efficiency, transparency, security, and ease of use — has given rise to innovations across multiple industries in recent years, including real estate investing.
When the real estate professionals at the Netherlands-based Max Property Group (MPG) were exploring more efficient ways to manage their business, they initially found themselves coming up short.

"We were looking for a client management product listing system that would reduce some of our admin tasks, and thereby, our workload," said MPG's Esther Dekker. "We tried several different products, but nothing offered the complete suite of tools that we needed."
She said some of the problems MPG were hoping to solve included time-consuming tasks related to the investment process.
The process generally consisted of multiple rounds of phone calls and emails to answer pertinent questions for the investor, sending and receiving the appropriate paperwork, making corrections to the paperwork, sending the paperwork to the company administrator, communicating payment instructions, and more.
"You get the picture," Dekker said.
The company decided to take matters into its own hands and build a platform to meet its needs, which quickly evolved into Max Crowdfund where Dekker serves as Property Director.
Max Crowdfund is a real estate crowdfunding platform that incorporates blockchain technology to deliver a more straightforward experience to investors and opens investment opportunities for a wider range of people.
"At MPG, we remain true to our expertise and believe in 'bricks and mortar' investing, with property asset-backed products that meet a high level of investment criteria," according to the company website. "The Max Crowdfund platform makes these traditional investments globally accessible and more affordable."
How Max Crowdfund Works as an Investment and Management Platform
"We wanted to develop a system whereby people could perform all their KYC and invest in a real estate product without us having to call them, email them, or collect all their documents," Dekker said.
Around that time, blockchain was becoming more mainstream, and the MPG team believed the technology could have profound applications in the property world, she said.
"Having decided to build a CRM and listing software package, we decided to integrate blockchain technology into the product and expand the platform into something that could really affect the property space," Dekker said.
The resulting platform is translatable into over a hundred languages, regulatorily compliant, automates KYC procedures, and allows people to invest online with no human contact and no intermediaries, from €1,000, Dekker said.
The company is working on reducing the minimum investment amount to €100.
"Not just any other crowdfunding platform, Max Crowdfund has taken the concept of alternative finance a step further, by overcoming market hurdles and streamlining the investment experience," according to the company website.
To invest with Max Crowdfund, users must first create an account and wait for verification. Once verified, users can choose from the platform's list of investment products.
"Full due diligence information is available to streamline the selection process and ensure you are fully informed before you make an investment decision," according to the website. "By selecting various assets you have the option to build an internationally diversified property investment portfolio."
Dekker said there are currently about 70,000 users on Max Crowdfund.
"We rate transparency extremely high so we encourage user feedback," she said. "I am very grateful to say that we have received really positive feedback from users so far."
She said the platform's community of tech-savvy users have even helped spot bugs in early versions of the software so the company could address them.
"We are really lucky to have an amazing community, including people who have helped with translation work, brand ambassadors across the globe, and even people who went from platform users to full-time team members," Dekker said.
Blockchain Technology Facilitates the Tokenization of Assets and Opens Investment Options to More People
Dekker said the tokenization of assets is one of the most exciting features of Max Crowdfund.
"It opens up property investing to people who could previously not afford to look at real estate as an investment option," she said. "Rather than putting money in the bank, people can now get onto the property ladder for less than the price of a holiday."
Blockchain technology plays a huge part in this aspect of the platform since asset tokenization is what allows the company to take a property, a building, or an entire portfolio and break it down into fractions of €1,000 each, Dekker explained.
"Having said that, we are not the only platform to appreciate the implications of asset tokenization and many others are also applying it, even in the property world," she said. "As far as our research has shown us, the one thing that other companies are shying away from is cross border investing. This is most likely because it is very complex in terms of regulation."
But Max Crowdfund's platform has been designed to be easily translatable into multiple — and ideally all — languages and to comply with multiple jurisdictional regulations.
By building the platform this way, Dekker said they are disrupting an area within the real estate investment sector that others have been reluctant to venture into.
Transactions, services, and other activities on the Max Crowdfund platform are paid for in the company's MPG tokens.
"The use of MPG tokens ensures the registration of the transaction on the Max Property Group blockchain, as well as serving as a fee for services rendered," according to the website. "This means that, without MPG tokens, users cannot enjoy many of the platform features."
Max Crowdfund Makes Investing Faster, Cheaper, and Easier
Dekker further explained some of the advantages of using Max Crowdfund for investing by addressing the ways in which it is safer, cheaper, and easier than traditional investments.
"Safety is provided mainly by the blockchain element of the platform. Because the blockchain is decentralized, it is almost impossible to tamper with it, so anything that happens on the platform stays recorded on the blockchain forever," she said.
The idea is that every transaction is recorded so that users can access information pertaining to the investment they are interested in.
"They can see previous prices, property repairs, they can see rental income information, etc. so that they can make an informed decision about where they invest their money," Dekker said. "Similarly, there can be no dispute over payments, ownership or other such transactions because they are safely recorded on the blockchain."
And since Max Crowdfund's tokenization process breaks up investments into smaller portions, it becomes cheaper.
In the past, in order to invest in real estate one would most likely have to buy an entire property, which would require a great deal of financial outlay and most likely many years of saving, Dekker said.
"Now that we can break up investments into more affordable chunks, people can buy a part of a property for significantly less money, with the same percentage return as someone buying a whole property," she said.
And by automating much of the investment process, many of the associated fees are eliminated that accompany traditional investing.
And the streamlined process makes things easier for both real estate professionals and Max Crowdfund users.
"For investors, they are able to browse products and make an investment without picking up the phone or leaving the house," Dekker said. "There is still a KYC procedure to perform, but it's far more convenient than printing out lots of documents and sending them off."
Dekker said the future looks good for Max Crowdfund as it continues to refine the platform with a feature that will allow third parties to list regulatorily compliant investment products on Max Crowdfund.
This would open up real estate investment opportunities to even more consumers who may not otherwise have the chance to hold these kinds of assets in their portfolios.