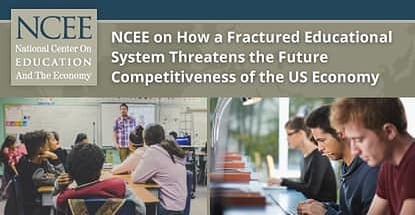 In a Nutshell: The No Child Left Behind Act of 2002 signaled a fresh start for the US education system under President George W. Bush. But instead of unifying the system, the act placed a greater emphasis on standardized tests that have demonstrated little impact on student success. Since long before the law was enacted, the National Center on Education and the Economy (NCEE) has dedicated decades to researching the most successful educational systems around the globe. Its research details how inefficiencies in funding and resource allocation among US public schools is threatening students' ability to compete for future jobs and could hinder the country's economic competitiveness in the coming generations. //
I spent several years as a public school educator in Florida. The stories I could tell of my various experiences in the profession detail the poor state of the US education system as a whole.
I've consoled multiple children over the years who vomited on their Scantron sheets from sheer nervousness over a standardized test. I've made dozens of trips to grocery stores to purchase sandwiches for children whose parents didn't pack a lunch. I've received reprimands more times than I care to count for paying the field trip dues of students whose families couldn't afford it.
Eventually, the profession left me burned out. I saw the odds of success stacked so strongly against my students that I could no longer justify being a part of the problem with no power to provide a solution.
Students of all ages across the country are expected to succeed despite inadequate school funding, inequalities in the distribution of funds, and a fractured education system that makes it hard to tell who makes the rules and who is accountable for their enforcement.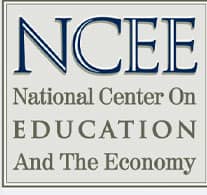 Since 1988, the National Center on Education and the Economy (NCEE) has researched the world's best-performing education systems to identify the strategies those systems used so American policymakers could apply that research to improve the performance in US public education.
The organization closely examines the top-rated education systems listed by the Organisation for Economic Co-operation and Development (OECD) on its Programme for International Student Assessment (PISA). These education systems include Finland, Singapore, and Shanghai.
"We benchmark these top-performing countries through research either conducted in-house or commissioned through the world's leading education researchers and policy analysts," said Brendan Williams-Kief, NCEE's Director of Communications.
NCEE works alongside states and districts and directly with school principals, leaders, and educators on programs intended to educate and enrich the classroom experience for students. The organization also works closely with policymakers at the state level and with the individual district and school leaders through its National Institute for School Leadership — which is the largest provider of executive development for school leaders in the US.
"One of the biggest challenges we see is that US education is not simply one cohesive system," Williams-Kief said. "You have the 50 disparate state systems, plus the system for Washington, DC, and the various US territories. Then you have an almost innumerable number of local districts, which are themselves systems. Layered on top of that is the federal role in public education through funding and policy. This often results in conflicting and counterproductive dynamics."
Williams-Kief said the most successful education systems have integrated policies that work in harmony. The US attempted a similar approach in 2002 when President George W. Bush signed the No Child Left Behind Act into law amid overwhelming bipartisan support. The act intended to hold schools accountable for student success by basing funding decisions on the outcomes of a singular standards-based platform that created high expectations and measurable goals.
Instead, students faced insurmountable pressure from schools that placed an unnecessary emphasis on standardized testing because it decided their annual funding.
"The legacy of No Child Left Behind is one of failure," Williams-Kief said. "We're starting to recognize that as a country and are placing a greater focus on building up teachers and improving their treatment while providing resources instead of taking them away to penalize schools and students."
Standardized Testing Doesn't Earn a Passing Grade
During my time as a teacher, the school administration often encouraged faculty members to "teach to the test" — meaning that every lesson we taught would focus on giving students the knowledge they needed to pass their annual standardized assessment. I had several lessons canceled because the topics I covered, although beneficial to the students, weren't topics being tested for on the standardized assessment.
For such a tactic to work, the assessments should be well-written and a true test of the real-world application of the information being taught. Sadly, the tests often covered topics that didn't provide a solid foundation for each child's future — let alone their education for that year.
To sweeten the pot, the school district based every teacher's job evaluation, and any potential pay raises, on their students' test scores for that year.
"The (student) tests the US bases its hiring and firing decisions on are often multiple choice assessments," Williams-Kief said. "The assessments used in high-performing systems are much higher quality and often have open-ended, free-response questions that evaluate the student's abilities to apply knowledge to real-world settings and tasks instead of just the basic, low-level operational skills in mathematics and reading."
Williams-Kief noted the assessments in high-performing countries are not meant to judge students and teachers, but they are used to gauge what students are learning and to improve individual instruction. Teachers use assessment outcomes to spot areas for improvement to drive student learning more effectively.
"The fallout from the current structure is all around us," Williams-Kief said. "We see tanking enrollment rates in teachers colleges around the country. Teachers who do earn their degrees are leaving the profession earlier in their career."
In nearly every case, schools located in low-income, underserved communities see the greatest impact from the lack of interest in the teaching profession. These schools traditionally hire new teachers who lack experience in leading a classroom. Without qualified candidates, schools must lower their expectations of new hires.
"We have peaks of excellence in the US, where programs provide the proper support," Williams-Kief said. "But then we also have these very challenged areas where teachers are not afforded the respect or support they need. We see the results of that both in student outcomes and in the eroding confidence of the profession from the people within the education system."
Tomorrow's Job Market Hinges on Today's Education
NCEE regularly releases the findings from its numerous studies on various education systems around the globe. The primary distillation of NCEE's three decades of research is the Nine Building Blocks for a World-Class State Education System looks closely at the fundamentals needed to create a singular system that has the best interests of the students and educators at heart.
The details outlined in the report stress the importance of a more effective or unified system to help students compete for future jobs and keep the US economic system competitive with other nations that have a more defined focus on education.
"Kids down in Tallahassee, Florida, are no longer just competing for jobs with kids in Orlando or Tampa," Williams-Kief said. "They're competing for the jobs of the future with kids in Taiwan, Singapore, and Tokyo. If we don't equip them with the skills and knowledge they need to compete for those jobs, their ability to sustain themselves and their families, and to be contributing members of society, will be diminished."

The response to the funding issues and inequalities in certain districts has led to the rise in privatized schools and magnet programs that cater to gifted children or students with specific talents or aspirations. While those programs often include a more rigorous curriculum, Williams-Kief pointed to countries that have successfully offered the same experiences to an entire student body without singling out specific students for enrollment.
"The high-performing systems we see overseas are able to provide a challenging, rigorous, and high-quality educational experience for all kinds of learners — from struggling students to the highest achieving students," he said. "They very often do it for less or no more money than what we're doing it for."
Local funding for school districts is based on property tax revenue, which Williams-Kief said only accentuates the imbalance between schools in more affluent areas and those in underserved communities. NCEE research seeks ways to correct those inefficiencies in funding while maintaining equal support for both high-achieving students and their peers who aren't yet as successful in their coursework.
"This is literally the future of our country at stake," Williams-Kief said. "Will we be a country that is inclusive and prosperous and creates widely shared prosperity or will we continue down our current trajectory of increasing economic inequality? The impacts are far-reaching, and our economic competitiveness will suffer if we don't change."
Advertiser Disclosure
CardRates.com is a free online resource that offers valuable content and comparison services to users. To keep this resource 100% free, we receive compensation for referrals for many of the offers listed on the site. Along with key review factors, this compensation may impact how and where products appear across CardRates.com (including, for example, the order in which they appear). CardRates.com does not include the entire universe of available offers. Editorial opinions expressed on the site are strictly our own and are not provided, endorsed, or approved by advertisers.