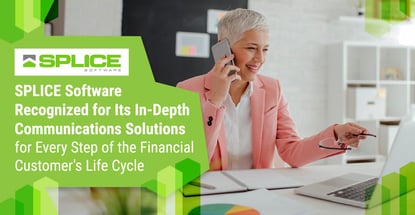 credit card news
Our experts and industry insiders blog the latest news, studies and current events from inside the credit card industry. Our articles follow strict editorial guidelines.
In a Nutshell: Providing quality customer service is an important component to virtually any company's success, especially as consumers rush through their fast-paced lives. SPLICE Software understands this and offers innovative customer service solutions to business clients that reach customers on their own terms via the communication avenues they prefer. The company delivers its cloud-based solutions to the financial services industry as well as to retail, insurance, and health care. SPLICE makes sure its clients can be up-and-running with its platform quickly and efficiently by having its programs ready to launch, and providing each client with a dedicated account manager. We are recognizing SPLICE Software with our Editor's Choice™ Award for being a top provider of customer communications solutions.
In today's connected world, most consumers subscribe to at least a few monthly services to keep up with the status quo. That means that many of us have had negative customer service experiences with companies with whom we routinely do business.
I subscribe to one service in particular that consistently provides a terrible customer experience — from representatives misunderstanding the problem I need help troubleshooting to them submitting work orders for the wrong issues.

Overall, the actual product itself is fine, but the company's customer service is so irredeemably awful that my view of the company is extremely negative, and I will gladly switch to a different provider the first chance I get.
I think many consumers reading this will agree that customer service experiences can have a substantial impact on how a company is perceived.
Experts agree, and some of the most successful companies have prioritized delivering a quality experience to customers.
Thankfully, the company I loathe dealing with does not handle any of my financial needs, but finances are a very important and sensitive area in which quality customer service is key.
And SPLICE Software understands this. That's why financial institutions are among the main industries to whom the company offers customer service solutions, providing conduits to efficient and high-quality customer service.
The result is satisfied customers who ultimately contribute to the business's success, which is why we are recognizing SPLICE Software with our Editor's Choice™ Award for being a top provider of customer communications solutions via technology and modern communications avenues.
"We work with companies that want to do a great job informing their end customer, and really want to be part of the new digital conversation," said SPLICE Software's President and CEO Tara Kelly.
Connecting with Customers Through Their Preferred Mode of Communications, Whether It's Voice, Text, or Email
A major factor that distinguishes SPLICE from some other solutions is the company's willingness to embrace today's technology to meet the customer in the best ways available.
"SPLICE's unique, patented and award-winning, technology answers growing customer demands to be contacted via their channels of choice (on their own terms) at critical points in the customer journey," according to the company website.
Gone are the days of blindly sending out a survey or randomly placing a phone call to a customer. The company includes options for contact via phone, SMS messaging, and even AI-assistant devices such as Amazon Alexa or Google Home.
And SPLICE's technology helps clients reach customers at the right time and place in their journey to deliver service when it's really needed.
"There are a lot of cases where the customer needs certain information quickly and they need it accurately," Kelly said. "And it really should be in the channel of their choice. We're very much about the art and science of building a relationship."
SPLICE'S Dialog Suite™ is an award-winning product that connects via API to core systems or CRM to deliver messages using real-time data for proactive and reactive communications.
Common use cases for SPLICE's financial service solutions include fraud notification, which Kelly said is extremely important because sensitive information can spread very quickly once data has been breached. And push notifications are not always sufficient to communicate urgent information to a consumer.
Credit card activations, payment reminders, and custom solutions — such as migrating customers to a new system when a company changes infrastructure — are among the other common instances in which SPLICE's services prove to be extremely valuable.
"Our dedication to continuous improvement, and our corporate mantra, 'We believe it can be better,' is applied to every aspect of our business to ensure our clients are able to see improvements on customer engagement, customer experience, customer loyalty & retention, and ROI," according to the SPLICE website.
Getting Up and Running Quickly with SPLICE's Cloud-Based Service and Personal Account Manager
Kelly said all of SPLICE Software's solutions are created and ready to go for customers, which minimizes onboarding time.
"Although you can make customizations, and people do, you really could be up and running in less than four weeks," she said. "We use beautiful messaging and we have much better reach rates, but it's the fact that our programs are really ready to go and that we're 100% cloud-based that's one of our big value propositions."
And each client receives a dedicated account manager to help speed the process along and ensure everything runs as smoothly as possible. Account managers assist with a variety of tasks, including recommending the most effective communications channels for companies to reach customers, customizing messages to reinforce brands, and reviewing results and monitoring messages for continual improvement.
SPLICE Software boasts an overall contact rate of 95% and a 30% decrease in delinquency rates, according to the company website. Additionally, SPLICE voice messages engage customers in a meaningful way resulting in a 20% decrease in inbound call volume.
"Overall, we received positive feedback from our members on the calls — their engagement was positive, with the majority of inbound callers asking qualified questions — exactly what we were hoping for!" according to SPLICE client Servus Credit Union on the SPLICE website. "We have continued to use SPLICE's call programs since 2012 for projects and ongoing member communication initiatives."
And another client, Intuit, relates how its customers were more comfortable getting SPLICE's delinquency messages than they were other approaches the company had used in the past. And the software allows Intuit to be flexible in its timing and how it chooses to convey its messages.
Effective Communication Leads to Happy Customers and Longer Relationships
SPLICE's services are aimed at creating happy end users, but, of course, the ultimate result is that clients can enjoy longer-lasting and more beneficial relationships with customers.
The company's cloud-based communications solutions can help clients increase sales from existing account holders and opted-in prospects, reduce costs associated with inbound calls and informational branch visits, and improve loan closure rates and increase kept appointments with proactive messaging, according to its website.
The Dialog Dashboard™ also measures ROI and helps to continually improve SPLICE campaigns.
"By maximizing customer satisfaction, you can increase the opportunity for repeat sales to customers, while reducing the cost of sales and marketing," according to an article in the Houston Chronicle. "Customer satisfaction helps to increase customer loyalty, reducing the need to allocate marketing budget to acquire new customers."
And holding on to current customers is less expensive than acquiring new ones.
But current, happy customers can also lead to further profit by recommending your products and services to other potential users.
When companies begin to look at the benefits, finding a downside to providing quality customer service may prove difficult.
"It's all about taking care of the client through software and programs that are actually going to nurture the client throughout the lifecycle," Kelly said. SPLICE also strives to provide a robust experience for customers, which includes allowing them to seamlessly move from one communications channel to another as they choose, she said.
Ultimately, one of the main things for companies to realize is that consumers are moving very quickly these days, Kelly said. And although the financial industry has historically been very risk-averse, she said, there are safe ways to move forward to apply technology to customer service and benefit the company.
Hopefully, the company I reluctantly deal with on a monthly basis will get this message and understand the value in maintaining satisfied customers through quality service.