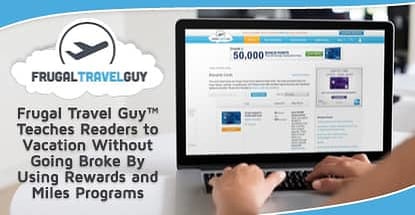 credit card news
Our experts and industry insiders blog the latest news, studies and current events from inside the credit card industry. Our articles follow strict editorial guidelines.
In a Nutshell: Founded by mortgage banker Rick Ingersoll, Frugal Travel Guy teaches people they can and should take full advantage of their credit card rewards and promotions to travel the world. Doing so allows them to vacation at more reasonable rates — and to do it in style. Through tips and online tools, Frugal Travel Guy illustrates how and where to find the right credit cards for travel needs and how to easily track points and rewards. Featured contributors on the site include other frugal travel enthusiasts who know the ins-and-outs of traveling on their miles and points. These experts teach readers how to do the same, so they never miss a good travel deal.
Everyone enjoys a vacation every now and then, whether it's a food tour of Sicily or a ski adventure to Aspen. However, many Americans can't even afford to take one trip per year while juggling the rest of their everyday finances. Life is expensive, and traveling is a luxury that isn't easy on the pocketbook.
What many people don't know, however, is competition between credit card companies has created opportunities for us regular folks to gain rewards points. Many of them even offer frequent flyer miles and luxury hotel stays.
Founded in 2007 by retired mortgage banker and travel enthusiast Rick Ingersoll, Frugal Travel Guy (FTG) shows us how we can take full advantage of these miles and hotel deals.
The site provides us with the information needed to not only utilize credit card point systems but to do things like refer friends to companies offering referral rewards and to book tickets with specific airlines using the right card. Much of the process boils down to simply paying attention and keeping track of which card companies are offering points and promotions toward trips that appeal to us and when.
Referred to as a "travel hacker" by CNN, Rick embodies what a 2014 Forbes article defined as "the art and science of free and discounted travel." And Rick is not just your everyday travel deal finder. He's made a living out of teaching people how to utilize their credit cards to take full advantage of the reward systems in place and to travel the world on the cheap by doing so.
The blog is read worldwide and is updated daily with Rick's travel tips, latest credit card sign-up bonuses, promotions, and articles written by his team of frugal travel enthusiasts. FTG teaches thousands of readers how to travel the world extensively without going broke.
Rick Ingersoll's Plan to Help Regular People See the World
Frugal Travel Guy was developed in an effort to help regular folks enjoy frequent travel at a price they can afford. Rick has traveled all over the world in style, and he's managed to do it while maintaining a healthy bank account. He's known for his frugal travel tactics, which include everything from amassing airline miles to accumulating hotel reward points by taking advantage of credit card deals and promotions.
Rick offers readers advice on how they can leverage their rewards credit cards to enjoy five-star travel at an affordable price. Many of these strategies include flying first class or business class as well, and Rick not only believes people can travel this way but that they should.
By sticking with the tactics detailed across the site, travel-thirsty folks in just about any income bracket can see the world without restricting their plans to budget accommodations and economy flights. Rick and his team of contributors have traveled the world without going broke, and their priority is to help their readers do the same.
FTG's Rookie Guide — A Primer for Traveling on the Cheap
So just where does a travel-hacking novice start when determining how to maximize their credit cards for huge travel discounts? FTG offers readers the best strategies to travel frugally using its Rookie Guide, along with tips and deals from the right credit card companies. All of this is contingent on having a healthy credit score — one that can translate to drastically reduced air and hotel deals across the globe.
One of the first pieces of advice that they give is to know your credit score. Once you're armed with this information, you can start learning about which cards are right for you based on your travel wants and needs.
Who you choose to fly with, where you like to travel to, whether or not you like to rent cars, how and when you like to travel — all of these are factors when determining which cards are right for you. FTG also highlights the importance of having a diverse credit portfolio in order to keep your options open when traveling.
Additionally, the guide provides references for you to determine your credit scores and order your reports, often for free. This information is always good to have on hand because a few points can really make a difference when applying for a new card. Monitoring credit scores is important because there are often errors, folks are frequently victims of fraud, and sometimes we simply have an off month and forget to make a payment on time.
Track Spending, Points & Frequent Flyer Miles with Wallet
Once you start to understand the scope of how utilizing your rewards can benefit the way that you travel, you'll likely never want to miss a bonus again. FTG provides its users with a tool called Wallet that allows you to keep track of your frequent flyer miles and points. Simply link or input your rewards program information, and Wallet will help you organize your spending, monitor your bonuses, and ensure that you're not missing any important deadlines.
Using this tool will help you to avoid annual fees and decide which cards to use for specific purchases so that you're maximizing your bonus points and not missing any rewards. The tool is secure so your data will not be shared with outside parties, nor will any FTG employees have access to your sensitive information.
It's a great way to keep track of your spending, points, and miles all in one place so that you don't have to sift through piles of paper or online documents every time you plan a trip or make a purchase that earns you the right points for traveling.
Smart Credit Card Use Can Be Your Ticket to Paradise
Frugal Travel Guy teaches us that we don't need to be a millionaire to travel like one, and that we can (and should) absolutely use our credit cards wisely in order to get the most out of our rewards for travel. When we start using the point systems on offer, a whole world of new travel opportunities becomes available to us that we may not have thought possible.
By following FTG's advice, utilizing its guides, and taking advantage of the free Wallet tool, anyone can start reaping the rewards of smart travel hacking. Spending a little time on the site and becoming familiar with the ins-and-outs of how to travel on the cheap means travel hackers can do things like fly internationally in business or first class and stay at 4- and 5-star hotels. All of this can be done affordably when we're strategic with our planning and smart with our credit.
Making our rounds across the globe is well within reach and also well within our budgets if we educate ourselves about the value of frequent flyer miles and points and how we use them. This big blue planet is here to be explored, and there's no reason why limited finances should ever stop us from doing so.