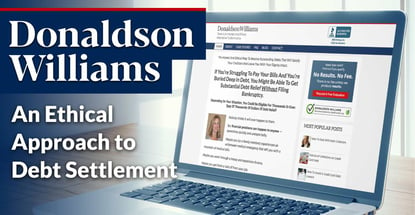 credit card news
Our experts and industry insiders blog the latest news, studies and current events from inside the credit card industry. Our articles follow strict editorial guidelines.
In a Nutshell: Credit cards provide a convenient way to purchase big-ticket items and serve as a safety net in case of emergencies. Unfortunately, there are times when credit card debt can reach unsustainable levels before the consumer can regain control over it. When bankruptcy or credit counseling is not the right solution, Donaldson Williams helps these consumers achieve financial freedom through its debt settlement program. The company works with creditors to reach settlement agreements on behalf of its clients — often saving them about half of what they would otherwise pay on their own. All the while, Donaldson Williams maintains a stellar customer satisfaction record.
Gary felt like he was drowning in debt.
He owed $120,000 to credit card companies, his youngest daughter's college fund was depleted, and he couldn't see a light at the end of the tunnel. With one child in graduate school, one in undergrad, and one getting ready to start college, Gary was running out of options.
He explored bankruptcy — too messy and too public in his small, gossip-loving town. He looked into credit counseling — too expensive and too drawn out.
Then, Gary found Donaldson Williams' credit card debt settlement services. After speaking with Donaldson Williams' Founder and President Marie Megge, Gary saw a path forward for the first time in a long time.
"There was no way I could continue to live that way; there was no way," Gary said. "The most important thing for me was being able to help my kids in school, and I couldn't continue to take money from one place and put it into another."
Megge worked with Gary, and together they came up with a plan. Over the course of three years, Gary was able to completely eliminate his credit card debt and gain renewed hope for the future.
Credit cards are valuable financial tools that can help consumers purchase big-ticket items, cover expenses during emergencies, or earn credit card point rewards. Unfortunately, as Gary can attest, situations arise from time to time in which credit card debt becomes unmanageable. Once that happens, consumers can have a very difficult time getting out from under debt and back on their feet.
"At Donaldson Williams, our mission is to help consumers and businesses eliminate their debts if they don't qualify for bankruptcy or if consumer credit counseling is not a good fit for them," Megge said.
Determining Which Consumers Make the Best Candidates for Debt Settlement
The ideal candidate for Donaldson Williams' services would be someone who has a significant amount of debt and is feeling overwhelmed with it, Megge said. Perhaps they earn too much to qualify for bankruptcy, don't want to commit to five years of credit counseling, or simply can no longer pay their monthly credit card bills as they stand.
"The first question I ask potential clients is what led them to start looking for solutions to resolve their debt," Megge said. "I want to know how much they know about debt settlement, and if they are aware that if their accounts are not delinquent then creditors aren't even going to consider settlement options."
She said most people seeking services from Donaldson Williams are OK with letting their accounts go into delinquent status because they are barely keeping up with them in the first place.
This can cause a dip in the consumer's credit score, but Megge said for most of Donaldson Williams' clients, the benefits of debt settlement outweigh a temporary hit to their credit. A bankruptcy filing can remain on the consumer's credit report for 10 years and can negatively impact his or her chances of employment.
She said Donaldson Williams clients receive new credit card offers within 90 days of completing the program.
Megge has conducted more than 1,000 one-on-one conversations with potential clients in varying states of financial distress over the past decade, and she knows the ins and outs of the debt settlement system.
"We can save consumers and businesses significant amounts of money," she said. "But, if we believe bankruptcy is the best option for someone, we'll point them in that direction. If we believe credit counseling is best, we'll point them toward that as well."
About 98% of Donaldson Williams' clients complete the program, Megge said.
Negotiating with Creditors on the Consumer's Behalf
Megge said once Donaldson Williams determines that debt settlement is the best solution for the client, it moves ahead with a plan.
"The clients can be as involved as they want to be, but for the most part, we take over for them," Megge said. "That's what they're hiring us for. We ask them to change their contact info with creditors so we can take over correspondence with those companies."
She said in the first few months, as the accounts slide into delinquency, Donaldson Williams is doing a lot of work behind the scenes evaluating accounts and tracking messages from creditors and collection agencies.
"Let's say you have a potential client paying $1,500 a month to credit card payments, and it's way too difficult for them to maintain, but they think they can handle $1,000 a month," Megge said. "Once their accounts go into delinquency, we can work with their creditors to try to hit that $1,000 a month target and give them significant relief, and hopefully have them out of debt in two years."
She said, ideally, these types of arrangments will not only allow clients to get out of debt but they can free up some funds to get their lives back while they are in repayment.
For Gary, once he enrolled with Donaldson Williams, he never received one phone call or letter from his creditors about his outstanding debts. Megge said not all clients will be able to completely avoid being contacted by creditors, but the company strives for each client to have Gary's experience.
And, perhaps the biggest benefit is the fact that many clients save a significant amount of money through Donaldson Williams.
"Typically, our clients walk away paying about half of their overall debt, and that takes into consideration our fee as well," Megge said. "If they have $100,000 in debts when they enroll, they'll usually end up paying about $50,000 by the end of the program."
Donaldson Williams Works to Maintain a High Level of Customer Satisfaction
Megge said Donaldson Williams is committed to the highest level of customer satisfaction. The Michigan-based company run by Megge, her daughter, and son-in-law, currently works with clients in 42 states.
"We are the most consumer-friendly company, maybe in any industry," she said. "I don't know any other company that would basically sacrifice their own paychecks for two weeks to a month to satisfy clients, and we have done that."
She said instances have arisen where Donaldson Williams was able to reach a really good settlement agreement but the client was not able to pay the service fee immediately. In those cases, she said they have worked with the client to pay fees in one or two months, or make other suitable arrangements.
"I'm pleased to be able to say that you can scour the internet all you want and you will not find one complaint about Donaldson Williams," Megge said.
And the company is continually looking at ways to maintain that high level of satisfaction and to make the client experience even better when possible.
Megge said internally, the company is gearing up to reach out to new creditors as well as some creditors that it has not had much luck working with in the past, in the hopes of establishing and building relationships.
"It's nice to go to some different creditors and show them what we do," she said. "Some creditors think all debt settlements companies are the same. But we can show them how we're different than other companies."
Ultimately, she hopes these efforts will help Donaldson Williams' clients.
"We will continue operating as a small, family-owned business because we like the fact that our clients see excellent results and our customer service is second to none," according to the Donaldson Williams website. "Remember, your financial freedom is our number one goal."
For clients like Gary, Donaldson Williams was able to secure that financial freedom. Gary said because of Donaldson Williams, he was able to retire when he turned 62, rather than having to work until he was at least 70.