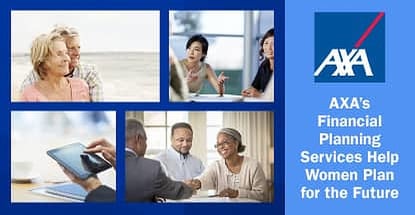 credit card news
Our experts and industry insiders blog the latest news, studies and current events from inside the credit card industry. Our articles follow strict editorial guidelines.
In a Nutshell: Advancements in workplace equality have opened financial opportunities to women that just two decades ago were hard to obtain. AXA has created educational programs tailored to the needs of the growing number of women increasing their earning power and taking over their family finances. AXA's services include individual counseling on savings, insurance, investment products, and retirement planning, as well as group seminars that help build a sound and attainable financial plan. These programs take into considerations a woman's longer expected lifespan and unforeseen possibilities, like caring for loved ones, as well as their own long-term care.
I'm a sucker for old movies. I was raised on black-and-white moving images of an America that existed decades before I was born. The simplicity in the stories give a portrayal of what life was like before the internet and cellphones connected us at all times.
But the storylines in many of these movies from the 1940s and 1950s include glaring stereotypes. The male breadwinner often ends up sweeping the naive young secretary off her feet and into a life of domesticity. He takes care of the bills while she watches the kids.
These images reinforced societal views of women's roles for decades. Gender-specific stereotypes still exist today, but women are making strides in the workplace. These trends emphasize the need for greater financial literacy among women.
Studies show that women tend to lag behind men in terms of financial preparedness. Global financial services firm AXA studied the reasons behind this trend when developing its Women, Wealth, and Wisdom program.
AXA has more than 150 combined years of providing financial advice, financial protection, and wealth management for both families and businesses. Over 4,700 AXA Advisors financial professionals work in branch offices throughout the US and serve more than 2 million client households nationwide.

A growing number of Axa clients are women who are accumulating wealth, increasing their earning power, and taking control of their family finances.
"We find that many women do not feel confident about their financial knowledge when making important financial decisions," said Tammy Butts, Regional Executive Vice President, AXA Advisors LLC.
Statistics show growth in the number of women pushing the US economy forward. Women currently account for 47% of the US workforce. More than 9.4 million firms — including one in five with revenues of $1 million or more — are owned by women, employ nearly 7.9 million people, and have generated $1.5 trillion in sales as of 2015.
AXA's goal is to better educate women on the unique set of financial hurdles they face as their earning power increases.
"Women live longer than men, but on the flipside of that, women often have less in their savings and retirement nest egg than men," Tammy said. "A majority of the nation's caregivers  — for children, but also for their own parents — are women. The time they're out of the workforce caring for a loved one affects their income."
Tammy recalled her own experience of returning to work after caring for her two children. Her position and pay rate varied both times she re-entered the workplace. The time off also affected her contributions to her retirement plan and employee benefits. That experience helped sharpen her focus on helping other women plan for this — and other unexpected — occurrences in their lives.
A Focused Approach to the Unique Challenges Women Face in Building and Managing Wealth
AXA offers consumers at any stage of the wealth-building journey an array of products, including life insurance, investment products, and retirement planning. While its resources for women aren't packaged as a stand-alone product, the company has spent years developing and tailoring the program to help women reach their long-term goals.
"We meet with clients to help them develop customized investment, risk management, and financial planning strategies," Tammy said.
Tammy said her clients learn to develop a long-view approach to savings, as most women will outlive their male counterparts and need more money set aside for long-term care.
"If you go to a nursing home and look around, there tend to be majority women there," she said. "These are issues that really impact women and it's the message we're trying to get out."
AXA prides itself on a long history of empowering women in the workforce. The company hired its first female agency manager in 1881 and has spent more than 125 years since then creating products and financial strategies with women in mind.
Financial professionals start new clients on a four-step guide with the goal of creating a focused financial path. The plan starts by identifying a client's unique expectations for the future — which can include raising children, buying a home, continuing education, or planning for retirement.
Once those goals are established, the company assesses the client's risk tolerance to set a comfort zone when investing their money. Counselors and clients then create a budget together to highlight spending habits and identify expenses that should be added or removed from the client's monthly spending plan.
The final step includes taking the information collected in the first three steps and compiling it into a plan that makes the client's goals more attainable.
Tammy said the process is typically enlightening to new clients and tailored to the learning style of the individual in need.
"Women like a very educational and collaborative approach," she said. "By going in and educating and giving them options, we encourage them to ask, and to learn, and to discuss."
Seminars Provide an Educational, Collaborative Approach to Wealth Management
AXA advisors conduct nationwide seminars throughout the year on a host of topics for people of all ages and genders. Among the most popular events is the interactive workshop designed for women and their unique financial challenges.
Workshops are typically held once a month at different locations around the country to empower attendees with financial education. Tammy said sessions include open discussions on financial plans attendees can put into action immediately.
"We start with putting together a game plan," she said. "We start by finding what assets you have and where they are being held. As people change jobs early in their career, their 401(k) plans may change over a few times. Maybe you got married and changed your name and those statements aren't coming anymore."
Once attendees get a clear picture of what they have, work begins on determining what is needed to improve their financial outlook.
"That's when we have an open discussion about what their goals and dreams are and what financial freedom means to them," Tammy said.
Attendees often start to get a better picture of what they need at this point. That's when the advisors throw a curveball at the crowd.
"One of the biggest steps is figuring out what can go wrong with the plan once it's created — not just market volatility and taxes, but also disability or long-term care or premature death," Tammy said. "These are the foundations of any plan, but they're so often overlooked."
Tammy said that attendees regularly ask her at the end of each workshop when the next session will be and if they can bring a friend.
"It's an eye-opening experience," she said. "It's helping a lot of people in ways that other seminars don't."
More than 150 Years' of Combined Experience in Helping Families Reach Their Financial Goals
Almost every great moment in history started with a solid plan. Rome wasn't built in a day and neither is a solid retirement plan. As time — and the economy — shifts, adjustments are needed to make a good plan a great one.
AXA empowers clients with the tools and knowledge they'll need to adapt to the changing financial landscape. The company offers individual one-on-one meetings as well as financial seminars held regularly around the country. Each is specifically tailored so its attendees leave the session armed with the information they need to create a healthier financial future for themselves.
"Planning is important for everyone, but it's even more critical for women," Tammy said. "You must have a game plan, know how you're tracking that game plan, and make sure that you have the tools in place to build and protect your wealth from any of the unforeseen things that can disrupt that plan."
Financial planning may not be a sexy subject. It was never the premise of a Bette Davis or Joan Crawford film and likely wouldn't have attracted big audiences to 1940s movie theaters. Sometimes, though, it's the most subtle subjects that make the biggest impacts on lives.