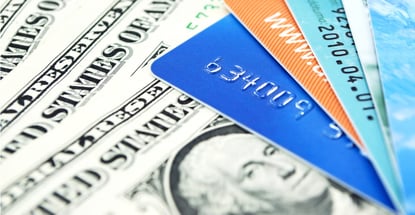 Consumers who like cash are a natural audience for the best 2% to 5% cashback credit card offerings. These rectangular beauties made of plastic or metal offer you many ways to collect discounts on your purchases without having to clip coupons or wait for a sale.
And whether you like the simplicity of a flat rate or the sophistication of bonus categories, we're confident one or more of these cash back cards will perfectly complement your lifestyle.
5% Cards | 3% Cards | 2% Cards | FAQs
These credit cards can offer 5% cash back by limiting this high reward rate to particular types of merchants and capping the purchase amounts eligible for the rate. All the cards provide at least 1% cash back on purchases that don't qualify for a higher rate (the so-called everyday rate).
Because of its famous unlimited Cashback Match, the Discover it® Cash Back doubles new cardmembers cash back on select purchases during the first year of account ownership. The revolving bonus merchant categories change every quarter and earn 5% cash back up to the quarterly limit when activated. Discover cards are welcomed by at least 99% of U.S. merchants that accept credit cards.
at the issuer'ssecure website
Earn a $200 Bonus after you spend $500 on purchases in your first 3 months from account opening.
Earn 5% cash back on grocery store purchases (not including Target® or Walmart® purchases) on up to $12,000 spent in the first year.
Earn 5% cash back on up to $1,500 in combined purchases in bonus categories each quarter you activate. Enjoy new 5% categories each quarter!
Earn 5% on Chase travel purchased through Ultimate Rewards®, 3% on dining and drugstores, and 1% on all other purchases.
No annual fee.
0% Intro APR for 15 months from account opening on purchases, then a variable APR of 14.99 - 23.74%.
| | | | | |
| --- | --- | --- | --- | --- |
| 0% Intro APR on Purchases 15 months | | | | |
The Chase Freedom Flex℠ card uses rotating merchant categories you activate each quarter to offer the 5% cash back rate up to the quarterly limit on combined purchases, unlike the Chase Freedom Unlimited® card. In addition, it provides an elevated reward tier on certain fixed merchant categories. Benefits include cellphone protection and occasional promotions for services like food delivery.
The Discover it® Student Cash Back is a solid choice for students new to building credit. Cashback Match doubles the cash back earned by new cardmembers for the first year after opening the account. Students who attend eligible schools at least half-time can obtain this card even if they've never used credit before.
The Ink Business Cash® Credit Card from Chase earns you 5% cash back on combined purchases from select fixed (non-rotating) merchant categories up to the annual limit. Other tiers earn lower reward rates. The bonus rewards are geared toward the needs of businesses, and owners can quickly accrue cash back by distributing free copies of the Ink Business Cash® Credit Card to authorized employees.
It's no surprise that Amazon Prime Rewards Visa Signature Card cardholders earn the top-tier 5% cash back from purchases made at the card's namesake corporation, including subsidiary Whole Foods. If that motivates you to become an Amazon Prime member, then the corporate brain trust has done its job. The instant gift card bonus is technically taxable income, but the IRS will never know about it since the amount is well below the reporting threshold.
All these cards offer multiple reward tiers from 3% down. The merchant categories in the bonus tiers are fixed, so you don't have to worry about having to activate a new category each quarter.
Naturally, the cards all have an unlimited 1% tier for everyday purchases that don't qualify for a higher rate, either because of the merchant category and/or tier purchase limits.
The Capital One SavorOne Cash Rewards Credit Card's cash back scheme is better than those of many competitors because none of the credit card reward tiers limit eligible purchases. Typically, most cards relegate unlimited purchases to only the lowly 1% crumb catcher. This cash rewards card is not a good choice if you are looking to consolidate your credit card debt because it doesn't offer a 0% introductory balance transfer APR.
The interesting twist with the Apple Card is that your credit card reward rate depends partially on the Apple device you use to make the purchase. If you already own an iPhone or Apple Watch, your corporate loyalty will be rewarded with unlimited bonus rewards when you use them with the Apple Card to make selected purchases. It's enough to make Android users think twice when buying their next smartphone.
The Bank of America® Customized Cash Rewards credit card doesn't top the 3% cash back list because it imposes quarterly limits on the combined purchases eligible for a bonus rate. Nonetheless, it's our favorite BoA credit card. A noteworthy feature is that you can select the 3% cash back merchant category and change it as frequently as once per month.
The Blue Cash Everyday® Card from American Express is a great choice for grocery shoppers, with 3% cash back on the first $6,000 in eligible purchases per year. The lower bonus rate on gas purchases isn't bad, but you can get a higher rate on several other cards. Beware that this card carries a high penalty APR if your payment is late or bounces.
Kudos to the Bank of America® Customized Cash Rewards Secured Credit Card as the only secured card to make our list. Like its unsecured doppelgänger (Bank of America® Customized Cash Rewards credit card), this card imposes a quarterly limit on the combined purchases that earn a bonus rate. The card works well with several digital wallets, including those from Google, Apple, and Samsung, thereby providing enhanced protection against account theft.
Yes, we know that 2% cash back won't set the world ablaze. Nevertheless, it's better than the everyday rates pinched out by most credit cards. Moreover, these cards offer a simplicity that many consumers prefer.
Simplicity is the watchword for the Capital One Spark Cash for Business, with a flat-rate cash back rewards tier for all purchases. Business owners will appreciate support features like year-end summaries, purchase record downloads, and recurring transaction reporting. You also get free extended warranty and protection on eligible purchases, as well as fraud alerts and instant card lock.
Earning the Citi® Double Cash Card's cash back is a bit gimmicky, but it works and it's unlimited. You can redeem your cash back for a direct deposit, a statement credit, a check, or for Citi ThankYou points. You also get special access to exclusive concerts, events, and experiences via Citi Entertainment®.
The Discover it® chrome card gets only a middling ranking because of the limits it imposes on its 2% cash back rate, both in terms of merchant category and quarterly purchase amount. However, earning double cash back due to the first year's Cashback Match for new cardmembers is nothing to sneeze at. You won't be charged a fee for your first late payment and there is no penalty APR.
The Blue Business Cash™ Card is a no-hassle card that will suit business owners who spend less than $50,000 per year on purchases. If your purchasing budget exceeds this annual limit of 2% cash back, you may do better with a different business card. Some nice perks include car rental loss/damage insurance, warranty extension, purchase protection, and up to 99 free employee cards.
The cash back offer from Discover it® Student chrome is tightly circumscribed, but so are the budgets of many college students, so you may not run up against the quarterly purchase limits. There is also the siren song of Cashback Match, a welcome lifeline for freshmen everywhere. And, if you happen to misplace your card, Discover will overnight a new one to you for free.
There are three types of reward cards: cash back, miles, and points. A cashback card pays you your rewards in cash, which you can redeem in one or more ways, including:
Statement credit
Direct deposit to a financial account
Check
Gift card
Merchandise
Purchases on sites like Amazon or PayPal
Conversion to bonus points or miles
Typically, the cash back piling up in your account never expires unless you close the credit card. Even then, the credit card company may send you any accumulated cash back that you forgot to redeem.
Several card issuers, including Chase, Citi, and American Express, host online marketplaces where you can use your rewards to purchase items, often at a discounted price.
We should mention that Chase credit cards offer rewards in points rather than cash back. Some folks are unaware of this since it's so easy to convert Chase rewards points to cash. However, be aware that certain points from Chase (i.e. from Sapphire and Ink cards) are worth more than their cash value when used to purchase travel via the Chase Ultimate Reward website.
One nifty trick for Chase fans who own a Sapphire card plus another Chase card, such as the Chase Freedom Unlimited®, is that Chase allows you to transfer your Flex points to the Sapphire card and thereby gain extra value when redeeming the rewards points for travel.
For the most part, you earn cash back automatically whenever you make an eligible purchase. However, certain types of purchases do not qualify for cash back awards.
The following fine print for Chase cards is pretty standard across the industry:
"[T]he following types of transactions won't count and won't earn [rewards]: balance transfer transactions, cash advances and other cash-like transactions, lottery tickets, casino gaming chips, racetrack wagers or similar betting transactions, any checks that access your account, interest, unauthorized or fraudulent charges, and fees of any kind, including an annual fee."
Cash back rates are either standard (usually 1% to 2%) or bonus (above the standard rate). The standard (or every day) rate is the default for purchases that don't qualify for a bonus rate for various reasons:
A merchant category that doesn't qualify for a bonus rate.
Limits imposed upon qualifying purchases.
The card doesn't offer bonus rates.
When applicable, failure to activate a merchant category.
The rate at which you earn cash back depends on the reward scheme used by the credit card. There are three types:
Flat rate: Cash back is earned at a single fixed percentage of the price for items purchased with the credit card. For example, if you buy an eligible item using a card with a flat 2% rate on all purchases would yield $2 cash back. Flat cash back offers are always unlimited, which is why the rate is usually in the 1% to 2% range.
Tiered rates: Two or more different percentages apply to eligible purchases. Typically, there are one or more bonus rates for specific types of purchases plus a standard catch-all rate (typically 1% or 1.5%) for all other purchases. The bonus rates usually depend on the merchant type, may impose quarterly or annual limits on qualifying purchases, and remain the same over time.
Rotating categories: You earn the top bonus rate on purchases from merchant types that change every quarter. Cash back at the bonus rate is usually limited and you must activate the new merchant category each quarter. There may be tiered bonus rates (limited or unlimited) below the rotating category rate, and there will always be a catch-all, unlimited standard rate for all other eligible purchases.
The rotating category scheme alone requires cardmember activation — the other two provide automatic cash back on eligible purchases. When comparing two different cards, it's important to evaluate not only the cash back rates but also the limits on purchases that qualify for specific rates.
For example, is unlimited 4% cash back on groceries better or worse than 5% cash back limited to $1,500 in grocery purchases per quarter? The answer depends on how much grocery shopping you do, so it may be a good idea to tinker with a spreadsheet to determine the better choice for you.
Certain other card features impact the value of cash back rewards. Annual fees reduce the net cash you'll earn each year. Purchase limits cut into the bonus cash back. Some limits pertain to just one tier of purchases, while others may apply to the combined purchases of two or more tiers.
Among widely owned credit cards, the top cash back rate belongs to the Blue Cash Preferred® Card from American Express. It pays 6% on supermarket purchases and select U.S. streaming subscriptions up to the card's annual limit. The card also has a 3% bonus tier and a 1% standard one.
Generally, the top rate available from popular cards is 5%, either as a rotating merchant category card or a non-rotating bonus tier. The wild card in the rewards card industry is Discover's Cashback Match program, which doubles a new cardmember's cash back for the first year after opening the account. You get the matching amount after the first year expires. The match applies to all cash back processed during the year.
Thus, the Discover it® Cash Back card, with a top rate of 5% on purchases (up to the purchase limit) in quarterly rotating bonus categories when activated, can result in double cash back for the first year. You can own up to two Discover cards in consecutive years, so you could earn double cash back rewards for two years in a row if you play your cards right.
at Discover Card'ssecure website
INTRO OFFER: Unlimited Cashback Match – only from Discover. Discover will automatically match all the cash back you've earned at the end of your first year! There's no minimum spending or maximum rewards. You could turn $150 cash back into $300.
Earn 5% cash back on everyday purchases at different places each quarter like Amazon.com, grocery stores, restaurants, gas stations and when you pay using PayPal, up to the quarterly maximum when you activate.
Plus, earn unlimited 1% cash back on all other purchases - automatically.
Redeem cash back in any amount, any time. Rewards never expire.
Use your rewards at Amazon.com checkout.
#1 Most Trusted Credit Card according to Investor's Business Daily.
| | | | | |
| --- | --- | --- | --- | --- |
| | | 11.99% - 22.99% Variable APR | | |
It's often a good idea to own multiple credit cards if you want to maximize your cash back. If Card A offers 5% cash back on restaurant dining and Card B lets you earn 5% on grocery shopping, you could increase your annual cash back by owning both. However, watch out for annual fees that can take a bite out of a multicard strategy.
Experts agree that you shouldn't make purchases just to earn rewards, as this could lead to overspending — if this occurs, consider switching to a debit card. Also, consider any signup and/or 0% intro APR promotions when you are planning to make big-ticket purchases. These could considerably increase the value of a new credit card, at least during the introductory period.
Unless you have reason to leave your cash back in your card account, it makes sense to redeem and collect your cash as soon as you earn it. Virtually no credit cards pay interest on your cash back balance, so you'll do better by putting the money into an insured, interest-bearing account if you don't plan to spend it right away.
The one exception to immediate redemption is when you need to accumulate enough cash back to redeem it for an item from the issuer's marketplace.
The Capital One Spark Cash for Business pays unlimited cash back on all eligible purchases. You can redeem the cash back whenever you want and there are no minimum redemption amounts. The annual fee, waived for the first year, cuts into this card's net reward.
The Quicksilver and QuicksilverOne cards from Capital One offer 1.5% flat cash back, whereas the Savor and SavorOne cards earn top rates of 4% and 3% respectively.
We earlier reviewed five recommended 3% cash back cards from Capital One, American Express, Apple, and Bank of America. While each has its own features, they all share a top cash back tier of 3%.
Four of the cards target consumers with good to excellent credit, but the Bank of America® Customized Cash Rewards Secured Credit Card is designed for folks wishing to recover from bad credit. By putting down a refundable security deposit, you can own a credit card that will report your payments to the three credit bureaus (Experian, Equifax, and TransUnion). The reporting of on-time payments will eventually boost your score, no matter how low it is.
The honor goes to the Discover it® Cash Back card, which, like all Discover cards, has no annual fee. With Cashback Match doubling the card's cash back rate for the first year, this card has many winning features, including:
Quarterly revolving merchant categories that earn 5% on up to $1,500 in purchases when you activate the category.
Many security and convenience features, including Freeze it®, automatic bill payment, card number protection, and identity alerts, have earned Discover the Number One rank for privacy, ethics, quality, and customer service.
The technologically advanced card delivers contactless tap to pay and integration with digital wallets from Google, Apple, Samsung, and Garmin.
Discover cards are welcomed by 99% of merchants that accept any credit card.
A 0% introductory APR offer on purchases and balance transfers for new cardmembers. After the intro period expires, the card has a variable APR range that starts at an admirably low rate for consumers with good credit.
The card waives the first late fee and has no penalty APR for late payments.
Cash back reward dollars never expire, and you'll automatically receive your rewards balance if the card remains dormant for 18 months or if you close the account.
Discover, like American Express, is both a credit card company and a payment network. As such, it has been able to expand its acceptance by U.S. merchants on par with Visa and Mastercard.
Cash back versus points and miles is a topic of hot debate with no simple answer other than "it depends."
The Allure of Cash Back
Cash is king, legal tender for all debts, public and private. Earning cash back is really the same as getting an across-the-board discount on your purchases without the need for coupons or storewide promotions. You can spend or save your cash back, or you can use it to reduce your rewards card balance.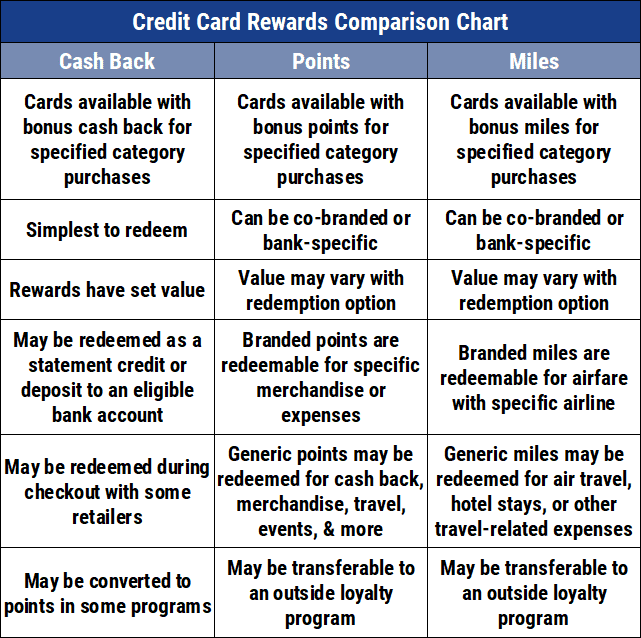 The value of cash back is easy to quantify: A rewards dollar is worth a dollar. You don't have to figure out its real value, in contrast to the contextual value of bonus points and miles.
If you're on a really tight budget, credit cards that pay you 5% cash back on groceries can make a difference in what and how often you eat. For example, if you spend $500 a month on food shopping, $25 in cash back can add a few chickens or steaks to your diet. Vegetarians can purchase several additional pounds of tofu, seitan, beans, and other sources of protein.
Points and Miles Can Bring Smiles
The reason to own credit cards that offer point or mile rewards is that the value of those rewards is sometimes worth more than cash, especially when redeemed for travel. Or, they may be worth less — it depends on how you redeem them.
Points are versatile since you can exchange them for cash or miles. Points are associated with travel credit cards, that is, cards that offer valuable rewards and perks related to travel. In some cases, the points you earn may require less spending than would be necessary with a cashback card when you redeem your rewards for an airplane ticket or hotel stay.
For example, the Chase Sapphire Preferred® Card card increases the value of its reward points by 25% when you redeem them for travel at the Chase Ultimate Reward website. But even without an extra boost, points can sometimes earn you more travel than would the same amount in dollars.
The magic lies in your ability to convert the points offered by some credit cards to frequent flyer miles in a range of participating programs. Those frequent flyer miles may be more efficient than cash when redeemed for a flight — it depends on the airline and the conversion ratio (1:1 points to miles is best).
In addition to travel-related redemptions, points can often be used to shop for special deals available on the card issuer's marketplace website. Here again, the points may sometimes be worth more than cash back, depending on the deals available.
However, points can sometimes be worth less than cash. For example, compare 5X points vs 5% cash back on $1,000 in purchases, equal to 5,000 points or $50, respectively. The question then becomes whether you can get at least $50 in value by redeeming the points for something other than cash.
The truth is that the redemption value of one point is seldom equal to its nominal value of one cent. Points are not fixed-rate commodities, so their value depends entirely on the redemption parameters.
Miles are a slightly different story. They are often the reward offered by credit cards co-branded with an airline or hotel chain. That is, card miles are usually the same frequent flyer miles you'd earn by flying on the co-issuer's airline or staying at its hotel. The value of these miles depends on how the frequent flyer program is structured.
In some cases, miles may get you a terrific deal, better than what you would get for cash. Other times, cash may work out better. A further complication is that the value of miles can change at the whim of the airline or hotel chain, without advance notice.
The bottom line is that points and miles may be best when redeemed for travel and hotel stays, whereas cash back could be a better choice for everything else.
There's no limit on cash back — the more you spend, the more you get. Add the cash back many cards offer through signup bonuses, and/or the Cashback Match available to new Discover cardmembers, and it's quite possible to earn a four-figure cash back reward, at least in the first year with the card.
However, limits often apply to bonus cash back, either per quarter or year. Unless you opt for a card with a flat rewards rate, it's almost impossible to predict the precise amount of cash back you'll earn each month.
With a flat rate, you apply the fixed cash back rate to the amount of your month's purchases to obtain the cash back figure. But if your card has tiered or rotating reward schemes, reward calculations are complicated by different rewards rates and limits. Of course, your monthly statement will tell you how much cash back you've earned, although it probably won't show you the math.

Before choosing a card simply for its cash back rate, consider these additional factors:
Annual fee: The annual fee reduces your net cash back for the year. Moreover, by choosing a card with a low or no annual fee, you'll have more money left over to spend on purchases, earning the incremental cash back as well. It's also a good idea for travelers to choose a card with no foreign transaction fee.
APR: If you want to net the biggest cash flow from your card rewards, pay your balance in full each month. This way, your APR will remain forever at 0%, so not a penny goes toward interest. Even 5% cash back pales against the average variable APR of 19%.
Match your lifestyle: It makes little sense to get a travel credit card if you seldom travel. The same is true for cards that pay a top bonus rate for restaurant dining when you always cook your meals at home. Choose a card that will reward you the most for the types of spending that dominate your budget.
Diversify: You can increase your rewards by owning two or more credit cards with different reward schemes. For example, suppose Card A earns 5% cash back on grocery shopping and gas, 3% on travel, and 1% on all other everyday purchases. Compare this to Card B, with 5X points for travel and dining, 1% on the rest. By owing both cards, you can earn five times the rewards whether buying a can of tomatoes or flying to Paris for dinner.
Improve your credit score: The cards with the best rewards are reserved for consumers with good to excellent credit, which roughly corresponds to FICO scores above 680. That should serve as a strong incentive to boost your credit score if it's average or worse.
Be careful with rotating cards: Are you a well-organized individual who is likely to remember that you must activate the new merchant category each quarter to earn the bonus rate? If not, the 5% you can earn each quarter on the current category won't materialize, and you'll be stuck with a run-of-the-mill 1% cash back rate.
Look for the best welcome bonus: The welcome bonus (a.k.a. sign-up bonus) should be the highest that you reasonably can achieve during the three-month introductory period. Some folks game the system by getting one or more new cards each year for their sign-on bonuses. It's a workable strategy as long as you aren't shut out by limits many issuers impose on the number of their credit cards you can own at any one time.
Evaluate the full range of benefits: While many cards may offer similar cash back rewards, other benefits may sway your choice one way or another. For example, the best travel cards include many perks that make it cheaper, easier, and more comfortable to travel. Look for items like travel insurance, free luggage checking, reimbursement for TSA Pre-check, airport lounge access, car rental insurance, and many others.
Get the credit line you need: Believe it or not, there can be significant variations in the credit limits that similar cards may offer you. One reason to prequalify for a card is to get an estimate of your credit line before submitting an application (which may precipitate a five to 10 point drop in your credit score). An inadequate credit line is inconvenient and could restrict the amount of cash back you earn.
Never miss a payment: Late fees can easily run $40 for each infraction. In addition, many cards impose penalty APRs of around 29% when you miss a due date, which stays active indefinitely. Late payments can hurt your credit score, potentially making it more difficult to get a new card aimed at consumers with good credit.
The benefits of taking the time to carefully evaluate which card works best for you are worth the effort because most folks don't change cards that often. Whichever card you choose will likely remain in your wallet for some time, so you may as well get one that will provide you the biggest cache of rewards and perks.
Our review of the best 2% to 5% cashback credit card offerings shows that you don't need perfect credit to get a rewarding card. We also discussed a holistic approach to choosing a cash back card, one that incorporates many factors beyond reward rates.
Our individual card reviews summarize the most important features each card offers. You can get further information or prequalify for any of the cards by clicking on the APPLY NOW link. As with all things financial, an analytical approach backed by the facts will help you achieve outcomes that work best for your lifestyle.