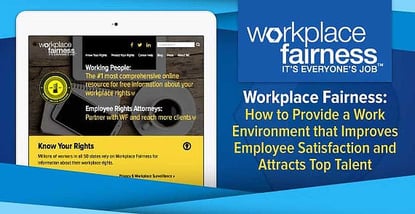 credit card news
Our experts and industry insiders blog the latest news, studies and current events from inside the credit card industry. Our articles follow strict editorial guidelines.
In a Nutshell: For entrepreneurs experiencing their first growth cycle, securing a workforce and learning how to handle employee relationships are two key challenges. Without human resource departments, many new businesses lack the knowledge of legal obligations and best practices. Workplace Fairness, an organization that serves as a rights resource for employees, helps small businesses by providing the framework to build a healthy environment. Through the Workplace Bill of Rights, Workplace Fairness teaches businesses their legal obligations and provides guidance on setting realistic job expectations. By encouraging business owners to create the type of environments they'd want to work in, Workplace Fairness helps entrepreneurs retain employees, build loyalty, and attract top talent.
While many established businesses have HR departments they can rely on to stay updated on workplace regulations and employee protocol, smaller businesses often lack guidance on how to handle relationships with their employees.
During the first few years of operation, small business owners may put in long hours and late nights — a small price to pay for achieving the dream of being their own boss. And when they eventually add employees, it can be tempting to hold others to the same level of commitment and set unrealistic standards for performance.
Without guidance, this approach can lead to burned out or unhappy employees and — in extreme cases — lawsuits.
"There are small businesses that may not have a dedicated HR staff or access to attorneys to consult, and managers who are not properly trained in the law," said Paula Brantner, the Senior Advisor for Workplace Fairness, an organization that helps both businesses and employees understand workers' rights. "We want to send a message to employers that a fair workplace is in everyone's interest – to nip problems in the bud before they become legal problems, morale problems, or personnel issues."

Although its organizational focus is on educating and providing resources for employees in all aspects of their legal rights, Workplace Fairness is also a resource for entrepreneurs who want to lay the foundation for positive relationships with employees.
Through its publications and legal guidelines, Workplace Fairness shows new businesses how to build a workplace environment with the inclusiveness, benefits, and employee focus that fosters retention and draws top talent.
The Importance of Reasonable Employee Expectations
Avoiding legal entanglement is a primary HR goal for most employers, but to truly thrive, organizations need to recognize and meet the need of today's workforce by setting reasonable expectations and providing the most in-demand benefits.
This approach is especially important as the job market continues to recover, and makes recruiting for the best talent much more competitive. Smaller businesses may not be able to compete with larger brands regarding salary, but providing a better work environment and more desirable benefits than the competition could be enough to attract those top employees.
One of the keys to this approach is setting reasonable workplace standards. This area is where many entrepreneurs can lose focus, especially if they've been working alone long enough to forget what reasonable expectations are.
"There's more to life than work, and that's something that we've put into our Bill of Rights: you need to be able to have that down time. All the studies show that it's positive in terms of productivity and morale," Paula said. "You get more out of employees — in creative thinking and work — when they're not always exhausted."
This blind spot isn't limited to new businesses. "With some of these economic contractions, some workers were laid off and others were forced to do an increasing amount of work without hiring back when the economy grew," said Paula.
Simple things can make a difference in satisfaction — policies like allowing employees to set their own hours, creating boundaries between work and leisure hours, or giving them more time to spend with their families or go on sabbatical.
"There's more to life than work, and that's something that we've put into our Bill of Rights: you need to be able to have that down time. All the studies show that it's positive in terms of productivity and morale," Paula said. "You get more out of employees — in creative thinking and work — when they're not always exhausted."
Providing clear parameters for each employee's position, accounting for the unique needs of a remote workforce, and building in benefits that encourage a healthy work-life balance are ways even small businesses can retain good workers and attract more.
"All of that flexibility is something employees appreciate, and it builds loyalty and differentiates between the companies that offer it and ones that don't," Paula said.
Annual Reviews Help Address Concerns and Reduce Turnover
One practical way to stay in tune with setting realistic workplace expectations is through annual personnel reviews, according to Workplace Fairness.
Not only do reviews keep the lines of communication open; they provide an opportunity to assess employee engagement and examine whether job descriptions and workloads are a good fit.
When an employee is asked to go above and beyond, personnel reviews also ensure the situation doesn't stay that way forever and that the employees are recognized with a better title or salary. This process keeps employees from getting burned out to the point of wanting to disengage entirely.
"Today's workers are much less likely to stay in one job for their entire career, and some of it is attributable to how the employers treat their workforce," Paula said. "Most people like to stay in one place and progress over time. Having to change jobs because you're miserable — that's not a situation people want to be in."
By paying attention to staffing needs and being proactive about adjustments, employers can create a satisfied workforce that produces positive feedback.
The Workplace Bill of Rights: A Blueprint Going Far Beyond Legal Obligations
Most companies use feedback from both their employees and HR teams to stay abreast of trends in workplace expectations and legal requirements. For businesses without HR support, Workplace Fairness is an essential resource for avoiding expensive, reputation-damaging lawsuits.
"You need to be familiar with your legal obligations as an employer. As you grow, you acquire more and more of them," Paula told us. "Certain laws apply to all employers, and others only apply when you reach a particular size."
The resource businesses should start with is The Workplace Bill of Rights. Modeled after the Constitutional Bill of Rights, this list consists of 10 key areas of workers' rights: benefits, compensation, working conditions, discrimination, and the right of employees to protect their own interests.
The Workplace Bill of Rights provides the framework for businesses to craft policies that meet the basic standards to which their employees are entitled, but businesses serious about creating the healthiest company culture won't stop there.
"We focus on the legalities, so we see what happens when things break down so bad that there's a potential lawsuit involved," Paula said. "But if you're anywhere close to that, you've already failed. That should be a last resort for everybody involved."
By starting with the groundwork of the Workplace Bill of Rights and building a work environment that takes these rights and concepts to the next level, businesses are better positioned to grow teams with long-term loyalty — and attract talented workers.
Workplace Fairness Encourages the Golden Rule at Work
For entrepreneurs launching their businesses as a sole proprietor, long hours and imbalanced work-life boundaries are often a necessary, short-term sacrifice. When hard work pays off, and it's time to hire employees, many sole proprietors find they've also sacrificed their familiarity with the employee's perspective.
That's why Workplace Fairness not only provides the blueprint businesses need to stay informed of their legal obligations, but also to recapture that employee perspective. With the help of Workplace Fairness and the Workplace Bill of Rights, entrepreneurs can craft an environment that not only keeps their current employees happy and loyal but makes them stand out to the emerging talent that will help them grow.
"The law is the floorboard, not the ceiling," Paula said. "Keep the golden rule in mind, and think back to what it was like when you were working for somebody else — the conditions in the jobs you were happy in and the jobs that didn't make you happy. If you can operate under those instincts, then you're going to come out ahead in terms of your employee satisfaction and turnover."
Workplace Fairness will continue to be a resource for employees' rights, but the organization also seeks to foster a productive dialogue with businesses.