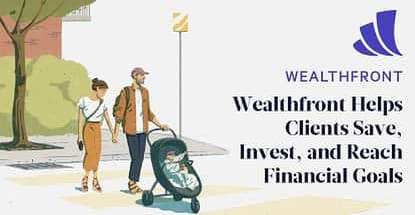 credit card news
Our experts and industry insiders blog the latest news, studies and current events from inside the credit card industry. Our articles follow strict editorial guidelines.
In a Nutshell: People in their 30s and 40s often struggle to plan for retirement because they feel as if their targeted date to leave the workforce is eons away. Maintaining a proper investment strategy takes both discipline and a long-term view that isn't easily distracted. Wealthfront's rapidly growing financial services platform allows users to create and invest savings while working toward goals centered around retirement, buying a home, and saving for a child's education. The PassivePlus suite of products was in-part designed by investing legend Burton Malkiel using his proven buy-and-hold strategy of ETF securities that has helped grow the combined $10 billion in assets of Wealthfront's over 200,000 customers.
My parents are both retired and doing their best to enjoy the abundance of free time they inherited after nearly a half-century of being workaholics.
During a recent visit, I asked them about the strategy they used to ensure they saved enough money to last throughout their retirement. Their answer was simple — they just put money into multiple retirement accounts each paycheck and tried not to think about it. Both agreed that, until they were a few years away from retirement, the possibility seemed so distant that it did no good to overthink it.
That's a thought many Americans have when saving for retirement — "It's so far away, I'll just wait until later to start saving." Thankfully, my parents took a slightly different approach.
For those who are saving for the future, but still aren't ready to count the days until quitting time, a passive approach to investing helps build wealth with a long view that doesn't require active portfolio management and stock picking. The strategy is a Wealthfront specialty.
The California investing startup is anything but a startup, with more than $10 billion in assets under management, 200,000 active clients, and a growing list of investment management, financial planning, and banking-related services offered solely through technology. The presence of Burton Malkiel, company CIO, and investing legend, only helps the firm's reputation when recruiting new clients in its targeted demographic.
"We are narrowly focused on people in their 30s and 40s," said Kate Wauck, Senior Director of Corporate Communications at Wealthfront. "That's slightly different from other companies in this space that either go after the super-young set in their 20s that haven't really learned how to save yet or the human advisors who go after the older audience that prefers to talk to people."

Wauck said the demographic the company seeks has mostly learned to save by this point in their lives and often has a bit of money set aside in a savings account that isn't reaching its full earning potential due to sluggish interest rates. According to Wealthfront, that group has been underserved in the financial planning community — until now.
"We're solely technology based," Wauck said. "That's very intentional because we've found our audience prefers to do everything on a computer or phone. That's something I think is underappreciated within the industry."
Joining the Wealthfront platform starts by establishing one or more of the retirement, taxable, or college savings investment accounts the company offers. Accounts grant clients access to a dashboard that tracks key data points, like net worth, and uses internal and third-party research to evaluate when the client may be able to retire or meet other goals like buying a home or saving for a child's education.
Investment Accounts Provide a Passive Way to Build Wealth
Before establishing an investment account with Wealthfront, new users must first fill out a brief risk assessment survey that assigns them a risk score of 1 to 10. The score represents the tolerance for risk the client has with an investment strategy. Wauck said that, since the average Wealthfront client is in their 30s, their longer threshold to invest leads to an average risk score of 8.
The minimum amount allowed to start an account is $500. There are no maximums and the average account holds around $100,000 in investable funds.
Once funds are deposited, Wealthfront, an SEC Registered Fiduciary Advisor, uses them to purchase a mixed basket of exchange-traded funds based on its research and recommendations. An annual advisory fee of .25% of a portfolio's value is the only fee charged to investors.
"Our entire investment philosophy is centered around passive investing," Wauck said. "We've taken that to the next level and refer to it as PassivePlus."
PassivePlus is a suite of services based on a buy-and-hold portfolio strategy that is designed to minimize risk while maximizing returns in individual, joint, and trust investment accounts. The format uses risk parity, a portfolio strategy that focuses on the allocation of risk, rather than on the allocation of capital, made famous by Bridgewater's highly successful All Weather Fund in the mid-1990s.
PassivePlus also includes Tax-Loss Harvesting, which lessens investors' tax bills by capturing investment losses due to movements in the market. Quarterly portfolio rebalancing makes sure that assets are evenly distributed among a user's holdings. Accounts with balances of $100,000 or more are eligible for direct indexing, which purchases all of the stocks within an index instead of the index itself. A more intelligent approach to Smart Beta is intended to increase investment returns by weighting the individual securities in a portfolio more intelligently.
"We offer some flexibility within our direct indexing service," Wauck said. "Because we buy the securities individually for you, we allow you to delete some securities that you don't want for any reason."
Wauck admits that, while the investment strategy isn't complex, the addition of PassivePlus adds value that other financial managers, human or robotic, cannot match.
"Our basic portfolio construction is similar to what you'd expect from a Vanguard target-date fund, but we increased value with features like automatic rebalancing and daily tax loss harvesting that you wouldn't get through Vanguard," she said. "Our portfolio construction is pretty basic — it's the 'plus' where we add a lot of value."
Dashboards Show Your Net Worth Today and at Retirement
Another perk to owning a Wealthfront investment account is the access to a member dashboard that helps users set and track goals. The member dashboard uses projections from the company's research team and third-party data to project what the client's net worth will be at retirement.
Think of the dashboard as your old Mint account on steroids. Users can link all of their financial accounts — including taxable, retirement, Wealthfront, HSA, savings, checking, credit cards, and 401k accounts — to get a clearer picture of their current net worth. Users who own a home can upload their address and, with the help of Redfin's API, add its value to their assigned assets.
"Based on all of the information you provide to us, we can give you a reasonable estimate of when you'll be able to retire," Wauck said.
Sliding scales allow users to adjust time frames and income requirements to find their current optimum retirement age or see what extra savings would be required each month to retire earlier.
The goal, according to Wauck, is to give users a clearer picture of where they are financially and what they need to do to get to where they want to be.
Play-to-Learn Scenarios Help Clients Reach the Goal of Retirement, Buying a Home, or Sending a Child to College
Through the dashboard, users can open a 529 tax-advantaged savings plan for a child's college education. The platform allows users to actually choose which college they'd like to save for and, using estimates of what the average cost of the school will be when the child attends, will initiate a plan to create enough savings to meet the goal.
Wealthfront can also help users set goals for buying a home by using established financial data to determine how much of a down payment and monthly mortgage payment they can afford. With that information, the user can shop areas throughout the country to look at average home values, select an area, and initiate a savings goal to purchase a home in that area within a predetermined amount of time.
All of the goals on the platform communicate with one another and show how buying a home out of your price range could affect your retirement age or the chances of meeting the college tuition needs for your child.
Moving into Banking Services with the Portfolio Line of Credit
Wealthfront's buy-and-hold investment strategy is based on users taking a long-view approach and maintaining ownership of securities over an extended period of time. The company knows, though, that there are times when a withdrawal is needed and doesn't feel its customers should be punished when it happens.
In late 2017, the firm created its Portfolio Line of Credit, the first banking-related service offered through the company, to minimize capital gains tax liabilities, as well as other disadvantages that come from leaving the market.
"This allows customers with more than $100,000 invested with us to borrow against up to 30% of their portfolio value to meet short-term liquidity needs without disrupting their investments," Wauck said.
The line of credit comes with a 3.5% to 4% interest rate, depending on the balance of the account being borrowed against.
Every day, more consumers in their 30s and 40s are realizing that retirement time isn't as far off as they had thought. With the proper planning and long-term view of your finances, you can one day be like my parents, sitting around reminiscing about the good old days of working.