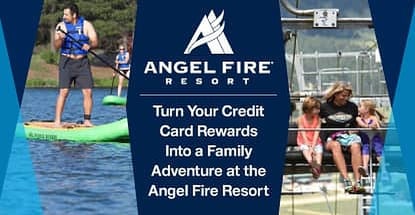 credit card news
Our experts and industry insiders blog the latest news, studies and current events from inside the credit card industry. Our articles follow strict editorial guidelines.
In a Nutshell: It takes time to save up the credit card rewards for a family vacation, so it's worthwhile to make sure you use them on a trip the entire family can enjoy. Angel Fire Resort in Angel Fire, New Mexico, is a family-friendly destination that offers year-round activities for every member of the family. Winter guests can explore acres of snow-covered terrain that includes more than 80 runs, sledding hills, and the Polar Coaster, a unique five-lane tubing experience. And the fun doesn't stop when the snow melts; visit Angel Fire Resort in summer for mountaintop zip line tours, award-winning mountain biking, and picturesque hikes through the Rocky Mountains.
Pulling off a successful family vacation is often an exercise in logistics and planning that would likely make even the sharpest general cringe. And that's before you consider the mathematical wizardry often required to keep said vacation on budget.
Thankfully, there are a number of ways to work smarter, not harder, when it comes to putting together a family trip. For instance, smart vacationers use credit card rewards to do the heavy lifting when it comes to airfare, hotel stays, and rental cars.
But those rewards don't simply grow on trees. It can take months of saving to put away the points and miles to pay for a family getaway — so make sure your rewards are working for the whole family.
And that starts by choosing a destination that lets you make the most of your rewards. For example, Angel Fire Resort in Angel Fire, New Mexico, is a kid-friendly vacation spot with something for every member of the family, no matter their age or ability.
"The focus of Angel Fire Resort is on the family, on having a family adventure," said Krysty O'Quinn Ronchetti, the PR Director for Angel Fire Resort. And they do mean the whole family. "We're very much a tri-generational community. You'll see a lot of kids, parents, and grandkids all vacationing together."
Come When the Snow Falls to Explore 560 Acres of Winter Wonderland with Activities for All Ages
Nestled into the southern Rocky Mountains, Angel Fire Resort is perfectly situated for prime winter activities, and the property provides over 560 acres of terrain that transforms into a veritable winter wonderland once the snow starts to fall.
"Our winter season kicks off in December and runs through the end of March," said O'Quinn Ronchetti. "The center of it all is the downhill skiing and snowboarding, with the Nordic Center offering miles of ski trails."
Angel Fire Resort offers more than 80 different runs, three ski-and-ride terrain parks with rails, jumps, and rollers, and over 30 acres of gladed trails. And don't let sunset end the party — Angel Fire Resort has a lit slope for nighttime skiing and snowboarding.
Of course, you don't need to be an expert on the slopes to enjoy the winter outdoors at Angel Fire Resort. Beginners are more than welcome, no matter their age.
"We cater to families, which includes small children," O'Quinn Ronchetti explained. "We're ranked very highly for our Ski School. We start lessons as young as 3 years old, which is rare — most resorts won't teach children until they're at least 5. We also maintain a 4-1 ratio for our classes. It's almost unheard of to have such small class sizes."
If skiing isn't your cup of tea (or hot chocolate), Angel Fire Resort has plenty of other exciting activities for the whole family to get out and enjoy the snow-covered mountain.
"We have a great sledding hill, as well as downhill tubing," said O'Quinn Ronchetti. "The Polar Coaster — an advanced tubing hill that takes up a huge portion of one of the mountains — is also a big hit."
After all of that activity, you're going to need to refuel. While some of Angel Fire Resort's restaurants, like Elements at the Country Club and the Legends Grill, are open year-round, others only open when the snow arrives. That means winter at Angel Fire Resort sees nearly all of the resort's restaurants open for business, with something for just about anyone.
For instance, if you're looking for family-friendly cafeteria-style food, check out the winter-only The Village Haus. Or you can head to Chianti's Pizzeria to warm up after a bit of winter fun. And enjoy a little adult time after dropping the kids off at Snow Bear Camp with a stop by The Dog House for gourmet sausages and a selection of beers.
Get a Thrill When the Snow Melts with Mountaintop Zip Lining and Award-Winning Mountain Biking
For all its reputation as a winter wonderland, the good times at Angel Fire Resort don't stop when the snow melts. The mild weather of New Mexico means a long summer season, with warm-weather activities available from mid-May through mid-October.
Summertime in the mountains at the resort is an outdoor-lover's dream, offering a range of activities sure to thrill the whole family, starting with over 3,500 feet of zip lines high above the Moreno Valley.
"We have the highest elevated zip line tour in the Southwest," described O'Quinn Ronchetti. "The lines are based on top of the ski mountain, so you're 10,600 feet up. They're designed as adventure tours, and it takes a couple of hours to do it all."
If flying high through the treetops doesn't hold much appeal, try Angel Fire Resort's award-winning Bike Park. Here you'll find 2,000-plus vertical feet and more than 60 miles of purpose-built, lift-served terrain suitable for riders of any skill level.
"Our downhill Bike Park has been ranked number one in the Southwest for the last five years by Decline Magazine and MTBparks.com," O'Quinn Ronchetti said. "But we also market to junior bike riders, including those who have never been on a bike. Our goal is to make sure children as young as 6 can be comfortable on a bike and ride our mountain."
Guests can take public or private lessons, or hire a guide to help them navigate the miles of trails. Lesson groups never number more than six people, allowing for a personalized experience.
Those looking for a more leisurely outdoor experience can head over to the Angel Fire Country Club to tee off at the resort's par 72, 18-hole golf course. With an elevation of 8,500 feet, the course winds through multiple canyons and represents a unique challenge for any golfer. At the course's signature hole — lucky number six — the golfer is a full 200 vertical feet above the green.
Visitors can also enjoy the beautiful Monte Verde Lake. A fisher's dream, the spring-fed lake high in the mountains is kept stocked with rainbow trout all summer long. A floating dock extends from one end of the lake, and fishing supplies, boats, and paddle boards are all available for rent. A trail around the lake is ideal for a family hike, or simply relax on the shore and soak up the summer sun.
And don't forget to bring your RV to experience the new state-of-the-art Angel Fire RV Resort. The resort comes complete with concierge services and free WiFi, all while offering panoramic views of the Rocky Mountains and Carson National Forest.
Boost the Value to Make the Most of Your Budget with Family Packages and Off-Peak Deals
While winter is peak season for the Angel Fire Resort, visitors can find a variety of family-friendly activities no matter the season — and all on a family-friendly budget, too. You can get particularly good deals if you skip the crowds and visit during off-peak weeks.
"Peak for us are the weeks around Christmas and New Year's, as well as spring break in March," O'Quinn Ronchetti explained. "Industrywide, lodging prices go down during the summer, but our best deals are definitely found in fall, particularly after Labor Day. Plus, that's when our fall leaves start to change color, so it's pretty, plus it's not cold yet."
Unlike other well-known ski destinations, like Colorado or Utah, New Mexico's winters take a little longer to arrive — and they don't storm their way in. The long summer is often followed by a mild autumn without the sub-freezing temperatures that put an early end to the season.
"We have 355 days of sunshine, on average, with blue skies the majority of the time," said O'Quinn Ronchetti. "We're in the southern Rockies, but we're not freezing — we just don't have those temperatures — allowing you to stay outside longer."
No matter what time of year you come to Angel Fire Resort, however, you can find ways to make your trip more affordable. The resort offers a number of packages and specials, from the popular Stay & Zipline combination package to a killer 4-for-2 RV Resort special. Additionally, group discounts are available for most activities.
Find Year-Round Adventure at Angel Fire Resort
After months of squirreling away miles and transferring points to and fro, you hardly want to squander your credit card rewards on a sub-par family vacation that only some of the family can enjoy. You work hard for your rewards — and they should work hard for you.
When it comes to making the most of your credit card rewards (and your family vacation), the destination can be more than half the battle. The Angel Fire Resort is not only family-friendly, but it offers fun for all ages, from the youngest kids to the kids-at-heart.
"It really comes back to our focus on being a destination for the entire family," said O'Quinn Ronchetti. "We want your whole family to come and have a good time — to have a family adventure."
Photos courtesy of Angel Fire Resort.