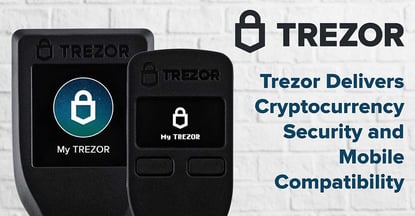 credit card news
Our experts and industry insiders blog the latest news, studies and current events from inside the credit card industry. Our articles follow strict editorial guidelines.
In a Nutshell: As cryptocurrency becomes a more mainstream option for investment and payment, users still need a way to protect their digital assets from online threats. Trezor, the world's first hardware wallet, created by SatoshiLabs, is an open-source device for storing digital keys offline in a secure physical environment. The original and advanced Trezor models allow crypto investors to keep their digital currency safe, yet accessible, with cutting-edge security, recovery technology, and mobile compatibility.
In 2011, just after a Bitcoin conference in Prague, programmers Marek "Slush" Palatinus and Pavol "Stick" Rusnák started working on a passion project: designing a small, dedicated device for storing the keys to their cryptocurrency.
Blockchain technology makes cryptocurrency possible and enables the freedom of institution-less banking, but with that freedom come risks. Private keys, which act as digital signatures authorizing transactions, are typically stored on servers, exchanges, or digital wallets — all of which are susceptible to hackers and online security breaches.
"When you're signing checks, you use your signature. With crypto, you're using a digital key to authorize transactions. But, in a digital world, it's easy to copy information. If someone gets access to your private key, they can create an identical copy and run away with it," said Bach Nguyen, Business Development Manager for SatoshiLabs — the company Palatinus and Rusnák went on to launch.
Having mined bitcoins since 2010, Palatinus came face to face with this problem when the infamous Linode Hack accessed his mining pool's server and stole thousands of his group's hard-earned coins. So, over the next few years, Palatinus and Rusnák worked on a solution that would not only provide better security for digital keys and cryptocurrency transactions but also be based on technology that anyone, not just a programmer, could easily use. In 2012, they made the prototype for Trezor.
"Trezor is the original hardware wallet," Nguyen said. "The intention behind the hardware wallet is to create a safe, separate environment for the digital keys to be stored. The device is separate and only sends signed transactions to the internet, so the key remains in that device."
Initially, the duo intended to create a few hardware wallets for friends, but they quickly realized Trezor filled a significant need in the emerging crypto market. Today, hundreds of thousands of users in more than 150 countries worldwide use Trezor, and its code and security features created industry standards for its subsequent hardware wallet brands and numerous digital wallet products.
Whether making digital payments with traditional money or cryptocurrency, more people than ever are using their mobile devices, and secure authentication has become a top concern for both consumers and enterprises. As cryptocurrencies continue to grow more mainstream, Trezor solves for this need in a way that looks to the future of both digital payments and currencies.
The First and Open-Source Hardware Wallet for Storing Cryptocurrency Keys
Trezor remains the keystone project at five-year-old SatoshiLabs, which has engineered additional technologies to support and complement Trezor, such as the Blockbook server and Password Manager, as well as crypto-related services like coinmap — a crowd-sourced map of places, services, and restaurants that accept cryptocurrency.
The key advantage of using a Trezor is that no one can steal your private keys. Even if an attacker gains physical access and plugs it into a computer or mobile device, Trezor is protected by PIN and can have additional protection with a passphrase.  As Trezor is a dedicated device, it may limit the ability to travel and transact to a certain degree. Nguyen said even that is an advantage.
"By placing a large amount of funds on a laptop or mobile phone, you can travel more easily than with a Trezor, but you're exposing yourself to unnecessary risks. With a dedicated device, you can decide for yourself whether it's safe to travel with it and where to carry it."
Trezor can also connect to a mobile device, as well, not only a computer, providing the mobility some desire.
This points to the primary purpose of a hardware wallet: to protect against online threats. Other types of wallets — even paper wallets — are still vulnerable at least some of the time.
"You protect yourself against any case when your computer may be compromised by a virus, malware, or address changing. The alternative is a basic wallet, such as a paper wallet, which is also offline. But when you want to spend money, you'll still have to import that wallet somewhere. If you import it on your computer, you're exposing yourself to the threats, again," Nguyen said.
Besides status as the first hardware wallet, the other foundational distinction of Trezor is its open-source framework — which means its source code is available for anyone to acquire, change, and even distribute.
"We believe strongly in the open-source system. Our entire hardware design and the firmware — everything we're running — is open-source," Nguyen said. "You can go onto our repositories, download all the files, 3D print your own Trezor or buy the hardware components, build it, compile your own firmware, and run it entirely on your own, without needing us.
For those who aren't as tech-savvy, a ready-to-run Trezor can be purchased from SatoshiLabs.
Fast Access to Your Crypto Data with Offline Backup
While created by programmers, Trezor is designed to be intuitive. Users don't need to read encryption manuals, perform complex, multi-step processes, or run manual backups. To get started, users simply open the web browser application available for either Safari or Chrome, plug in their Trezor, and unlock it with their pin — or add a passphrase as a second layer of security. Once users log in, they can see their balance and transaction history, just as with a bank account.
"You see a receiving tab, where you can get your address, as well as a send tab where you can transfer the cryptocurrencies you own. What you'll see is very similar to any other wallets you can run on your computer or your mobile device," Nguyen said.
The only difference is that you'll use the Trezor to verify and complete transactions, such as sharing your address with a friend. "You'll need to confirm and verify the address is correct because the Trezor knows which is the correct address. If you have a virus on your computer, the address displayed on your computer could be changed, and you might be sending the money to the wrong person. So, there's always this verification process," Nguyen said.
With a hardware wallet, you also have a backup of your device in case it's ever lost or damaged. This feature is called recovery seed, and it's another industry standard that originated with Trezor and is now widely used in both hardware and software wallets.
"When you set up your Trezor, you're given a recovery password which is a 12- to 24-word sentence. That is essentially your key, and you can always restore it. If you lose your Trezor, you can get another one and import that key," Nguyen said.
Securing this recovery seed is best done the old-fashioned way — writing it down and storing it in a secret location. The Trezor Shop also offers Cryptosteel, a damage-resistant "vault" for protecting your recovery seed.
Models Fit the Needs of Both New Investors and Adept Users
As a company that strongly believes in autonomy and personalized security, neither SatoshiLabs nor its support team has, or can have, access to any user accounts. Because of this, and its open-source system, the company doesn't have an exact count of how many people use Trezor, or how much cryptocurrency is protected and exchanged with its devices.
"We're effectively offline," Nguyen said.
Trezor offers models to ensure that users can find one that fits their needs.
The original and minimalistic Trezor One — which recently celebrated its seventh anniversary — is the entry-level offering, featuring a black-and-white display, two buttons, and security features.
"When it came out, it was made specifically to solve key-holding problems; it wasn't designed for comfort. This is what we can offer users who are coming into the market and want to try it out — the basic entry-level model," Nguyen said.
In 2018, SatoshiLabs released the next-generation version of the Trezor called the Model T. This premium model comes with a larger, full-color touch screen that allows the user to input their pin, passphrase, and recovery seed directly into the device, rather than through a computer or mobile device.
"With the Model T, we tried to make the user experience better. It's also ready for the future with USB-C for mobile compatibility and microSD card slot," Nguyen said. Both models can be connected to Android devices via OTG cables, also sold at the Trezor Shop.
Trezor Implements User Suggestions to Enhance Capability, Security, and Mobility
Trezor was born out of a desire to help people safely store cryptocurrency, which is why SatoshiLabs made the tool open-source and constantly monitors user feedback about the product. The company maintains an active presence on numerous social networks and chat rooms — the largest of which is the Trezor community on Reddit. "We also have a Telegram chatroom, which has more than 1,000 members, and hosts real-time discussions," Nguyen said. "We get a lot of feedback from our users, especially when it comes to designing and implementing new features. We select the feedback we find most useful from our users and implement it."
In 2018, the predominant request from the Trezor community was for the device to support more cryptocurrencies. While supporting every type of coin on the market isn't realistic, Trezor now supports well over 1,000 of the most popular coins and tokens.
"We aim to make Trezor as user-friendly and convenient as possible, and we believe we can always improve on it. We also realize that the future is mobile — no one carries their computer or laptop with them at all times." — Bach Nguyen, Business Development Manager for SatoshiLabs
It's also working on a new user interface (UI), which will support even more coins and a multi-signature security feature that will allow users to require more than one key to sign a transaction.
And, as more consumers gravitate to mobile devices as the preferred medium for on-the-go digital payments, SatoshiLabs plans to explore mobile technology even further and analyze its implications for the future of the Trezor hardware wallet.
"We aim to make Trezor as user-friendly and convenient as possible, and we believe we can always improve on it. We also realize that the future is mobile — no one carries their computer or laptop with them at all times," Nguyen said. "Having a mobile-first Trezor wallet would allow us to convince users that Trezor is not something you have to leave at home."