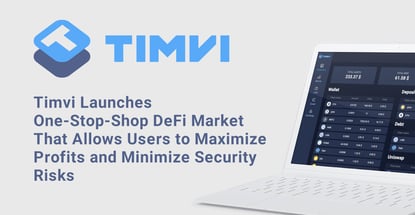 credit card news
Our experts and industry insiders blog the latest news, studies and current events from inside the credit card industry. Our articles follow strict editorial guidelines.
In a Nutshell: Timvi launched its Decentralized Finance (DeFi) Market in December 2019 to rave reviews and eager participation. The TMV stablecoin targets a $1 valuation and allows users to trade cryptocurrency and accept zero-fee, termless, collateral loans that they can use to boost potential investment profits. The startup's P2P service allows investors to issue and store TMV with no fees.
Many cryptocurrency enthusiasts lean on the digital token economy as a way of separating from mainstream banks. But crypto assets are such a new commodity that consumers may think twice about handing over their cash for such a volatile investment.
Many aspects of traditional banking still work for the average consumer. Most financial institutions pay interest on stored funds in certain accounts, such as a high-yield savings account, and banks and credit unions are still the preferred sources of borrowing money for most people.
Timvi realized that these specific features of traditional banks — borrowing money and earning interest on savings — could work for any type of currency, not just fiat. That's why the Dubai-based startup created a Decentralized Finance (DeFi) Market that allows users to earn interest on their holdings, apply for loans, and make investments in a host of tokens — all of which can rapidly boost profits compared to the typical means of buying and storing cryptocurrency.
"Timvi allows you to invest, loan, exchange, swap, and perform many more options available with this one-stop-shop," the Timvi team told us. "You can save time and pick only the best offers in the market."
But while maximizing profits would be enough for most platforms, Timvi offers a host of other services that place no limits on its users' investment potential.
"Through the TMV portal and P2P services, the DeFi app issues collateralized stablecoins with no fees," said the Timvi team. "TMV takes advantage of what other P2P services have to offer and maximizes your benefits."
Investors can acquire Timvi's stablecoin, TMV, with no fees for issuance or storage. The complete lack of fees makes this platform very attractive to both novice and veteran investors.
Multiple Products & Services Create a Diverse Platform
Timvi's DeFi platform takes the best of traditional and new-age financial ecosystems and brings them together in a cleanly designed, easy-to-navigate experience.
The service's TBox interface allows for easy conversion of ETH to TMV. TBox's specialized blockchain account connects to the Timvi ecosystem and allows account owners to withdraw their funds in ETH.
Users can transfer funds to other users or delete their accounts altogether, but only after returning all previously withdrawn TMV to the account for later burning. From the dashboard, users can view their holdings, study potential investments, and collect detailed information about their assets and loans.
But it's the loan structure that may set Timvi apart from the rest of the pack. These zero-interest, termless collateral loans can give borrowers the digital assets needed to help increase their investments and maximize potential profits.
And the beauty of the TMV stablecoin is its consistent price targeting. One TMV token always targets the $1 mark. The token's algorithms support the objective price of the token, which keeps it from experiencing sizable fluctuations.
Timvi users can also earn interest on TMV stablecoins and ETH during any type of market. And since TMV emits on a user's terms, users can withdraw their deposit in full at any time.
 Next-Gen Security Sets a New Standard for P2P
The strength of any DeFi market rests on its security technology. After all, any investment platform only works if its users feel safe enough to store their funds and investments with the service.
Timvi takes its role as host and holder seriously. While users always hold the keys to their tokens, the platform also employs a smart contract system to grant its permissions.
The platform's December 2019 launch came after several rounds of audits from various security experts as well as a bug bounty program that offered rewards of up to $15,000 for finding critical mathematical errors in the smart contract system.
Serious service errors resulted in bounties of up to $1,000. Minor problems in the layout and information display resulted in a payout of 15 TMV stablecoins.
To date, experts have found no major flaws in the platform's security features and it continues to run with tremendous uptime statistics and few user issues.
Future Plans Include the End of Commissions
Although Timvi went live less than a year ago, the company already has major plans to upgrade its services and make it attractive to both investors and other cryptocurrency enthusiasts.
"We are trying to decentralize Timvi as much as possible," the Timvi team said. "We hope to completely remove commissions in all P2P services soon, while continuing to connect new applications to defi.timvi.com."

Also on the horizon is the introduction of an analog of market options as well as new opportunities to work with affiliate networks. Timvi also has plans to release more tools for decentralized exchanges and an open API for third-party developers.
One example is the recent launch of its cash back program for AAVE fees in the Timvi DeFi market — the first of its kind — which pays 12% cash back to its users.
Timvi intends to create a platform that makes users feel safe when storing, transferring, and purchasing cryptocurrency. To that end, the startup has instituted several key features that should attract new users in droves.
These include the ability to take out a zero-fee, termless collateral loan that helps boost your investing power. A host of tools makes it easier to choose the right investment. And, above all, the robust security features should appeal to potential investors who remain on the sidelines in fear of the dreaded crypto heist.
In short, Timvi may just be onto an idea that will help new investors enter the market while allowing long-time investors a chance to level up their portfolios.