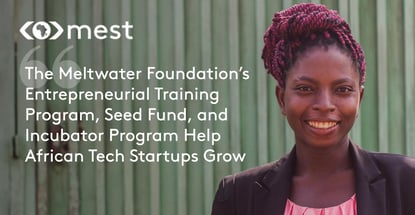 credit card news
Our experts and industry insiders blog the latest news, studies and current events from inside the credit card industry. Our articles follow strict editorial guidelines.
In a Nutshell: As African entrepreneurs continue to innovate in fields ranging from fintech to ecommerce, they need proper support to develop, finance, and scale their solutions. The Meltwater Entrepreneurial School of Technology (MEST) is a one-year training program launched by the Meltwater Foundation in 2008 that helps African tech entrepreneurs learn software, business, and communications skills to build and pitch their businesses. And successful MEST businesses enter incubators in Ghana, Nigeria, Kenya, or South Africa, where they receive marketing support and connect with the global Meltwater network.
Africa may not come to mind when people think of digital innovation. But, while they aren't yet the hotbed of modern technology that is Silicon Valley, many African countries are becoming ideal breeding grounds for fintech, agritech, ecommerce, and consumer services startups.
As the digital infrastructure steadily improves in Many African countries, entrepreneurs need only a laptop, a good wifi connection, and programming skills to develop, fund, and market their ideas. But it's the second half of that process that can keep even the most promising tech startups from getting their ideas off the ground.
That's why the Meltwater Entrepreneurial School of Technology (MEST) — a nonprofit training program and startup incubator based in Accra, Ghana — provides support and training for those African-based tech entrepreneurs.
"It's unfortunate that people don't think of Africa when they think of innovation because there's an incredible number of talented people here, and they're especially interested in the tech space," said Thea Sokolowski, Head of Brand and Marketing at MEST Africa. "MEST was founded on the idea that talent is equally distributed, but opportunity isn't. So, given the right opportunity, extremely talented people here can rise to the occasion."
Nigerian payment solutions company Amplify is an example of a startup that has thrived with the help of MEST. Amplify, which was founded in 2016, received seed funding from MEST for two products, including a payment solution for subscription-based online businesses.
"For software companies based on subscription models, it was hard to accept payments since many people weren't paying digitally," Thea said. "You had to physically go to the bank every month to pay for your subscription. So, Amplify created a platform that makes it a lot easier to accept recurring payments via card, mobile money, or whatever people have."
Amplify quickly scaled to develop partnerships with numerous banks and construct a network of more than 1,000 merchants with its payment processing services. In 2019, the business was acquired by OneFi — a Lagos-based lending company that plans to leverage Amplify's capabilities as it builds a much larger payment infrastructure across Nigeria.
Since 2008, MEST has enabled more than 50 such tech startups to bring their innovative solutions to growing digital markets in Africa and around the world. And it all starts by creating an environment that fosters learning and invests in ideas.
MEST is a One-Year Program for Entrepreneurial Training and Project Development
MEST receives its funding from Meltwater, a software company that helps decision makers find insights from external data, which was created by entrepreneur and philanthropist CEO Jorn Lyseggen. In 2008, MEST was founded in 2008 to foster the growth of tech startups in Africa.
The training program initially offered a two-year training program for entrepreneurs in Ghana, but in 2014, it opened the program to entrepreneurs in other countries. Today, it has recruitment sites in Kenya, Nigeria, South Africa, and the Ivory Coast.
MEST looks for recent graduates with business experience and a passion for launching a software company when choosing participants for its one-year Entrepreneurs in Training (EITs) program, held each August in Ghana.
"Every year, we take about 60 entrepreneurs from any African country. They start as individuals — pre-idea and pre-team," Thea said.
Scholarships from the Meltwater Foundation cover all necessary MEST program expenses — including room and board, travel, and equipment such as personal laptops.
"The idea is that they need to spend the year completely focusing on building their company and learning how to build a business," Thea said.
During the year, students receive intensive, graduate-level training in three areas: software development, business, and communications. They also have the opportunity to form teams and work on three capstone projects. At the end of the year, teams focus on their most promising software project to pitch for funding.
"We usually get 16 to 17 teams. They'll pitch a business they've been working on for about three months to our CEO and board, and we'll determine whether we want to invest in it," Thea said.
If their idea is chosen, graduates receive anywhere from $50,000 to $200,000 in seed funding over a roughly 18-month runway period.
African-Based Incubators Help Boost Growth Through Support and Networking
Graduates whose startups are awarded seed funding next enter one of four MEST Incubators located in Ghana, Nigeria, South Africa, and Kenya. For the next 18 months, or more, MEST provides logistical support and continued mentoring to startups as they work to grow.
"In that incubator, they get access to subsidized office space and wifi, and — more importantly — on-the-ground support from an assigned portfolio manager. We'll bring in tech specialists depending on what their industry is, and we have many mentors with different specialties. For example, I run marketing, so I work with the companies on their marketing strategies," Thea said.
Best of all, Thea said, is the access entrepreneurs are given to the global Meltwater network — consisting of 2,000 employees in 55 cities across six continents.
"They get sales fellows that come in and work with them on sales strategies, or clients of Meltwater that could potentially become mentors, as well. So, it's just great to be able to tap into that larger community."
One recent MEST incubator success story is Kudobuzz, a company that helps ecommerce businesses source and promote authentic reviews. The African-based startup caters mostly to online businesses in the U.S. and the U.K.
"It's a prime example of a company that exists 100% in Africa, but most of its customers don't know that. It's a testament that these companies can and will be growing here a lot more, and there's no reason they can't service a global audience from Africa," Thea said.
Startups Building Infrastructure and Payment Systems for African Businesses and Developing Economies
The types of tech startups that come out of the MEST training program and incubators vary by region. In recent years, the program has seen a shift from projects targeted to U.S. and European markets to projects that meet specific needs in the entrepreneurs' home countries.
"They're finding technical solutions to everyday problems they face themselves," Thea said. "For instance, many agriculture or agritech companies are watching Ghana to help with that sector."
Just as roads provide the physical infrastructure that enables communities to thrive and grow, digital infrastructure is vital for businesses to participate in an increasingly digital economy. That is another area of focus for many startups designing solutions in underdeveloped regions.
"A lot of companies create infrastructure for other companies to build on," Thea said. "They're finding many ways to get around things that aren't available here. That's where you start hearing about things like digital payments and the social commerce that has developed because everybody has a mobile phone."
As with successful MEST participant Amplify, many fintech companies that are building this payment infrastructure come from Nigeria. That's because the country sees more card-based transactions than African countries like Kenya, which is more focused on personal banking and mobile money. And that infrastructure built by fintech companies may then be leveraged by many other types of businesses across Africa.
"Nigeria is trying to build the infrastructure for all the companies that partner with a fintech company or a financial institution to enable their business to grow and collect money," Thea said. "They're looking at sectors from construction and property management to agritech and ecommerce."
Equalizing Opportunity by Connecting Global Investors and African Startups
The tech sector is growing across Africa, and companies around the world are beginning to notice and tap into the talent and potential of its emerging software developers. They accomplish that by both outsourcing work to the country or investing in its up-and-coming tech startups like Amplify and KudoBuzz.
MEST also recently hosted its annual summit in Nairobi, Kenya, where the team brought together investors, entrepreneurs, and corporate partners from Africa as well as the U.S. and Europe. The event saw three startups awarded with investments worth $75,000 in equity and credit.

"We're seeing a lot more corporations that want to get involved on the continent in some way — either investing in startups, running accelerators, or trying to find mobile talent," Thea said. "There's a rising interest in Africa as they're starting to understand how much talent exists here. It's really starting to pick up, and we're trying to create more spaces for those different parties to come together and share ideas."
As with Amplify and Kudobuzz, the opportunity to develop skills while learning how to grow and manage a business is crucial to success in the marketplace — and MEST is creating those opportunities.
"What they need is the opportunity, basic funding, and someone to show them the way. What MEST does is give them the tools to stand on their own feet," said Thea.