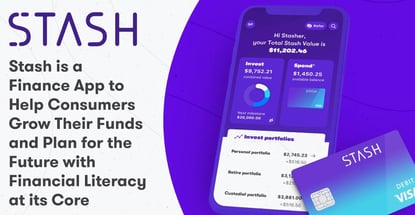 credit card news
Our experts and industry insiders blog the latest news, studies and current events from inside the credit card industry. Our articles follow strict editorial guidelines.
In a Nutshell: In decades past, investing in stocks and bonds was largely a luxury reserved for the upper-middle class and beyond. Technology has transformed the investing game in recent years, and Stash is right in the middle of this movement with its handy app that brings together essential financial services into one location. The app specializes in delivering financial education to its users while providing convenient investment opportunities. In fact, with the Stash Stock-Back rewards program, investing is as easy as making a purchase. The company invests on your behalf every time you make a purchase with the Stash debit card. And users can feel confident that their funds are secure with Stash's top-level security practices.
When I was younger, the business of investing in stocks and other assets seemed like it was a world away.
While investment opportunities certainly existed in the early 2000s, many 20-somethings — such as myself — were finishing college and finding their career paths and weren't exactly thinking about how to find the nearest stockbroker.
And even when online trading options began to emerge, investing still wasn't really on my radar because it seemed like an activity reserved for affluent businessmen and savvy entrepreneurs.
And giving up any amount of my beginner's salary to pay for transaction fees or a stockbroker's cut of my earnings was unappealing, to say the least.

I certainly could have given more time to understanding the importance of investing and done some legwork to find out how to begin a portfolio. But the barriers to entry were much higher in those days.
In many ways, investment opportunities really were a world away.
But in recent years, the doors to the investing ecosystem have been blown wide open by financial startups that deliver nearly every type of investment opportunity to someone's smartphone.
And that's just what Stash is doing with its app that literally puts investing in users' hands with its easy-to-use platform that serves all their financial needs in one place.
"We were looking at the 100 million Americans who did not necessarily have access to the level of financial services that we thought they should," said Sudev Balakrishnan, Stash's Chief Product Officer. "We wanted to disrupt investing, which at that point was a hobby for the rich — and mostly only accessible to the upper-middle class."
Stash also understands how important it is to not just provide investment opportunities but to provide financial literacy resources to investors. That's why education is a huge component of the Stash experience.
Balakrishnan said the company's focus on education is one way its platform differentiates itself from other apps that don't go as far to illuminate the world of investing to their users.
"We're helping millions work towards their financial freedom, one day at a time," according to the company.
Combining All Financial Needs Into One Experience
"Stash is on a mission to provide financial opportunity to all," according to the Stash website. "We believe that every American should have the tools, guidance, and confidence needed to grow personal wealth and live a better life."
Stash works toward its mission through its comprehensive app that has the ability to meet a wide range of financial needs for people from all walks of life.
At its core, Stash is an investment app that makes it easy for newbies to enter the world of investing and facilitates smooth transactions for more seasoned investors as well. Balakrishnan said Stash initially made investing easier for the average consumer in three main ways.
"First, it makes investing more accessible by lowering the entry point," he said. "You can start with just five bucks. Second, you can do it right in the app, which is very simple. Finally, you can buy fractional shares rather than buying a whole share. Those three things took the adoption count up in a major way."
Stash offers a selection of hundreds of stocks and funds in which users can invest.
Stash users also gain access to an online bank account that rivals many accounts offered by brick-and-mortar institutions.
"Overdraft fees? We don't have those — or any other hidden fees, for that matter," according to the Stash website. "We want to help you grow your Stash, not chip away at it with unnecessary fees (looking at you, big banks)."
Also, when Stash users sign up for direct deposit for their account they can get their paychecks up to two days earlier than they would with other banks.
Stash also facilitates investments in retirement accounts and custodial accounts for minors.
Again, financial literacy plays a big role in all of this. Stash users gain access to a trove of educational materials including articles, videos, podcasts, and more. And the platform also provides valuable insights on users' spending habits and offers helpful suggestions for improvement.
Since its 2015 launch, Stash users have set aside a total of $1.8 billion, according to the company. The app currently has 4 million users, with 86% of those being first-time investors.
Stash's Stock-Back Program Rewards Consumers for Investing Their Money
"There are two parts to education — there's the basic education, such as when we started giving advice toward investing," Balakrishnan said. "And now we have education to expand money management. And there's actually connective tissue between the two, which is very unique."
That connective tissue is Stash's Stock-Back rewards program.
Balakrishnan said that, while many Americans may not be expert investors, they are very good at spending money every day.
"So, we use that one thing that they keep doing to get them to learn about investing," he said. "Stock-Back uses the Stash debit card, and anything you do on this card ends with you earning stock of some kind."
Users earn 0.125% Stock-Back rewards on all of their everyday purchases and up to 5% Stock-Back rewards at certain merchants with Stock-Back bonuses, according to the company website.
The company announced in late 2019 that Stash users have earned over 5 million Stock-Back rewards on their everyday spending.
"Stock-Back® Rewards is one of the most powerful catalysts we've seen when it comes to investing and saving. In fact, when a customer earns Stock-Back® Rewards in a stock or fund they were not previously invested in, nearly 30% go on to make an additional investment in it — learning about new companies and sectors along the way. It's about ingraining a savings mentality and changing people's mindsets." — Stash CEO Brandon Krieg
Generally, when users spend money at companies that have stocks listed on Stash, such as Walmart, Amazon, or Starbucks, users earn stock in those companies, according to Stash. And when users spend at places that do not have stocks listed with Stash, they are rewarded with investments in a diversified fund.
"We're so excited about this product because it takes you from spending, which everyone does like eating or breathing, to investing," Balakrishnan said.
The Company Keeps Security Front and Center
Even consumers who are not yet savvy about investing understand the importance of safety and security when it comes to their money — especially for online platforms.
Stash understands that, which is why the company employs top security practices and takes its responsibility to users very seriously.
Stash is a registered investment adviser with the U.S. Securities and Exchange Commission, which means that, by law, the company must provide investment advice that is in the best interest of its clients, according to the company.
And it takes a number of steps to protect users' funds on Stash.
"Your investments are held by our trusted partner and custodian Apex Clearing Corporation, a third-party SEC registered broker-dealer and member FINRA/SIPC," according to the website. "Apex Clearing is a member of the Securities Investor Protection Corporation. This means your investments in your account are protected up to $500,000 total (including $250,000 for claims for cash)."
And for uninvested funds, Stash accounts are enrolled in the Apex FDIC-insured Sweep Program.
"Deposits to the Sweep Program are covered by FDIC insurance up to $250,000 limit per customer at each FDIC-insured bank that participates in the Sweep Program," according to Stash.
Additionally, Stash uses 256-bit encryption to protect and secure all user data, including personal information and transaction history.
The platform offers users the option of biometric recognition, such as a fingerprint or facial scan, to access their accounts for an extra layer of security.
When it comes to investing with ease and peace of mind, Stash presents a convenient and comprehensive app that really does go a long way toward lowering all barriers to entry for the world of investing.