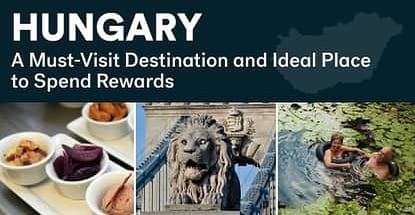 credit card news
Our experts and industry insiders blog the latest news, studies and current events from inside the credit card industry. Our articles follow strict editorial guidelines.
In a Nutshell: One of our favorite things about credit cards is redeeming travel rewards to see new places at a fraction of the price. The world is a fascinating place, and one destination to consider is Central Europe's gem, Hungary, known for its beautiful capital city, Budapest. We wanted to find out more about Hungary's world-renowned spas, architecture, and other must-see destinations, so we reached out to the Hungarian Tourism Agency, which boiled down the best of the best, from rich gastronomy and culture, to things to do in all four seasons and places to stay.
In the 1930s, the restaurants in Budapest earned a certain notoriety in The New York Times, which wrote that its restaurants brought the city more fame than did its tourist brochures. Today, nearly nine decades later, it still holds true. Some restaurants have come and gone in Budapest since the '30s, and the cuisine itself is undergoing a transformation that is part of the pull of Hungarian food today.
A full meal might include a starter of foie gras, sausages and bread with paprika cheese spread, a gulyás (or goulash), a main dish of stuffed cabbage with sour cream, and a poppy seed or apple strudel for dessert. Alongside such a flavorful spread is typically a nice wine, since Hungary is likewise undergoing a wine renaissance that involves a move from mass produced to boutique wine production from small cellars owned and operated by a new generation of wine growers.
For coffee and pastry lovers, Budapest is booming with coffeehouses, which have also undergone an evolution over the past century. The Hungarian Tourism Agency said they were once "watering holes for the great thinkers and artists of the era," but today's clientele go to smaller, new-wave coffeehouses, where a conversation might be equally focused on the pressing issues of the day as on the coffee itself.
A rich gastronomy is just one of the attractions Hungary has to offer. It also has world-famous thermal spas, historic buildings (some of which are UNESCO World Heritage Sites), and smaller cities that merit day trips from Budapest.
Hungarian tourism, which accounted for 10.5% of Hungary's GDP in 2016, has picked up in recent years, increasing 41.3% between 2010 and 2017. Most tourists are European, but American interest in visiting Hungary has increased as well, and the US is now the fifth leading country for tourists to Hungary.
For those interested in a visit, the Hungarian Tourism Agency's site GoToHungary is a good starting point with extensive information on traditions and cultural activities in Hungary, as well as suggestions for accommodation and travel itineraries.
Budapest: The Thermal Springs Capital of the World
Budapest has been a popular spa destination since its occupation by the Romans, and the Romans were the first "tourists" to use the country's thermal waters when they built baths along the Danube River in the first century AD. One of Budapest's nicknames is, in fact, "The City of Spas."
"The baths are the guards of a cultural legacy of the past two millennia, and their surroundings can even evoke the feeling of bathing in a museum," said a representative from the Hungarian Tourism Agency.
More recently, in the 21st century, the baths have become renowned for their medicinal qualities, attracting medical tourism. That's because the thermal springs contain mineralized water, with elements like calcium, magnesium, and sulfate, which are particularly good at alleviating poor circulation, arthritis, and diseases resulting from mineral deficiencies, and just feeding the body's cells.
Budapest has several spa options, from the most popular, the Szechenyi Baths and Pool in the City Park, to the Kiraly Bath, which dates back to the Turkish era, and the Lukacs Bath, the bath most visited by locals. Several notable thermal baths outside of Budapest also attract tourists both for the spa experience as well as their diverse architectural styles.
Budapest has many buildings that are must-sees because of their architectural style and historical significance. The Parliament Building, for example, is a UNESCO World Heritage Site, the largest building in Hungary, and the third-largest parliament building in the world. The Buda Castle Quarter, also a UNESCO World Heritage Site, contains the castle itself, and medieval, baroque, and 19th-century houses, public buildings, and churches.
Other notable buildings include St. Stephen's Basilica, the country's second tallest building, which seats 8,000 people; the Dohány Street Synagogue, Europe's largest synagogue; Andrássy Avenue, another UNESCO World Heritage Site, with the House of Terror Museum, Art Nouveau villas and palaces, and the Millennium Underground Railway, which is Europe's oldest metro line that still carries passengers. Other highlights in the city include the Városliget City Park, which has a thermal bath, castle, and 150-year-old zoo; and Heroes' Square, known as the Hungarian national pantheon.
A Destination for All Four Seasons
As with other parts of Europe, tourist season in Hungary is generally considered April to October. However, tourists come year-round, as there are activities for all seasons. The climate, according to the Hungarian Tourism Agency, is fairly temperate, and in winter, the bathhouses make for a particularly pleasant destination. Concerts and festivals run throughout the year.
"The cultural life of Budapest has had a legendary reputation since the 19th century, and the world's best classical and modern music performers are regular guests here," the representative said. "During your stay, you might catch a masterpiece of one of the great Hungarian composers — Franz Liszt, Béla Bartók, or Zoltán Kodály — at the Liszt Ferenc Academy of Music, Müpa (Palace of Arts), or even in Buda Castle. Concerts with a unique atmosphere and English-speaking performances are held in the latter on a regular basis."
The Müpa is a modern building on the riverbank, which has musical and theater performances, as well as visual arts shows. There is also a Budapest Spring Festival during the last two weeks of March and a Budapest Summer Festival. Also in August is the award-winning Sziget Festival.
As if there weren't enough going on in Budapest itself, there are many day trips and destinations outside of the city that merit attention. The Riverside and artists' colony town of Szentendre is one of those places.
"You will feel that you have entered a vibrant impressionist painting in pastel colors," the representative said. "Here you can find everything a romantic soul needs, with narrow pathways, cobbled streets, old churches, and handicraft workshops."
Pannonhalma is another top destination, boasting the famous Benedictine Pannonhalma Archabbey, which dates from 996 and is the second largest territorial abbey in the world. There are also many other countryside destinations, some of which are also UNESCO World Heritage Sites.
Treat Yourself Royally and Stay in a Palace
Depending on your budget, Budapest has many luxurious hotel options. First on the list is the Four Seasons Hotel Gresham Palace, which was voted Europe's Best Hotel in 2017 by Travel and Leisure Magazine.
"In every detail, the hotel reflects the explosive development of the century," the representative said. "The greatest artists of the era worked on the building's lyrically beautiful glass windows, mosaics, and wrought iron details, and the ceramic ornaments were made by the artists of the world-famous Zsolnay factory."
Other notable hotels include the Corinthia Hotel Budapest, which inspired the film "The Grand Budapest Hotel"; the Kempinski Hotel Corvinus, with a presidential suite that routinely attracts celebrities; and the historic Ritz-Carlton Budapest, which was built during World War I. If you're on a tighter budget, you can find many other accommodation options.
Whether you're sleeping in luxury or not, don't forget to eat royally. Hungary boasts many rich, inviting national dishes, both meat-based and vegetarian, which often come with sour cream and hot or sweet paprika on the side. And, of course, the noteworthy desserts include many types of strudel and chocolate cakes.
The next time you're hungry for adventure, consider trading in those sign-up bonuses and accrued travel rewards for hotels and flights to see this Central European treasure.