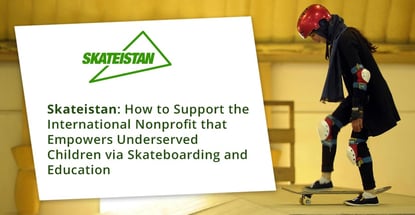 credit card news
Our experts and industry insiders blog the latest news, studies and current events from inside the credit card industry. Our articles follow strict editorial guidelines.
In a Nutshell: When Oliver Percovich began skating around the streets of Kabul, Afghanistan in 2009, children from the area began to take notice. Percovich soon began offering skateboarding sessions, which quickly evolved into the educational nonprofit, Skateistan. The NGO uses skateboarding and its Skate Schools to empower and educate underserved children in Afghanistan, Cambodia, and South Africa. Skateistan's hands-on activities have been put on hold due to the COVID-19 pandemic, but the organization needs donations now more than ever as it strives to deliver supplies and serve its students online or through phone calls. Because of the groundbreaking work it has done in its communities, we are recognizing Skateistan with our Editor's Choice™ Award as a Top Charitable Choice.
Skateboarding is about freedom and self-reliance.
I remember spending weeks learning how to ollie, practicing for what seemed like hours after school every day. And then one day it happened. I popped the tail just right and kicked my front foot forward — all in one motion — and the board and I rose into the air before landing firmly back on the ground.
Once you learn that basic, but magical building block that leads to many other skateboarding tricks, you're hooked. Skateboarding is an athletic endeavor that encourages independence and creativity.

Although I don't skate much these days, I think it's safe to say that most skateboarders would agree that when you're skateboarding, all your worries and cares fall away, and in that moment, you're free.
Now, imagine a young teenager learning to skateboard who has grown up being oppressed by poverty, cultural traditions, or government policies. That first ollie must feel pretty amazing.
Oliver Percovich saw this happening first-hand in Kabul, Afghanistan. The Australian skateboarder and researcher lived in the country in 2007 when his girlfriend had a job there.
"Oliver is a lifelong skateboarder," said Jessica Faulkner, Communications Manager for Skateistan. "He took his skateboards with him and started skating in the streets of Kabul. And he noticed that kids were super interested in what he was doing, and a lot of the kids started following him around."
Faulkner noted that because of the shifting political situation in Kabul, this scenario would be unlikely to unfold in the same way today due to safety concerns.
Percovich began holding informal skateboarding lessons and lent his extra skateboards to some of the kids, who quickly got hooked on the feeling of freedom that came with riding. They became Afghanistan's first skateboarders.
Seeing the joy and freedom skateboarding brought to these children, who had grown up largely in the streets of a war-torn country inspired Percovich to launch Skateistan.
The nonprofit empowers children through skateboarding and education in Afghanistan, Cambodia, and South Africa.
"By combining skateboarding with creative, arts-based education, we give children the opportunity to become leaders for a better world," according to the organization.
Because of its innovative approach to breaking down social barriers and educating underserved children, we are recognizing Skateistan with our Editor's Choice™ Award as a Top Charitable Choice.
Skateboarding Levels the Playing Field Across Class and Gender in Many Countries
Skateistan focuses on groups of children who are often excluded from sports and educational opportunities, particularly girls, children living with disabilities, and children from low-income backgrounds.
In his early skate sessions in Kabul, Percovich noticed that a lot of kids were coming together from very different backgrounds, including different ethnicities, and different socio-economic backgrounds, Faulkner said. And boys, as well as girls, were showing up.
"As a lot of people know, Afghanistan can be a quite restrictive society for girls and women," she said. "Girls are often really discouraged from doing any kind of physical activity in public. So they don't usually cycle, they don't usually play football, even flying kites can be kind of socially frowned upon for a girl."
But because skateboarding was brand new, no one had any preconceived notions about it, Faulkner explained. Nobody stopped the girls from joining in because they saw skateboarding as more akin to playing with toys than to an actual sport.
With Percovich's help, skateboarding had created a community that overcame social divisions.
Percovich ran — or rolled — with it and gained support for this new venture.
"Volunteers, both national and international, played an essential part in keeping the activities running as they taught skate lessons, took photos to share with media, and wrote sponsorship proposals," according to Skateistan.
By 2009, professional skateboarders were visiting Kabul to get a firsthand look at the burgeoning skate scene and documentary filmmakers showed up to capture the movement.
Skateboarding and Skateistan were making a real impact in Afghanistan and people outside the country were noticing.
"Later in 2009, Skateistan was presented with the 'NGO of the Year' award at the Peace and Sport Forum in Monaco, recognizing the impact of their work already," according to the organization website.
Skate Schools Combine Riding with Education for Children Ages 5 to 17
Faulkner said that, although skateboarding was leveling the social playing field, Percovich noticed that once the girls in Kabul reached 11 or 12 years old, many of them stopped coming to the outdoor skate sessions.
Social pressures for girls to separate themselves from activities with boys becomes greater around this age. But Percovich wasn't ready to let these restrictions stop the progress he was bringing to kids' lives.
"After the age of 12 they couldn't join in and he realized that if you had an indoor space where they could skate in private — where they could have female educators, everything would become much more possible for them," Faulkner said.
That's when the Skateistan Skate Schools officially started.
"On October 29 (2009), Skateistan's first Skate School opened its doors in Kabul," according to the organization. "It was Afghanistan's first skatepark and largest indoor sports facility, but it also featured classrooms and an office. The Skate School was built on land donated by the Afghanistan National Olympic Committee."
Today, Skateistan maintains a presence in Kabul and Mazar-e-Sharif, Afghanistan; Phnom Penh, Cambodia; and Johannesburg, South Africa
The NGO runs five programs in its Skate Schools: Outreach, Dropping In, Skate and Create, Back to School, and Youth Leadership.
"These programs combine life-skills with fun, freedom, and creativity to help create leaders for a better world," according to the website. "Skateistan also runs The Goodpush Alliance, a global platform which supports other social skateboarding projects to develop and thrive."
With its unique approach combining skateboarding and education, Skateistan has gotten support from some of the biggest names in the world of skateboarding.
"I support Skateistan because I believe skateboarding can be a catalyst for positive change especially among children," wrote legendary skateboarder Tony Hawk on the Skateistan website.
Responding to the COVID-19 Pandemic
In early 2020, Skateistan started work on its fifth Skate School — this one in Bamyan, Afghanistan.
"We actually just did the breaking ground ceremony very recently there at the end of April," Faulkner said. "So we're super excited about that. It will provide skateboarding and creative educational opportunities to about 800 children per week."
But like so many places around the world, Skateistan's activities have been temporarily put on hold due to the coronavirus pandemic.
"We have suspended all of our programs for the safety of our staff and students," Faulkner said. "We're still doing everything we can to reach out to our students. So, although our programs aren't running, we are trying as hard as we can to reach students online or through phone calls."
The organization posted an in-depth update on its blog about the various efforts it is undertaking during this challenging time.
"Our teams have been delivering remote lessons through WhatsApp and phone calls wherever possible, and the feedback we are getting is that these activities are helping our students feel better about staying at home, keeping everyone safer," according to the update.
Siblings and family members of Skateistan students have even requested to join some of the remote program lessons.
Skateistan is also distributing supplies wherever possible, she said. The organization is very aware of how isolated some of the students are during this time so the team is working extremely hard to stay connected with them, Faulkner said.
This means that although the Skate Schools aren't operating, Skateistan needs support now more than ever, Faulkner said.
The organization accepts donations on its website. Supporters can sign up for a monthly donation or make a one-time contribution for any amount they choose. People can also sign up to become a Citizen of Skateistan.
"The Citizens of Skateistan is our global community of students, staff, skaters, and supporters who share the dream of empowering and educating youth through skateboarding," according to the website. "By donating $10 or more a month you become a Citizen and help make it possible for thousands of youth to attend our programs worldwide."