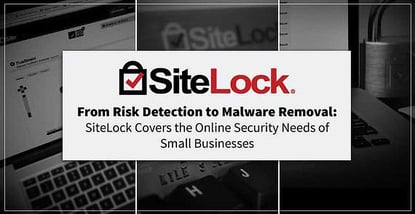 credit card news
Our experts and industry insiders blog the latest news, studies and current events from inside the credit card industry. Our articles follow strict editorial guidelines.
In a Nutshell: Small businesses are often at a higher risk of being targeted by cybercriminals because they don't typically have the ironclad infrastructures large corporations possess. SiteLock protects both small businesses and enterprises from data breaches, malware, and other online threats. The company's comprehensive approach to cybersecurity ensures that business owners can focus on their operations — instead of worrying about updating and deploying software. For over a decade, SiteLock has protected more than 12 million businesses with customized cybersecurity solutions. And SiteLock remains at the forefront of innovation, developing new products and services to protect its clients.
Small-business owners typically seek a simplified, hands-off cybersecurity model that allows them to focus solely on their operations. Those entrepreneurs just want the freedom to maintain their online content and functionality without having to concern themselves with cyberattacks.
But they still need robust security, as one survey showed that 86% of customers are not likely to do business with a company that's been hit with a data breach. For a small business, that can lead to lost revenue, or worse, closure.
SiteLock allows owners to run their businesses hassle-free by creating a digital security infrastructure that requires little to no intervention from its clients' IT departments. And that's why more than 12 million businesses have turned to SiteLock for security services since its inception in 2008.
"We wanted to provide a comprehensive set of security offerings targeted toward both small businesses and enterprises," said Neill Feather, President of SiteLock. The company has continued this philosophy through the years by constantly upgrading its suite of services to fit the needs of its customers without sacrificing its success.
Neill notes that one of the most important concerns for SiteLock clients is how to ensure their websites have proper security measures in place that won't jeopardize functionality and load time. Striking a balance between the two is at the core of the company's mission.
While SiteLock focuses mostly on mid-market players, the company has the scalability to work with large corporations and has many enterprise clients. Nevertheless, small businesses and startups make up SiteLock's largest client segment, as many of these companies don't launch with the infrastructure to manage cyber threats alone.
Large enterprises often have the resources to build a comprehensive cybersecurity team in house, and SiteLock believes that smaller companies deserve an equally proficient team backing them — at an affordable price. This theory fuels SiteLock's goal to help e-commerce retailers and other online businesses protect their valuable company and customer data.
Automating Security to Prevent Breaches and Protect Brands
What separates SiteLock from its competitors is its approach to protection. SiteLock covers all of its clients' needs without interfering with operational success after deployment. The software company's 24/7 support also ensures that its solutions meet client security needs on a daily basis.
Many of its clients are e-commerce retailers that use SiteLock because it provides them with "one single pane of glass; one environment where they can handle all of their security needs," Neill said. Plus, the company's automated patching helps keep websites running smoothly without sacrificing security.
SiteLock's updates and patches make post-setup management unnecessary. SiteLock also creates a clear set of instructions for clients to make updates themselves — should they need to — through a user-friendly interface.
SiteLock also offers products that help companies achieve PCI compliance, including malware identification and removal, risk assessment, DDoS protection, vulnerability management, website acceleration, site protection, and more.
"Our philosophy is that the product should just work without any handling. We feel like an official in a football game," Neill said. "We're doing our best when no one notices we're there."
A Robust Solution Used by Companies of All Sizes
Many mid-market online retailers use SiteLock for their cybersecurity needs over the long haul. As companies scale their businesses and cast a wider net, SiteLock is there to help them meet their security goals as they evolve.
When companies go from storefront to e-commerce, they often need extra functionalities to keep them protected. In many cases, businesses stick with SiteLock for its capabilities to defend enterprise-level websites that may be subject to additional threats.
One such product that helps enterprises protect their data is SiteLock's VIP offering, which is a comprehensive suite of cybersecurity tools. VIP includes fine-grained settings for WAF exceptions, blocked access to backdoor files used by hackers, and a blacklisting feature for ISPs that may cause harm.
Brick-and-mortar companies that create an online presence often seek out SiteLock to protect every facet of their website. SiteLock has spent a decade keeping up with emerging industry trends to help clients deal with anything that comes their way.
E-commerce companies are especially at-risk because they have financial information in the form of credit card numbers and other financial data. However, other businesses are targeted, too.
"One of the common trends that we've seen is that cybercriminals are no longer only targeting e-commerce," Neill said. "Criminals are looking for ways to monetize any website that gets traffic.They can use that data to attack computing resources and host additional jumping off points for other criminal activities."
Thwarting Cybercriminals That Target SMBs
The most vulnerable online businesses are small companies because they haven't built up robust digital security — or a large enough following. While large companies often have the public trust and financial resources to deal with a data breach, SMBs are not usually well-equipped to deal with a cyberattack.
"When you talk about small businesses, they risk going from having a business to missing payroll to not having a business within six weeks of a compromise," Neill said. Another reason why small companies have less leeway after a hack is that they haven't built the brand loyalty of an enterprise retailer.
More than 80% of customers say they probably won't go back to a business — especially a small business — that's been hit with a data breach. Larger companies often have a better chance of recovering after a breach because of brand reliability and shopping location convenience.
Sitelock launched its SMART PLUS product to remove malware from website databases — including CMS and e-commerce platforms — while also automating patching capabilities to protect small businesses. "This gives us another powerful capability to remove malware in a very sensitive area for our customers — web infrastructure," Neill said.
"We see a lot of the scope of the web traffic on the broad internet and can be more proactive about identifying emerging trends and helping our customers recover if they've been breached." — Neill Feather, President of SiteLock
The company also uses data from past hacks to monitor future threats, and SiteLock is relaunching Risk Score to help site owners understand the level of risk to their businesses in a way that's easily digestible.
The product identifies more than 500 factors that affect risk and compares them with data from the 12 million companies in SiteLock's database. This provides information on a client's likelihood of being compromised based on its size and industry. SiteLock then matches these companies with the products that can protect them.
"We see a lot of the scope of the web traffic on the broad internet and can be more proactive about identifying emerging trends and helping our customers recover if they've been breached," Neill said.
SiteLock: Protecting Over 12 Million Businesses Worldwide
Over the past 10 years, SiteLock's extensive suite of products has helped 12 million companies focus on selling, not securing. And many small-business clients are drawn to its cybersecurity solutions because of their effectiveness, easy deployment, and automatic updates.
SiteLock doesn't need to intervene with its clients in a manner that slows down operations because its products are powerful out of the box and consistently updated — whether manually or automatically.
SiteLock has built a solid reputation for automating cybersecurity and proactively protecting a global clientele of companies of all sizes from cyber threats — before they occur.
And SiteLock continues to work on ways to combat the next generation of malware and attacks. As it moves into its second decade of serving clients, SiteLock continues to focus on the most significant cyber threat for all businesses: the next one.