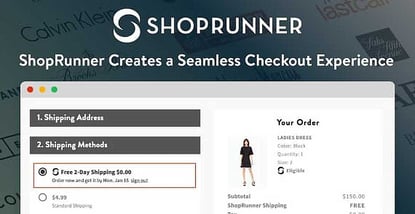 credit card news
Our experts and industry insiders blog the latest news, studies and current events from inside the credit card industry. Our articles follow strict editorial guidelines.
In a Nutshell: Shipping costs and complicated checkout processes have become obstacles that prevent retailers from fully capitalizing on the growing e-commerce market. ShopRunner eliminates those barriers with a membership service that offers customers benefits such as free two-day shipping, free returns, and seamless checkout at more than 100 leading retailers. The company leverages its data to help participating stores create deals and offers that resonate with consumers. It's a win-win scenario that saves shoppers time and money while ensuring stores boost their conversion rate. Today, ShopRunner is continuing to build on its reputation for helping both customers and retailers by pursuing additional strategic partnerships.
Cart abandonment has become a frustrating and all too frequent problem in e-commerce. A customer visits a website, selects items to purchase, and then abandons a loaded shopping cart during checkout when last-minute shipping costs, taxes, and fees are added to the total.
The unpleasant experience sours consumers on returning to that retailer, and brands miss out on a significant number of sales. An analysis of three dozen studies showed an astounding 69% average cart abandonment among online shoppers.
ShopRunner offers an easy solution to this widespread problem. The membership program offers customers a variety of benefits, including free two-day shipping, while shopping online at more than 100 participating retailers.
"We are trying to make shopping online easier and more efficient by offering free two-day shipping, free returns, access to exclusive deals, and an easy, seamless checkout when folks are shopping online or on their mobile devices," said ShopRunner COO Stacey Bernhard.
Those benefits help boost retailers' conversion rates. A study by the web usability research group the Baymard Institute showed that shipping costs and associated fees were a factor in 60% of cart abandonment issues, while a long, complicated checkout process led to abandonment 28% of the time.
To address those trends in consumer behavior, ShopRunner puts a premium on ease of use to provide members with a seamless and consistent checkout experience across all partner stores. ShopRunner saves the preferred payment information and shipping addresses of members so when they click the ShopRunner button during a store's checkout process, their information is securely applied thus moving them quickly through checkout.
ShopRunner, which was founded in 2010, is offered as an added benefit to American Express, Mastercard World, Mastercard World Elite, and PayPal members. Interested shoppers can also sign up for a free year-long membership here.
Similar to Amazon Prime, ShopRunner helps speed up shipping and makes returns a breeze. But what makes ShopRunner better is that it's accepted at more than 100 retailers, including Saks Fifth Avenue, Neiman Marcus, Cole Haan, Fanatics, Kiehl's, Under Armour, Kate Spade, and Staples.
"We are continuously looking to expand the breadth and depth of our offering by bringing more retailers into the network," Stacey said. "We want to bring a lot of different shopping and buying opportunities to our millions of members."
Meeting a Real Need in E-Commerce & Providing Additional Benefits for Members
Several reasons prompted Stacey to join ShopRunner in July 2016. She had a professional background in e-commerce and online business, including stints at Travelocity and Match.com. The smaller company offered more room for advancement. And she had previously worked with ShopRunner CEO Sam Yagan. So, when he took over at the company, she decided she wanted to join the team, too.
With her background, and as an online shopper herself, Stacey knew that e-commerce was only going to grow. A projection from Statistica, for example, expects the market to more than double, reaching $4.88 trillion in sales by 2021. ShopRunner's value proposition — to provide a headache-free checkout process and free two-day shipping — resonated with Stacey.
ShopRunner directly addresses the top two factors behind cart abandonment: shipping costs and lengthy checkout processes. But the benefits don't stop there.
In an effort to level the playing field in e-commerce, consumers will unlock free returns and tap into a treasure trove of exclusive discount offers from leading brands, in addition to free two-day shipping and express checkout.
"One of the great things about membership is it doesn't require extra work for consumers to access the benefits," Stacey said. "The membership unlocks it whether it's a retailer customers shop at regularly or a brand they're trying for the first time."
Data Shapes Win-Win Scenarios for Retailers & Consumers
ShopRunner puts its rich consumer data to use to benefit both its partner retailers and its members.
For stores and brands, those analytics help boost conversion rates and the bottom line. The data informs decisions around the types of content that draw the most consumer interest and improve personalized experiences, which lead to more sales.
"We provide our partners insight on the type of customers they are looking for and the type of thing those customers respond to," Stacey said. "We leverage that data to get the most interesting offer in front of our members."
ShopRunner also utilizes data to notify members about deals on the products and brands that will most pique their interest.
"We're really focused on leveraging the data we have for personalized recommendations, trending products, and deals across the network," Stacey said. "We are very focused on putting the most relevant deals and opportunities in front of our members, and it seems to be resonating as we're seeing a lot of traction on the things we're pushing out."
ShopRunner Continues to Grow Its Number of Retail Partners
In only eight years, ShopRunner has grown to connect millions of members with more than 100 retail partners. The variety of participating stores runs the gamut from upscale retailers, such as Brooks Brothers and Neiman Marcus, to national chains featuring daily essentials, such as Staples and Newegg.
In February, ShopRunner announced that Chico's FAS Inc., which includes the upscale clothing brands White House Black Market, Chico's, and Soma, was the latest retailer to join its network. ShopRunner expects the partnership to further its mission of connecting shoppers with the best brands.
George Nahra, the Senior VP of Business Development for Chico's, said the partnership advances its omni-channel retail strategy, provides access to millions of potential customers in ShopRunner's member network, and improves the online shopping experience for Chico's customers.

Looking ahead, Stacey said ShopRunner will pursue strategic partnerships aimed at expanding its network and will look to offer more shopping options for its members.
"We will continue to build out the breadth and depth of our retail partners to give members access to great deals and shopping experiences," Stacey said. "For the retailers, we are bringing them new customers. For our members, we are providing a frictionless shopping experience and an ease of convenience they've come to expect."