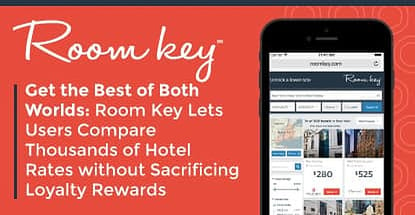 credit card news
Our experts and industry insiders blog the latest news, studies and current events from inside the credit card industry. Our articles follow strict editorial guidelines.
In a Nutshell: The online travel world is full of hotel rate comparison sites claiming to have the best deal. Unfortunately, most of these sites require you to book through them for that deal — meaning you sacrifice hotel loyalty rewards and your branded credit card rewards in one fell swoop. Hotel comparison site Room Key is changing the game, helping users find the best hotel deals while keeping all of their rewards by booking directly with the hotels themselves. Room Key lets users compare rates from more than 45,000 hotels worldwide, and is the only hotel comparison site in the world where users can compare loyalty program rates from more than 60 major brands. With Room Key, users no longer have to choose between getting a great deal on their room — or getting great hotel and credit card rewards.
For many a credit card holder, the advent of the travel rewards program is just about the best thing since, well, credit cards. Travel rewards give cardholders the ability to earn free flights and hotel stays simply by doing all of the travel and purchasing they'd normally do, turning every boring fill-up and stock-up into a vacation just waiting to happen.
Unfortunately, one of the early traps every new credit card rewards novice seems to stumble into is losing points to the tempting deals on third-party travel sites. Users turn to these sites in a misguided effort to save more on their travel, completely unaware that they're likely sacrificing all of their hotel rewards in the process.
"On nearly all of these major third-party sites, the majority of the hotel brands do not award loyalty points for booking your room through the third-party site," described Steve Sickel, CEO of hotel comparison site Room Key. "So if you're booking your Hilton hotel through Expedia, you're not earning your Hilton Honors points for the room."
Setting itself apart from the average comparison sites, Room Key allows users to compare rates in more than 45,000 hotels — without sacrificing loyalty points or branded credit card rewards.
"Every advantage you get from using your branded credit card when you buy through the hotel company's website, you get that same advantage when you go through Room Key," said Steve. "You get all the great benefits of booking directly — preferred pricing, extra benefits, loyalty perks. And you get the choice and breadth of selection that you get with a third-party site. Room Key brings the best of both of those worlds together into a single shopping experience."
So what's the secret? Room Key's unique partnership with over 60 major hotel brands means you actually book directly through the hotel, which creates a win-win for everyone. Customers get to keep their perks — and hotels get to save on the cost of conversion.
"All of these travel sites charge the hotels a commission when they make a booking for them, and those commissions can be really high — toward the 15% to 25% range — which really takes a lot out of the hotel's margin," Steve explained. "We were founded by six of the largest hotel companies in the world as a way of creating some channel alternative in the market. They wanted to create a travel site that provided great value for customers and suppliers alike."
The Only Place to Compare Rewards Program Member Rates
While the average hotel comparison site may use its steep commissions in part to lure in customers with those temptingly low rates, in many cases those deals aren't actually the best to be had. According to Steve, the hotels' own loyalty rates are usually the best deal.
"Each of the large hotel companies have these favored member rates; hotel rates you can only get if you're a member of their loyalty program," said Steve. "And 99 times out of 100, these rates are lower than any other published rates you can get anywhere. They've done that both as a way to enhance their loyalty programs, I believe, as well as a way to get people to book with them directly."
Where users once had to be logged into their hotel loyalty account to shop these killer deals, Room Key's unique relationship with its partner hotels meant it could work with them to get access to their killer loyalty rates, cutting out the third-party middleman's supposedly discounted prices. With Room Key, anyone can compare loyalty prices across dozens of brands, getting the best deals without having to give up rewards.
"Up until recently, these rates were only available through hotel websites. So, if you were looking for a Marriott Rewards rate, the only way you could see those rates, or book them, was through Marriott.com," Steve said. "Room Key has negotiated with each of these companies to now be able to access these loyalty member rates, across all these companies, in one place."
Although anyone can compare loyalty rates across brands on Room Key, users will still need to be members of a particular hotel's loyalty program before they can book a room at the loyalty rate. "At some point, before you finalize the booking, they will require you to either enter your loyalty member number — or go ahead and enroll," Steve explained. "However, membership is free with all of them, so if you're not a member, you can simply enroll for free and get access to the great rates."
Get Unbiased Results with Every Search
Another benefit enjoyed by Room Key users is one most may not even realize they have: no funny business in the rankings. Steve said that some third-party sites will manipulate the information displayed about hotels or their order in the listing to the site's benefit — not the customer's.
"Some third-party sites can behave a little bit dastardly at times," he described. "They do something called dimming, which is when sites reduce the presence of a hotel or brand on their site. They don't necessarily change its place in the order, but they'll hide its pictures, they'll minimize the amount of content visible to the user. They don't shine as bright a light on you."
It's not just the hotels they don't like who get the cold shoulder, either. According to Steve, the hotels at the top of the list on third-party sites are the ones with the biggest commissions, not the ones best for the user.
"Many of the third-party sites will bias the search results based on their own profit margin," he said.
"That's why you often see a lot of hotels you've never heard of before at the top of your results on these sites. Those hotels paying them 30% commission, and because that's where the site is making the most money, they bump them up the sort order."
As the creation of a coalition of major hotel companies, Room Key doesn't play favorites — and it doesn't use rankings to get a better profit margin. Instead, users get the results they actually want.
"There's no biasing on our searches," said Steve. "There's no dimming, there's none of this preferential treatment or penalization of hotel companies or properties. Room Key sorts results based on what we think the customer wants, like being closest to their destination. We display a search we think is best for the customer, not best for us."
Earn Rewards on Great Deals with Room Key
For years, savvy travelers have had to make a choice between the tempting rates and broad selection of a third-party hotel comparison site, and the juicy perks and rewards of hotel loyalty programs and branded credit cards. Today, travelers can have the best of both worlds by using Room Key to compare loyalty rates from dozens of the biggest hotel brands across the globe.

"We're the only hotel site in the world where you can see all these loyalty rates, across all these different brands, in a single place," said Steve. "The customer convenience, the sort of one-stop shopping opportunity for a loyalty member to see all the great preferred rates they have access to, in one place — we think that gives us a real leg up on the competition."