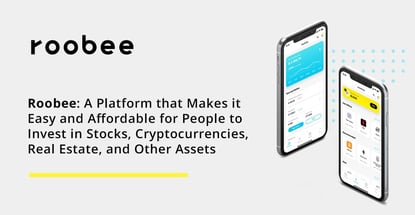 credit card news
Our experts and industry insiders blog the latest news, studies and current events from inside the credit card industry. Our articles follow strict editorial guidelines.
In a Nutshell: Until recently, investing in stocks, ETFs, cryptocurrency, and other assets was largely limited to businesses and the most affluent individuals in society. Technology has made it much easier for the average person to invest and grow their money. Roobee is an international investment platform that's making it even more convenient and accessible. The company will allow users to invest in an array of assets starting with as little as $10, using any payment method they prefer. Users who hold the ROOBEE token will also enjoy certain benefits, such as gaining early access to new investment offerings.
For hundreds of years, savvy investors have relied on diversification strategies to preserve and grow their money. But until the past few decades, many of these assets were only available to wealthy individuals or enterprises.
Technology has opened up the world of investing to people of all income levels and walks of life.

Today, numerous platforms give nearly anyone the ability to invest in stocks, ETFs, cryptocurrencies, and even real estate. And although the barrier to entry is much lower than it once was, investing still comes with its challenges.
Roobee is an international investment platform that aims to change that.
"The idea of the Roobee project was born in October 2017," said company Co-Founder Artem Popov. "As it often happens, initially it was an idea that was born out of our personal investment needs. Then we saw the same need among our community."
Popov and his colleagues initially launched a Telegram blog focused primarily on cryptocurrencies, he said. Although the blog was intended for an audience in Eastern Europe, Popov noticed people began subscribing from all over.
"Very quickly we became one of the biggest channels on cryptocurrencies in the world," he said.
"Many people from the community wanted to have the possibility to make their own long-term investment portfolio without spending much time on it," Popov said. "Also, most people did not have large sums of money to get over the investment thresholds and build a diversified portfolio."
That's when the Roobee platform truly began to take shape. Popov and his co-founders began working on a platform that would allow everyone to invest in a large variety of markets with a low monetary threshold, he said.
Users Can Create a Balanced Portfolio and Invest with as Little as $10
As the founders intended, Roobee's main objective is to allow users to build a diverse investment portfolio consisting of various assets, including stocks, cryptocurrencies, ETFs, and real estate.
The platform will allow users to pay with whatever method they prefer, adding an extra level of convenience not accessible on some other investment platforms.
Popov said Roobee's convenience, straightforward functionality, and low barrier to entry is appealing to investors.
"Users expect the investment process on the Roobee platform to be simple and accessible," he said. "We develop the platform in such a way that even a newbie in investments could build his own balanced investment portfolio just in two mouse clicks."
Of course, having funds to invest can be a barrier in itself, but Roobee addresses that as well.
"Roobee will give a possibility for every person, irrespective of his or her income, to invest starting from as low as $10 in such investment products as venture funds, IPO, real estate market, etc., that are only available to big institutional players, qualified investors, millionaires, and funds," according to Popov.
The company is also lowering thresholds for more traditional investments like ETFs, stocks, and portfolios, he added.
Roobee is also focused on delivering investment solutions that give amateur investors an added level of confidence in building their portfolios.
"For this reason, we are developing a personal assistant on the platform that will help such users to build a balanced portfolio based on their needs, psychological test, risk profiling, etc.," Popov said.
The company is also working on expanding its list of investment products available on the platform, according to the Roobee website.
ROOBEE Token Holders Will Receive Reduced Fees and Early Access to New Features
Roobee also offers up its ROOBEE token to help power the platform's ecosystem.
"Along with the launch of the platform development we started to think through the role of the token in the ecosystem," Popov said.
He said the tokens will serve as the fuel for signing contracts inside the platform.
"Besides that, the ROOBEE token holders will get certain additional advantages on the platform," he said.
Tokens will help users reduce or avoid fees for investments, operations, and portfolio building, and enable advanced functionalities on the platform, according to the company.
Popov explained that this includes gaining priority access to new investment products with limited allocation and increased demand from the audience on the Roobee platform.
"They will also receive increased rewards for various actions useful for Roobee and its users, e.g. content creation, promotion of Roobee in social networks and other platforms, participation in the development of the service, etc.," he said.
The advantages available to ROOBEE token holders will continue to grow over time as the platform continues to grow, Popov said.
ROOBEE tokens can be found at KuCoin, HitBTC, Livecoin.net, Exmo, BitForex, Liquid, YoBit.net, and TradingView.
Community Feedback and Testing Helps Drive the Platform's Functionality
Popov said that Roobee has managed to attract a rather large community to its project in a relatively short period of time.
"Surely we get and read carefully the feedback from our community, and we are extremely happy and proud that 90% of the comments are positive," he said. "People believe in the project, and it motivates us to work harder and to develop the platform."
Several months ago, the company established a focus group composed of members of the Roobee community that has been important to the development of the platform.
"They are given prerelease access to the platform, they test certain elements of the platform and provide us with their feedback, which helps us to fix the bugs and improve the platform," he said.
The group recently finished testing the first version of Roobee and the company is now moving on to its next stage of development.
"This is an important step for us, and we are excited to see the reaction of the users," he said.
Roobee is also seeking opportunities to collaborate with other game-changing platforms, Popov said.
"We are getting ready to launch the staking of ROOBEE on Pool-X, which will be one more interesting use case for the tokens," he said. "We cooperate with crypto exchanges and continue our work with other partners, the list of which is already rather extensive."
Ultimately, Roobee seeks to unite a large number of products, companies, and ecosystems to make it a great investment platform for the new financial world, according to the company.
"It is a very interesting and exciting period for us now," he said. "The development of the platform is in its most active phase. We have integrated partners and are launching new investment products on the platform. We are among the first in the world (or even the first!) who combined crypto and ETF products and gave the possibility to purchase ETF for crypto. This is a really cool thing!"